Organo coffee promoted as cure-all for multiple diseases
Organo's mushroom coffee is being promoted as a cure-all for multiple diseases.
These include cancer, cardiovascular disease, diabetes and "most chronic diseases".
I've seen multiple instances but the specific marketing example I'm going to reference is from Bio Holistix Health & Wellness.
Bio Holistix Health & Wellness is run by Mariza Wepener (right) out of South Africa.
On April 6th Bio Holistix Health & Wellness posted an Organo marketing pitch on FaceBook: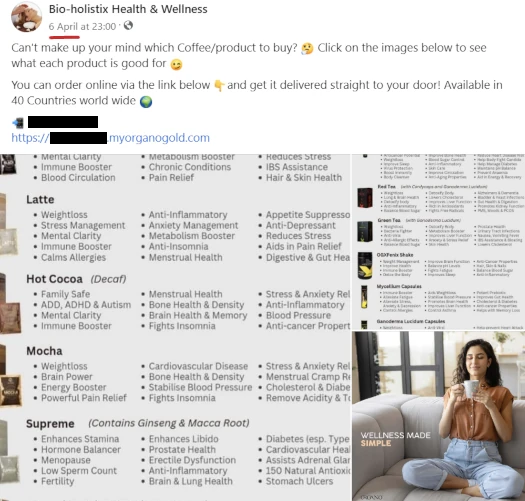 Attached to the post are two cropped marketing slides, prescribing Organo's coffee as treatment for a variety of conditions and diseases.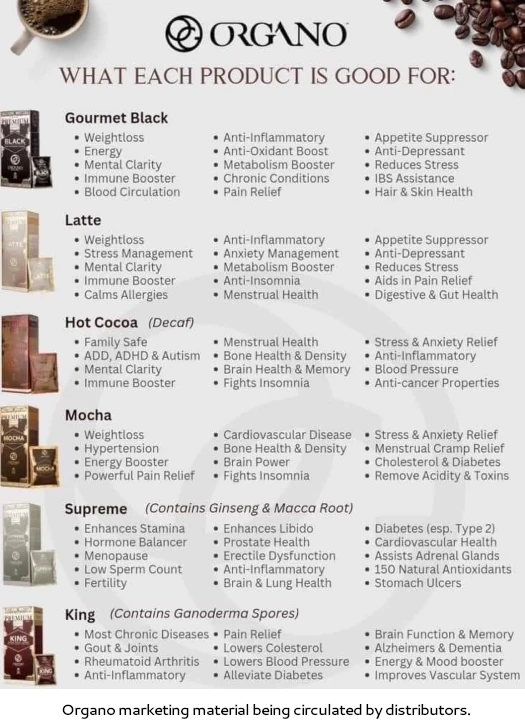 Gourmet Black
weight loss
energy
mental clarity
immune booster
blood circulation
anti-inflammatory
anti-oxidant boost
metabolism booster
chronic conditions
pain relief
appetite suppressor
antidepressant
IBS assistance
hair & skin health
Latte
weight loss
stress management
mental clarity
immune booster
calms allergies
anti-inflammatory
anxiety management
metabolism booster
anti-insomnia
menstrual health
appetite suppressor
anti-depressant
reduces stress
aids in pain relief
digestive and gut health
Hot Cocoa
family safe
ADD, ADHD & Autism
mental clarity
immune booster
menstrual health
bone health & density
brain health & memory
fights insomnia
stress & anxiety relief
anti-inflammatory
blood pressure
anti-cancer properties
Mocha
weight loss
hypertension
energy booster
powerful pain relief
cardiovascular disease
bone health & density
brain power
fights insomnia
stress & anxiety relief
menstrual cramp relief
cholesterol & diabetes
remove acidity & toxins
Supreme
enhances stamina
hormone balancer
menopause
low sperm count
fertility
enhances libido
prostate health
erectile dysfunction
anti-inflammatory
brain & lung health
diabetes (especially Type 2)
cardiovascular health
assists adrenal glands
150 natural antioxidants
stomach ulcers
King
most chronic diseases
gout & joints
rheumatoid arthritis
anti-inflammatory
pain relief
lowers cholesterol
lowers blood pressure
alleviate diabetes
brain function & memory
alzheimer's & dementia
energy & mood booster
improves vascular system
A second marketing slide attaches medical claims to Organo's non-coffee products.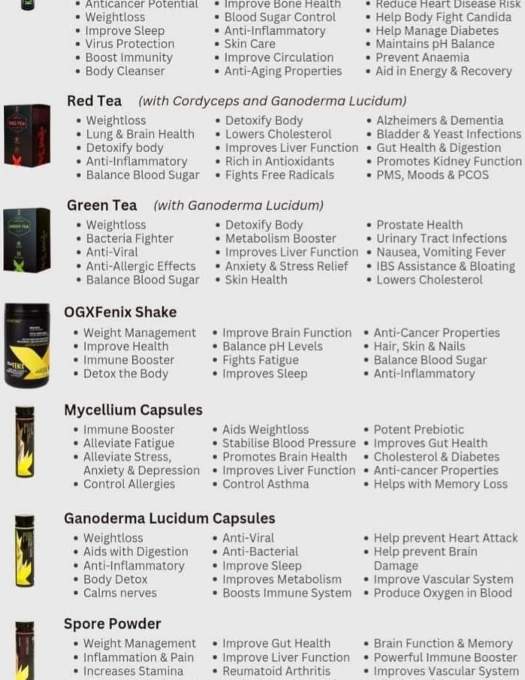 Kai
anticancer potential
weight loss
improve sleep
virus protection
boost immunity
body cleanser
improve bone health
blood sugar control
anti-inflammatory
skin care
improve circulation
anti-aging properties
reduce heart disease risk
help body fight candida
help manage diabetes
maintains pH balance
prevent anaemia
aid in energy & recovery
Red Tea
weight loss
lung & brain health
detoxify body
anti-inflammatory
balance blood sugar
detoxify body
lowers cholesterol
improves liver function
rich in antioxidants
fights free radicals
alzheimer's & dementia
bladder & yeast infections
guy health & digestion
promoted kidney function
PMS, Moods & PCOS
Green Tea
weight loss
bacteria fighter
anti-viral
anti-allergic effects
balance blood sugar
detoxify body
metabolism booster
improves liver function
anxiety & stress relief
skin health
prostate health
urinary tract infections
nausea, vomiting fever
IBS assistance & bloating
lowers cholesterol
OGXFenix Shake
weight management
improve health
immune booster
detox the body
improve brain function
balance pH levels
fights fatigue
improves sleep
anti-cancer properties
hair, skin & nails
balance blood sugar
anti-inflammatory
Mycellium Capsules
immune booster
alleviate fatigue
alleviate stress, anxiety & depression
control allergies
aids weight loss
stabilise blood pressure
promotes brain health
improves liver function
control asthma
potent prebiotic
improves gut health
cholesterol & diabetes
anti-cancer properties
helps with memory loss
Ganoderma Lucidum Capsules
weight loss
aids with digestion
anti-inflammatory
body detox
calms nerves
anti-viral
anti-bacterial
improves sleep
improves metabolism
boosts immune system
help prevent heart attack
help prevent brain damage
improve vascular system
produce oxygen in blood
Spore Powder
weight management
inflammation & pain
increases stamina
improve gut health
improve liver function
rheumatoid arthritis
brain function & memory
powerful immune booster
improves vascular system
The two slides look official and are Organo branded, but it's unclear whether Organo put them together.
Either way, none of Organo's products are registered as drugs in the US or South Africa. There are also no peer-reviewed studies supporting any of the cited Organo product medical claims.
Organo (formerly Organo Gold) is a US MLM company. As per US law (the FTC and FD&C Acts), unsubstantiated medical claims pertaining to supplements are illegal.
Both the FTC and FDA have in the past held MLM companies liable for illegal medical claims made by their distributors.