Sebastian Greenwood to be served by US Marshals

The OneCoin class-action Plaintiffs have been given permission to serve defendant Sebastian Greenwood through US Marshals.
The request to appoint a special process server was made on November 16th. In it, the class-action plaintiffs describe issues with serving Greenwood via regular channels.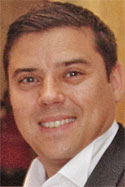 On October 26th the plaintiffs informed the court they'd learned of Greenwood (right) having retained representation in parallel criminal proceedings.
Plaintiffs further noted that they were able to connect with the Greenwood Criminal Counsel, who indicated that they may be able to accept service on Defendant Greenwood's behalf.
When the plaintiffs attempted to follow up with Greenwood's criminal counsel however, they received no response.
On October 14, 2020, Plaintiffs mailed formal waiver of service of process requests to the Greenwood Criminal Counsel, as well as to Defendant Greenwood directly.
A thirty-day response deadline was included in those documents, which expired without response on November 14th.
This prompted the class-action plaintiffs to fall back on Rule 4(c)(3) of the Federal Rules of Civil Procedure, which states;
[A]t the plaintiff's request, the court may order that service be made by a United States marshal or deputy marshal or by a person specially appointed by the court.
To that end the plaintiffs requested permission to serve notice on Greenwood through the US Marshals Service on November 16th.
The court granted the motion on November 17th.
As at the time of publication, there's no indication on the case docket that Greenwood has in fact since been served. We'll continue to monitor for updates.
Update 30th December 2020 – As per the class-action case docket, Sebastian Greenwood was served on December 23rd.