DOJ wants Mark Scott to forfeit $392 million dollars

Ahead of Mark Scott's October sentencing, the DOJ has filed a forfeiture motion.
As per the motion, the DOJ wants Mark Scott to forfeit a whopping $392 million dollars.

The $392,940,000 figure represents an approximation of funds Scott laundered for OneCoin and owner Ruja Ignatova.
The money was laundered through the Fenero Funds, a series of "fake investment funds" Scott (right) set up.
Fenero Funds bank accounts were set up in Singapore, Germany, Hong Kong, the UK and the US (click to enlarge):

These bank accounts were registered under a set of shell corporations, including a set of affiliated companies with variations of the name International Marketing Services ("IMS"), as well as B&N Consult Ltd. ("B&N"), Star Merchant, and Fates Group.

IMS was owned by co-conspirator Frank Rickets; B&N was owned by co-conspirator Irina Dilkinska; and Fates Group was owned by co-conspirator Gilbert Armenta.

Between approximately May 2016 and July 2018, the Fenero Fund Accounts funded approximately €282,000,000 in wire transfers to a series of Fenero Fund bank accounts held at the Bank of Ireland in the Republic of Ireland.

Scott also transferred tens of millions of Euros back to Bulgaria from the Fenero Funds, disguised as fake loans.

Scott subsequently transferred approximately €185,000,000 from the Bank of Ireland to the accounts of another one of Ruja's money launderer's, named Aamer Abdulaziz.
Scott himself pocketed over $50 million in stolen OneCoin investor funds. He used this money to purchase "several houses, luxury cars, a yacht, and numerous purchases of luxury jewelry and other personal property".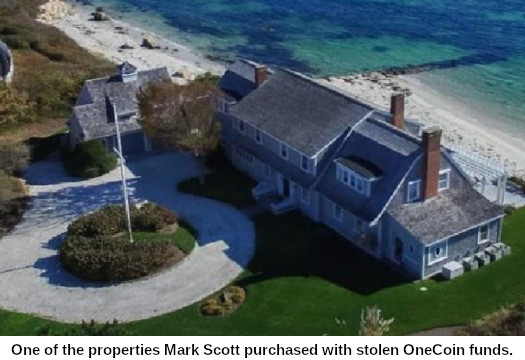 As provided by the DOJ, here's a breakdown of how Scott spent some of the money he received from OneCoin (click to enlarge);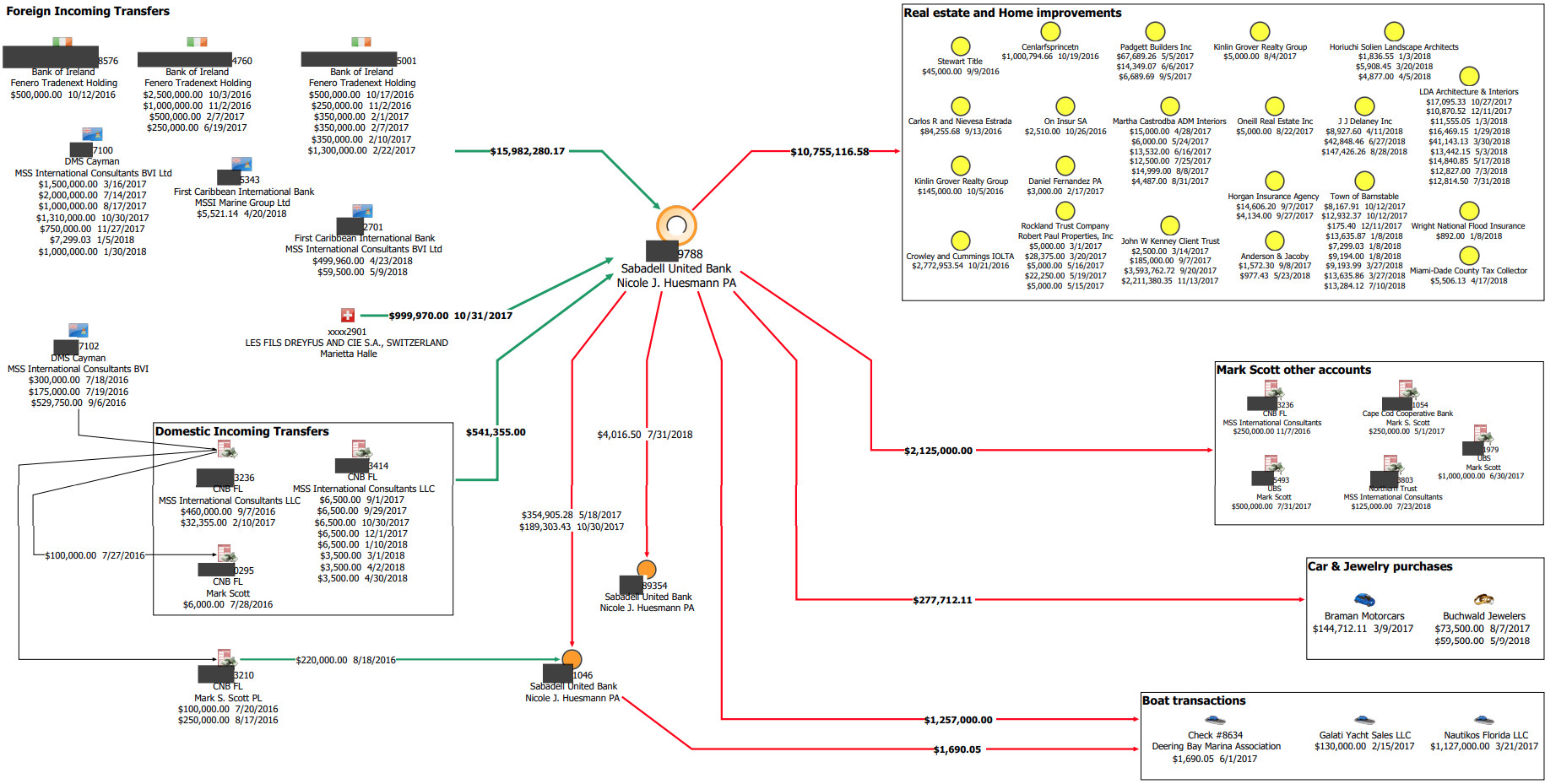 Nicole Huesmann is Mark Scott's attorney.
The DOJ are seeking to hold Scott liable for every dollar he laundered for OneCoin and Ignatova.
Scott must forfeit the full value of the funds he laundered, i.e., $392,940,000.

The Court should accordingly enter the Government's proposed Money Judgment in that amount.
The DOJ has identified $34.5 million in frozen Fenero Funds accounts. Beyond what they've been able to seize, the intent appears to be to clean out Scott completely.
Even if the Court were to order that Scott forfeit the funds in the Subject Accounts, the Specific Property, and the specific substitute assets listed below, Scott would still owe an additional sum of hundreds of millions of dollars before he would satisfy the proposed Money Judgment.

There is no risk that by forfeiting the specific assets listed below the total amount of funds forfeited will exceed the amount that Scott is obligated to forfeit under the proposed Money Judgment.
Scott is due for sentencing on October 9th. Not sure how forfeiture will play out but, based on the mountain of evidence presented against Scott, we're expecting a lengthy prison sentence.
Stay tuned…