DHL threaten to terminate agents who accept OneCoin

If OneCoin affiliates are to be believed, global freight giant DHL are now accepting OneCoin.
In a March 25th post to Linked In, OneCoin affiliate Norbert Friedrich announced;
DHL accepts OneCoin

As the "phoenix from the ashes" rises, the secret giant under the cryptocurrencies rises to a new glow. The world's largest package provider DHL now accepts OneCoin as a means of payment.

This is interesting in that the opponents of this cyber  currency repeatedly claimed that ONE is not an official cash because it is not officially listed.

The advantage for DHL is, however, obvious: stable or constantly rising price – and thus a real win-win situation.
On OneCoin's points-based e-commerce platform DealShaker, a listing offers DHL delivery to "Asia, Africa and rest of the world" for a combination payment of "89.00 EUR + 9.13 ONE (89 EUR)" per kg.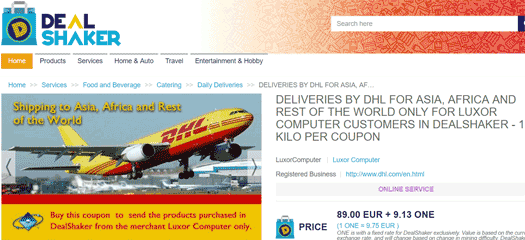 Affiliates in Bulgaria, citing similar ads on DealShaker, also claim DHL are accepting OneCoin: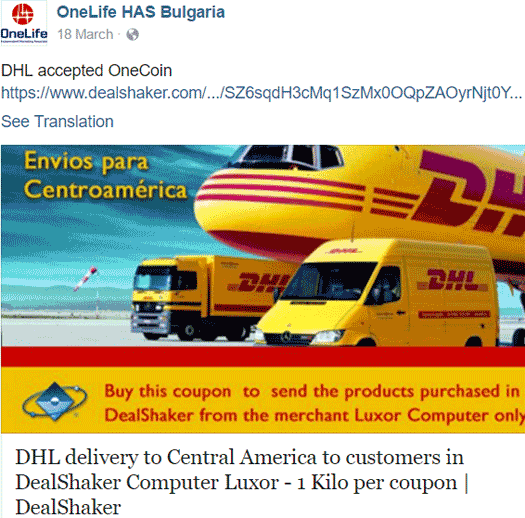 Not surprisingly, turns out DHL do not accept OneCoin as payment.
Germany's The Gerlach Report got in contact with DHL headquarters in the German city of Bonn and were issued the following official statement:
Since there are private DHL agencies, which only work with a license, references are made to the use of OneCoin.

Proof (of accepting OneCoin) will lead to a "direct loss of the agency's license".
Bonn is a city in west Germany.
Whether DHL would be able to track which agent (or agents) is/are fraudulently representing DHL accept OneCoin is unclear. Ditto whether OneCoin will take action against affiliates claiming the same.
As with any claims OneCoin affiliates make about the business, take any reference to a a legitimate third-party merchant accepting OneCoin with a grain of salt.
DealShaker merchants must be OneCoin affiliates in order to receive generated coins from the company and other affiliates. Unless OneCoin is publicly tradeable, there are no true third-party merchants accepting the coin.