Norwegian Olympic athlete dumped over promotion of Vemma

Jaysuma Saidy Ndura describes himself as "the best athelete in Norway".
Born in Western Gambia, after competing locally in his youth, Ndura moved to Norway in 2002 and officially changed his nationality to Norwegian in 2006.
Since then Ndura has continued to compete at a professional level representing Norway.
(Ndura) holds Norwegian records in the 100 and holds both the Gambian and Norwegian records in the 200 metres,and is the seventh and fourth fastest person to race for Europe of all times on the two distances.

He has a bronze medal from the African Championships and several top-three placings in IAAF Golden League meets and the IAAF World Athletics Final.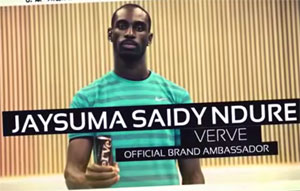 Around August of this year, Ndura signed on Vemma to be a brand ambassador for their energy drink, Verve. A press-release issued by Vemma reads,
We're thrilled to announce that Jaysuma Ndure is now a Verve brand ambassador. In coming months, he will endorse Verve in Europe.

Norwegian, born in Bakau Gambia on the west coast of Africa, Jays now lives and trains in Norway. At the Norwegian Grand Prix Florø 2014, Jays set a new record, completing the 100-meter sprint in 9.95 second. At 200 meters, he holds the men's records in Norway and Gambia.

As you might expect, Jays is totally dedicated to keeping his body in shape. He lifts weights for body strength. He runs to toughen his endurance. And he practices every aspect of his sprinting form to achieve perfection. The result? Dazzling speed.

Jays is strategic about the foods that nourish his body. So it's no surprise that he chooses the Vemma Formula in Verve. It gives his body more of what it needs to compete head-to-head with the world's most gifted athletes.

We are happy that Jaysuma Ndure has chosen to help promote Verve. His dedication to sport made him a superstar on the track. We predict that his enthusiasm will supercharge the wellness industry too.
Unfortunately for Ndure his new relationship with Vemma didn't go down well with Olympiatoppen, the organisation responsible for training Norwegian Olympic athletes.
In a statement issued by Olympiatoppen media-consultant Halvor Lea to Dagbladet, he explained
We have guidelines for the use and marketing of dietary supplements, and (what Vemma) does is a violation of this policy.

We have communicated this to (Ndure) on several occasions.
It seems Ndure has thus far ignored concerns from Olympiatoppen, resulting the organization officially severing ties with the athlete.
Olympiatoppen no longer has a professional relationship with (Ndure, and) it is due to this issue.
In addition to losing the support of the Norwegian Olympic body, Olympiatoppen's decision is understood to have cost Ndure a 70,000 NKR annual sports scholarship ($10,400 USD).
What exactly it is about Vemma that Olympiatoppen takes issue with is unclear. Comments from Ndure's coach, Olav Magne Tveitå, suggest it was due to his promotional efforts within the Olympic organisation:
Jays has agents of these products themselves and (they) sell them. He got in touch with someone and was recruited fairly quickly. So he brought products to Olympiatoppen and would sell them.

The case has created major problems for the team around Ndure.
It would seem there's a possible issue with Ndure attempting to recruit athletes and/or staff within Olympiatoppen. And if that's the case, then I can wholly understand why they dropped him.
All is not lost though, with Lea stating that Ndure would be welcome back at the organisation if he "breaks with Vemma".
Is being a brand ambassador for Vemma worth throwing away what's left of Ndure's Olympic career?
Taken from a promotional video shot in September, Ndure explains:
Being part of Vemma is like, I'm an athlete but I'm never gunna be running forever. And then what I'm doing right now is like starting a business, for like afterwards when I'm done with my career. So I have something to go on to.
I wonder what he'll decide to do…