NOCA Now Review: Cola and the Text Cash Network?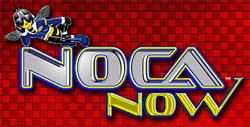 It's generally accepted that if you want to enjoy soft drinks, you're going to have to consume a whole bunch of who-knows-what that generally speaking, isn't going to be good for you.
With most soft drinks on the market containing ingredients that read like the components of a chemistry set, the prospect of healthy soft drinks certainly got my attention.
Hoping to capitalize on that idea comes MLM startup NOCA Now. Read on for a full review.
The Company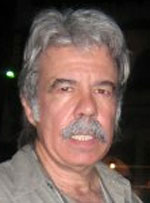 Noca Now was founded by owner 'Raymond F. Martineau (photo right) with George Foerst serving as CEO.
There's not all that much information out there regarding a background in MLM on these two despite Martineau's company blog stating he's 'been associated with various major networking companies for the past 42 years'.
On the general business side of things both Martineau and Feorst seem to have enjoyed working in a wide range of niches but specifically when it comes to MLM I couldn't really find any concrete associations or background.
The NOCA Now Product Line
NOCA stands for Natures Organic Concentrated Alternative with the company NOCA Now aiming to provide healthy beverage alternatives to their not-so-healthy counterparts.
Product wise NOCA Now currently have two no sugar, calories or carbohydrates beverages: NOCA Cola and NOCA Tea. Both beverages are sold in liquid concentrated form and need to be added to water (carbonated or otherwise) before being consumed.
NOCA Cola
NOCA Cola is NOCA Now's answer to regular cola and contains acai berry, blueberries, garlic, ginger, grape seed oil, hooda gordonii, iodine, kelp, lycii berry, magnesium, mangosteen, panex ginseng, pomegranate, vitamin A, B vitamins, vitamin C, vitamin D3 and zinc.
NOCA Cola is sold in cases of twelve 2oz (59ml) bottles for $36.
NOCA Tea
On the NOCA Now website, NOCA Tea is listed as having the exact same ingredients as NOCA Cola, except that it is a concentrated tea flavoured formula designed to be mixed with regular water.
NOCA Tea also comes in a case of twelve 2oz (59ml) bottles for $36.
The NOCA Now Compensation Plan
Surprisingly, the NOCA Now compensation plan makes several references to Text Cash Network, with the company itself even going so far to claim that only a few modifications differentiate it from the Text Cash Network compensation plan.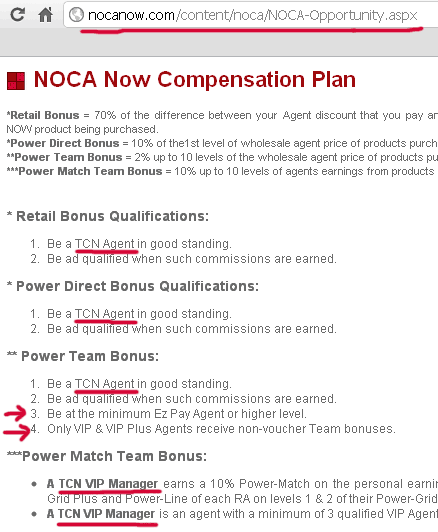 These changes include, a Power Retail Bonus, Power Direct Bonus and Power Team Bonus.
Power Retail Bonus
The Power Retail Bonus offered by NOCA Now is the difference between the wholesale price and recommended retail price of NOCA Now's products.
Power Direct Bonus
When members recruit new NOCA Now members, they are eligible to earn 10% of the wholesale cost of all product those recruited members purchase themselves or sell.
2% is offered on an additional 9 levels (members you recruit are your first level, members they recruit your second and so on and so forth) in your downline.
Power Match Bonus
The Power Match Bonus offered by NOCA Now is a 10% match on earnings made by your downline down 10 levels.
How many levels of your downline you earn 10% depends on how many members you yourself have recruited and how many members your recruits have recruited (the more you recruit the more levels you earn on).
Joining NOCA Now
I'm not sure if it will be changed in the future but membership to NOCA Now is currently being advertised as free of charge, however any membership links on the NOCA Now website actually point to the Text Cash Network.
Membership to the Text Cash Network is indeed free, however you do need to agree to receive a bunch of advertisements via SMS each day.
Conclusion
Truth be told I didn't even realise there was a connection between NOCA Now and Text Cash Network until I had a look at the NOCA Now compensation plan. After some further poking around the NOCA Now website, I then found this:
NOCA Now has chosen Text Cash Network (TCN) to market their line of products.

TCN offers many products and services. You can choose to market only NOCA Now products or any/all of the products made available to you.

You will recieve comissions on all sales for all products made by your downline, not just NOCA Now products.
I'm not entirely sure what the specifics of the business relationship are but it seems as if NOCA Now have "outsourced" the marketing side of their business to Text Cash Network members.
In the BehindMLM review of Text Cash Network I identified an overall revenue problem with the company and this latest partnership might be an attempt to alleviate those concerns.
Whereas Text Cash Network doesn't really have a product besides selling advertising on the network itself, NOCA Now most definitely has a retailable offering in its tea and cola concentrates.
Unfortunately though as with Text Cash Network, even with a retail bonus there's still a heavy reliance on recruiting if you want to take advantage of the MLM side of things.
True retail commissions exist within the NOCA Now compensation plan which is wonderful but overall it's still easily possible to stick people on autoship and earn a monthly commission on their purchase. When you consider that Text Cash Network pays out a monthly commission for each member recruited, that only adds another red flag to the NOCA Now opportunity.
In short, it's great to see that a retail offering has been paired with what was originally a questionable compensation plan lacking it, but unfortunately despite the positive changes they've made NOCA Now have also inherited the red flags identified with the original Text Cash Network compensation plan.
Given the above discussion regarding NOCA Now's products seems a little irrelevant but nonetheless if you are entertaining the idea of marketing them, like all other consumable opportunities you're going to be spending a considerable amount of money on sample inventory.
Beverage consumers are usually pretty picky about what they do and don't like so you're pretty much guaranteed to have to hand out samples in order to attract customers. Being a drink the health benefits alone aren't going to be enough to convince people if the drinks overall taste is poor.
As an avid consumer of cola myself (Pepsi or Coke, I don't mind although I can easily tell the difference between the two), NOCA Now's ingredient list did leave me questioning their claims that NOCA Cola is supposed to be a viable alternative taste-wise to Coke and Pepsi:
"NOCA THE BEE" IS REVOLUTIONIZING THE BEVERAGE INDUSTRY with "Healthy" Delicious Alternatives to your favorite drinks.

Some people say "It Tastes like Coke."

Some people say "It tastes like Pepsi."
For the life of me I couldn't recall even half the stuff found in either Coke or Pepsi but I'm pretty sure most of the ingredients listed in NOCA Cola are absent. When you consider some of the listed ingredients have a pretty strong taste themselves (garlic, ginseng etc.), how NOCA Cola is comparable to its chemical formulated counterparts escapes me.
Also with each bottle making just 295ml – 354ml of NOCA cola or tea, at 12 bottles for $36 that's a pretty steep price comparison to Coke or Pepsi. I like to think I drink cola in reasonable moderation but I know that monthly I drink quite a bit more than 4 litres a month. In my neck of the woods Coke retails for roughly $1.10 USD for 2 litres so how NOCA Cola's $18 per 2L cost is supposed to compete I'm not sure.
Tea I can't really comment on as I don't really drink it.
All in all I think if you can find a market for their products then NOCA Now might be worth a shot but the integration with Text Cash Network is a bit of a concern. Primarily because there doesn't seem to be any concrete relationship with NOCA Now and its members, given that you don't sign up as a NOCA Now member but rather as a Text Cash Network member.
That said they do have a separate management team and are open and honest about their products and who's running things so full points to NOCA Now for that.
NOCA Now is definitely a mixed bag of concerns, advantages and disadvantages  so I'd strongly advise those looking to sign up not only to familiarize themselves with the company itself, but also thoroughly with Text Cash Network.
This is extremely important seeing as ultimately Text Cash Network is the primary opportunity NOCA Now members will be signing up for.
Good luck!