NexxStars Review: $349 – $1499.50 investments

NeXXStars launched around April 2014 and are based out of the US state of Texas.
Heading up NexxStars is CEO Brad Cook. In his NexxStars corporate bio, Cook  claims his
 first exposure to network marketing was at aged 11 when his Mother and Father joined "Pre-Paid legal" (Ozedit: BehindMLM PrePaid Legal review here).

He quickly grasped the nuances of this business marketing model and by his 16th birthday he signed his first contract with Amway and thus launched a career built upon passion, integrity and drive toward a life of freedom and opportunity!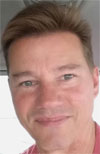 Other companies Cook (right) claims to have been affiliated with include National Safety Associates (NSA), Smart Travel and Enliven.
No specifics are provided on Cook's corporate MLM history, but his NexxStars bio does state he has been "Vice President" for an "MLM Internet technology company".
I did try to research the name of this company but unfortunately turned up nothing. I found it odd that no name was provided when Cook was willing to openly disclose the names of other company's he'd been involved in.
Read on for a full review of the NexxStars MLM business opportunity.
The NexxStars Product Line
Whether or not NexxStars has any retail products is unclear. The company website lists several products, including "mobile phone and service and advertising", "IPTV", "4K TV", "security systems" and "web advertising",  however no specifics, for example costs, are provided.
The NexxStars Compensation Plan
The NexxStars compensation plan primarily revolves around affiliates signing up and investing in at either the Personal ($349) or Business (1499.50) level.
Recruitment Commissions
Personal and Business level NexxStar affiliates are paid "direct commissions" on the recruitment of new affiliate investors.
Affiliates are paid $20 for every Personal investor and $100 for every Business investor recruited.
Additionally, 3% of all affiliate investment money is set aside in a pool and shared with President ranked affiliates (Business affiliates who have recruited at least five new Business affiliate investors).
Global Bonus ROI
NexxStar affiliates join the company and invest in either a Personal ($349) or Business ($1499.50) investment package.
Then, provided an affiliate clicks company-supplied links every day, NexxStars guarantee a maximum annual ROI of $2500 and $10,000 for respectively (paid out weekly).
No minimum ROI amount is provided, being presumably limited to how much new affiliate money NexxStars brings in.
Membership Fee Commissions
If a NexxStar affiliate agrees to place a banner advertisement for NexxStars on a web property they own, the company promises them a share of 3% pool. This pool is split across the three affiliate account types, and is made up of "monthly and activation fees".
Cashback Commissions
How cashback commissions are generated is a little unclear, but it appears to be via use of a supplied credit card to Personal and Business affiliate investors.
Whenever you withdraw money or make payments with your card, you get special bonuses credited to your account. This amount is credited monthly
The "credited" amount seems to be placed into a bonus pool, which is then paid out to affiliates.
10% of the pool is paid out to Personal affiliates
40% of the pool is paid out to Business affiliates and
50% of the pool is paid out to President affiliates
Note that to qualify at the President level, a Business affiliate investor must recruit at least five new NexxStar affiliates who also invest at the Business level.
Binary Commissions
Every affiliate investment in NexxStars is placed into a binary compensation structure.
A binary compensation structure places an affiliate at the top of two binary sides, left and right: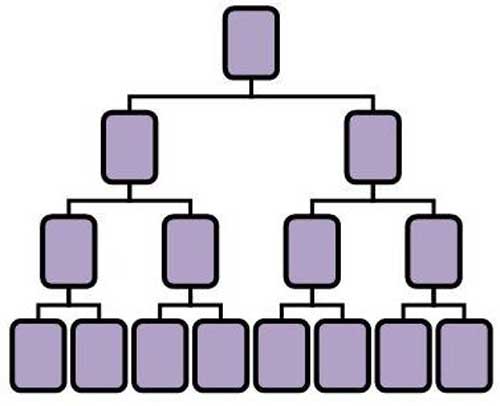 Positions in the binary are filled when recruited affiliates invest in affiliate packages. Affiliates in a binary can be recruited directly, or via the recruiting efforts of an affiliates up and downlines.
Commissions are calculated daily via the pairing of Personal and Business investments, paired using a 1:1 ratio on either side.
For every Personal 1:1 pairing on either side of the binary, a NexxStar affiliate is paid $20. For every Business pairing, they are paid $150.
Note that the following daily caps apply to binary commission payouts:
Personal affiliates are capped at $1000 for Personal pairs and $5000 for Business pairs
Business and President affiliates are capped at $20,000 for Personal pairs and $50,000 for Business pairs
E-Commerce Commissions
Despite no information being provided on the products and services themselves, should, by accident or otherwise, anyone purchase one of NexxStar's purported products, the company offers a 15% commission.
A 1% residual commission is also offered on any sales made down five levels of recruitment.
Joining NexxStars
There are three affiliate options to choose from when joining NexxStars:
Partner – $49.90 (not MLM)
Personal – $349
Business – $1499.50
The primary difference between the Personal and Business affiliate options is the annual ROI paid out (see comp plan break down above).
Note that a $49.90 monthly fee also applies after an affiliate's first month.
Conclusion
With NexxStar's purported products and services not really having anything to do with 99% of the company's compensation plan, it's quite obvious that the $349 or $1499.50 fee affiliates pay to join the opportunity is being recycled to generate commission and ROI payouts.
The NexxStar Partner affiliate level appears to primarily be a feeder for the upper-level investment options, with NexxStar advising that Personal affiliates can
earn a PUBLISHER BONUS by advertising the NeXXStars app on your website. $350 in bonus monies lead to an upgrade to (a) PERSONAL (account).
What the NexxStar app does I have no idea (advertise the business opportunity?), as it's not mentioned on the website. But the concept is simple. The Partner level exists solely for affiliates to generate enough revenue to buy in at the Personal level.
Personal and Business level affiliates buy in and then, under the guise of clicking advertisements are paid new affiliate investor money for a year (or "financial transactions" as NexxStar put it).
Maximum ROIs are in place to stave off the inevitable Ponzi collapse, and no minimum is specified as how much is paid out is directly determined by how much new affiliate money is coming in.
The inclusion of a credit card with the opportunity is a bit strange, but it seems NexxStars have tied in fees charged to their compensation plan. Basically paying out a portion of the fees collected back to those who have invested. How that works with their merchant account provider (why are they sharing the fees?) though, I can't say.
As for the products NexxStar lists on their website, they appear to be little more than smoke and mirrors. I can't see why anybody outside of the investment opportunity would be visiting the NexxStar website, let alone be interested in purchasing anything offered at a retail level (only the vaguest of information is provided, and no prices!).
How much of CEO Brad Cook's corporate bio rings true I can't say, but given the overall business nature of NexxStars there's definitely an air of questionability there. In any event, if we take his bio at face value, it's rather alarming that someone with seemingly extensive experience in the MLM industry is behind a company that is obviously paying no heed to compliance.
As with all Ponzi schemes, once NexxStar affiliates stop investing in Personal and Business packages or new investments are outstripped by weekly ROI liabilities, kaboom!
Update 10th June 2014 – Brad Cook has been in touch and writes
The Nexxstars site you reviewed is no longer valid as of 5-3-14 and was open for a very short time. The related compensation plan is not in effect. The few sales that were made pursuant to the site and compensation plan have been refunded.

Our new site and compensation plan will be launched as soon as we finalize the plan and finish the programming and website.

Brad Cook
CEO, Nexxstars
I replied:
Hi Brad,

If the comp plan reviewed was terminated on May 3rd, why over a month later is it still presented on the NexxStars website?

If what's on the NexxStars website is no longer representative of the business, it shouldn't be up.

-Oz
I'll update again if I hear anything back.