Neurs Review: "Pay it forward" social network?

Neurs went into beta launch this February and are scheduled to officially launch next month. On the Neurs website a corporate address in the US state of California for "Neurs LLC" is provided.
Heading up Neurs (taken from the last syllabic quarter of en-tre-pre-neurs) is CEO and co-founder Frank Codina.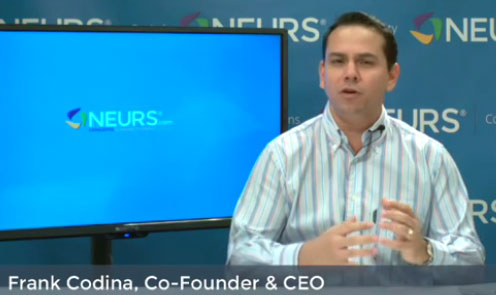 Prior to co-founding Neurs (the other co-founder(s) are not mentioned on the Neurs website), Codina was in Primerica (financial services) 21 years.
Codina joined Primerica back in November 1991 and achieved the affiliate rank of Senior National Sales Director. According to his LinkedIn profile, Codina left Primerica in August of last year.
Shortly after that work on Neurs appears to have begun, with Codina listing involvement with "Neurs Capital" from September 2013.
Read on for a full review of the Neurs MLM business opportunity. 
The Neurs Product Line
Billed as a place aspiring Entrepreneurs can go to connect with business opportunity providers, Neurs' flagship service is a social network.
(We) crafted a world-class opportunity, that could help you access the funds you need to either start or grow your business, while potentially earning millions of dollars in the process!

-Neurs marketing video
After signing up to the network, a Neurs members fills out a questionnaire which the system then uses to match them to listed business opportunities within the Neurs directory. The Neurs directory is also searchable.
As part of the Neurs social network, "university" courses are also offered to members. These courses cover the basics of starting an MLM business.
No specifics are provided, but Neurs' marketing material mentions access to "lenders" and "investors", who will loan and/or invest money in Neurs member's attempts to start in their chosen MLM business opportunity.
Neurs charge members either $99 a month or $997 to $1397 annually to be a part of their social network:
Entrepreneur – $99 a month (1000 credits)
Provider – $997 (15,000 credits)
Full Access – $1397 (40,000 credits)
Founding Member – $1397 (30,000 credits every year)
The credits cited above are the virtual currency used within the Neurs network. Members use credits to connect to other members within the network via the different communication methods Neurs provides (messaging, conferences, publishing ads etc).
The Neurs Compensation Plan
The Neurs compensation plan revolves around affiliates selling Neurs network memberships. Affiliates are paid on their direct signups, residually via a 30 level unilevel, and top-tier fee paying affiliates can also qualify for shares in a Global Bonus Program.
Neurs Network Membership Commissions
When a Neurs affiliate signs up a new Neurs network member, they are paid a direct commission. How much of a commission is paid out depends on how much a Neurs affiliate pays in affiliate membership fees.
Free Affiliate – $75 on the first month's Neurs network membership fee and then $10 every month thereafter for every personally referred member.
Affiliate Pro ($49) – $75 on the first month's Neurs network membership fee and then $10 every month thereafter for every personally referred member.
Affiliate Pro affiliates can also earn residual Neurs network monthly commissions, payable down a maximum of thirty levels of recruitment (unilevel).
Level 1 (personally referred Neurs network members) – $10
Level 2 – $9 per member
Level 3 – $8 per member
Level 4 – $7 per member
Level 5 – $6 per member
Level 6 – $4 per member
Level 7 – $2 per member
Level 8 – $1 per member
Level 9 – 50 cents per member
Level 10 – 25 cents per member
Levels 11 to 30 – 10 cents per member
Note that an Affiliate Pro affiliate has to unlock payable levels beyond the first. How many Neurs network members an affiliate has personally signed up dictates how many levels of affiliate recruitment they are paid on.
Eg. If an affiliate has signed up five Neurs network members, they are paid down five levels of recruitment. If they have signed up twelve Neurs network members, they are paid down twelve levels of affiliate recruitment.
Note that these accounts must be active (either annual accounts or paying the $99 a month Neurs network membership fee).
Also note that all Affiliate Pro affiliates must have at least one personally signed Neurs network member in order to qualify for any commissions. This account can be an affiliate's own Neurs network membership purchase, it cannot be a recruited affiliate.
If an Neurs self-qualifies for commissions by purchasing a Neurs network membership, they waive the $75 first month and $10 every month thereafter commission payable on the membership.
Affiliate Partner ($79) – For Entrepreneur and Provider Neurs network membership accounts, Affiliate Partner affiliates are paid $75 on the first month's Neurs network membership fee and then $10 every month thereafter for every personally referred member.
Affiliate Partners are paid down the same thirty available levels as Affiliate Pro affiliates (details above). Because Affiliate Partner affiliates pay more in membership fees however, there are no qualifications required to unlock the thirty levels.
Affiliate Partners also qualify for higher commissions on the sale of Founding Member and Full Access Neurs network membership accounts ($1397 each).
Founding Member commission is also paid down thirty levels of recruitment, as follows:
Level 1 – $185
Level 2 – $108
Level 3 -$96
Level 4 – $84
Level 5 – $72
Level 6 – $48
Level 7 – $24
Level 8 – $12
Level 9 – $6
Level 10 – $3
Levels 11 to 30 – $1.20
Note that Founding Member commissions are once-off per Founding Member membership payment.
Full Access membership accounts signed up by Affiliate Partners generates the same commissions payable down thirty levels, but offers an additional $315 bonus on the first membership fee payment (renewals pay out as above). This equates to a first-time commission of $500 on personally signed Full Access Neurs network memberships.
In addition Neurs network membership commissions, Affiliate Partners also participate in Neurs' Global Bonus Program. Neurs puts "50% of any additional profits we generate". Neurs claims this additional revenue will be sourced from "merchandising, advertising and additional credit purchases"(made by network members in addition to their annual/monthly spend).
Shares in Neurs' Global Bonus Program are allocated according to how many Neurs network affiliates they have signed up.
Points are calculated by multiplying the total amount of Neurs network members signed up (excluding the most recent 30 days) by 40%. The number of members signed up in the last 30 days is multiplied by 60% and then added to this figure to get the total sum of points.
Eg. If an affiliate has signed up 20 members excluding the last thirty days, and ten in the last thirty days, this equates to 8 (0.4 * 20) + 6 (0.6 * 10) for a total of 14 points.
Yet to be determined, Neurs will then decide on a fixed number of affiliates who will qualify for the Global Bonus. For example, if Neurs picked 100 for any given month, that means that for that month the top 100 Affiliate Partner affiliates would qualify for a share in the Global Bonus for that month.
Shares are allocated based on the amount of points a qualifying affiliate has, pro-rata against the total point pool of all qualifying affiliates.
Joining Neurs
There are three options for joining Neurs as an affiliate:
Affiliate Basic – free (single-level compensation plan, not MLM)
Affiliate Pro – $49
Affiliate Partner – $79
The primary difference between the three affiliate levels is the amount of commissions received, the more affiliates pay the higher their commission potential within the Neurs compensation plan.
Conclusion
Over the next few years Neurs will be operating in over one hundred countries, helping millions of people worldwide realise their dream of business ownership.

We will be the premier service connecting aspiring entrepreneurs and business providers worldwide. And our name will by synonymous with internet giants like Facebook, LinkedIn and Groupon.

Hundreds of millions of dollars in revenue will be generated. The question is, how much of that do you want to earn?

-Neurs marketing video
Historically MLM social networks haven't done very well. Typically they wind up being full of affiliates pitching eachother the various business opportunities they are apart of.
New members join to pitch their existing opportunity to members already in the network. And on the off-chance someone looking for information on a potential MLM business, they get spammed into oblivion and never return.
You can see this in action today by browsing the public profiles of every major MLM social network that's launched in the past five years. They're full of spam offers to join businesses, sent under the guise of "connecting".
Compensation plan Neurs appears to have done a decent enough job of separating the affiliate side of the business with Neurs network membership. Commissions are tied to Neurs Network memberships, with the exception of an affiliate being able to self-qualify themselves for commissions.
Unfortunately this opens the door for endless recruitment, as an affiliate can self-qualify themselves for commissions with their own Neurs network membership purchase. They can then just focus on recruiting new affiliates who do the same, getting paid with each Neurs network membership each newly recruited affiliate purchases (in order to qualify themselves for commissions).
This is problematic in that it totally ignores retail Neurs network memberships. And given the consumable nature of Neurs network memberships, this is wide open for abuse.
I'd advise all prospective affiliates check with their potential uplines firstly as to whether or not they've self-qualified, and then secondly the total number of non-affiliate Neurs network members they've signed versus affiliate members. Anything less than a fifty-fifty spread and you're probably looking at an unhealthy focus on affiliate recruitment should you join.
A check on how many of their allocated credits they've actually used wouldn't hurt either, as it will give you some idea of the viability of the Neurs network itself. A small amount or no credits used would indicate the network is not being used at all, but rather it is the membership itself that is of value (for commission qualification).
The Global Bonus Program looks harmful enough, with revenue paid out appearing to be derived external to affiliate interactions with the site. Technically an affiliate can pump funds into the pool via credit purchases from a Neurs network member account, but this has no bearing on whether or not they qualify for a share in the pool and/or how much of a share they qualify for.
One thing I thought was glaringly obvious on the red flag front was the obvious "pay to play" nature of affiliate memberships. The way its set up now, there's no escaping the fact that the more a Neurs affiliate pays in fees, the more of the compensation plan they unlock.
This is illustrated best in Neurs' compensation plan video, in which CEO Frank Codina openly states
Our affiliate partners stand to make the most money, because they have committed to us. They deserve all the goodies and the top compensation level.
In MLM it's important that affiliates be paid solely on their marketing efforts rather than it being based on fees paid to the company (for memberships or otherwise). Neurs candidly proclaims that the more an affiliate pays them, the more compensation plan they "deserve" to earn.
Quite obviously the idea is to rope people in at the $79 level, with the Affiliate Pro option seemingly only existing to provide leverage to get people to pay just a little more for the Partnership.
The Free affiliate option is straight forward enough but is just straight-up single level affiliate marketing, this marks it as irrelevant within the scope of Neurs as an MLM business opportunity.
There's also an issue with the Neurs network memberships, with Codina marketing their Founding membership by promising that Founding members will be "first in line" for any equity offerings Neurs make should they go public in the future.
If Neurs affiliates (or anyone really) is purchasing Foundation Neurs network membership on the promise of a >100% ROI via a later share offering, this unnecessarily drags Neurs into investment scheme territory.
In general, given the MLM social network niche's track record, I found Neurs projections of millions of dollars in advertising revenue and comparisons to Google, Facebook et al. to be wildly optimistic.
Google has pretty much eliminated the need for an MLM social network, with participation in one as a means to evaluate potential opportunities only assuring that one will be basing their entire decision on information supplied by someone looking to recruit them. Worse still, someone who is paying $99 a month or over a $1000 annually and might feel they're completely entitled to do so.
That naturally isn't the best environment to be making MLM business opportunity decision in, yet it's exactly what Neurs offers.
The mention of "lenders" and "investors" in the Neurs network marketing video also raised an eyebrow, as the "pay it forward" concept is typically employed as marketing strategy by less than reputable companies. Typically an affiliate of one such company will offer to pay for a potential recruit's startup costs, to be repaid out of profits generated by the position.
As such you'll usually find this sort of stuff going on with schemes that are passive in nature (Ponzi schemes are the usual suspects). Needless to say one would hope this is not indicative of the types of opportunities the Neurs network plans to populate itself with.
The Neurs comp plan is definitely one of the better ones I've seen in the MLM social network niche, but I'm not even slightly convinced they'll manage to escape that post-launch fizzle every MLM social network to date has experienced.
Might be best to watch how this one plays out first before committing to anything.