Neucopia Review: Recruitment & cash gifting hybrid

Neucopia state that their name is derived from the latin word 'copia', meaning abundance. Neu is apparently 'new' in German so I guess the idea here is "new abundance".
Neucopia list their company address as a virtual office suite in the state of Nevada in the US and is headed up by CEO Rich Cook (photo below right), who the company undersells as having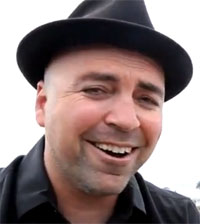 a background of success after success (and) becoming a top income earner multiple times over in the network marketing arena.

Rich is a leader's leader…(who) excel(s) in virtually everything he does (and) create(s) friendships with everyone he meets.
I tried to research Rich Cook's MLM history and didn't really turn up anything.
Curiously, the domain 'neucopia.com' has was registered on the 15th May 2012, however the domain registration information is set to private.
Back in June 2012 though Neucopia affiliate 'Kevin', who claimed Neucopia was 'not a scam, nor a spam!!!!!, wasn't selling anything and was merely looking to 'recruit…people to join us',' stated that Rich Cook 'actually lives in San Diego, CA'.
The Neucopia Product Line
Neucopia don't have any retailable products or services, with members only able to market membership to the company itself.
There are two types of membership available in Neucopia, 'Basic' and 'Premier'.
Bundled with Basic membership ($49.95 a month) are 'thousands of dollars worth of the top tools, trainings, and income generating strategies'. Premier membership ($169.95 a month) also includes this, as well as 'exclusive access to additional conference calls, webinars, training videos, and other secret strategies'.
The Neucopia Compensation Plan
The Neucopia compensation plan revolves around the recruitment of new members and continuous payment of a monthly membership fee.
Using a hybrid 2-up/3-up compensation plan structure, new members must pass up their first three Basic membership sales, or first two Premier membership sales before they can earn a commission.
In turn after your initial qualifying sales, anyone you personally recruit then has to pass up their qualifying sales to you as well.
Signup Fee Commission
Once qualified to earn a commission (passing up 3 Basic or 2 Premier membership sales to your upline), Neucopia then pay out $100 per new member you recruit (at either the Basic of Premier membership level).
Premier Membership Monthly Commission
Making up the residual commission, for each Premier member you have in your downline (members passed up do not count), you earn a monthly $100 commission on their membership fee.
Basic members are not able to earn this commission with their monthly commission on Premier memberships rolling up to the first qualified Premier member in their upline.
Matching Bonus
Everytime a $100 Premier membership monthly commission is paid out, the member who recruited the member getting paid earns a $10 matching bonus.
Joining Neucopia
Membership to Neucopia comes in two varieties, Basic and Premier. Basic membership is $49.95 a month and Premier is $169.95 a month.
Both membership options come with a one time signup fee of $100.
Conclusion
With nothing able to be sold in Neucopia other than company membership, that means 100% of the commissions being generated are coming out of membership fees being paid by company affiliates.
As new members join the company, the only way they are then able to earn a commission is via the recruitment of new members. Once new members stop joining, those who joined last won't earn anything and will leave and this trickles up to the top and it all falls apart.
Whereas this is as far as a bog-standard pyramid scheme goes, Neucopia have also added what appears to be a cash gifting element to their compensation plan. When a new member joins at the Premier level, 100% of their mandatory sign up fee ($100) is directly paid out as a commission.
Quite clearly the idea behind Neucopia is to sign up as a Premier member and then recruit others to do the same. No products are being sold and none of the money inside the company is non-affiliate sourced.
Pyramid schemes are bad enough on their own, introduce a cash gifting element into the equation and they only get worse.