Did PreLaunch Australia ever officially launch?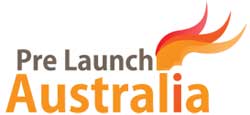 A few months ago, Sam Fawahl, Bassem Tal and Adam Marks began the viral marketing campaign for PreLaunch Australia.
Designed to be the first public membership drive for the trio's Beehive Strategy, PreLaunch Australia attracted an alleged 36,000+ free signups in just a few short months.
The company itself touted this as being 'the largest global pre-launch in history'.
With a launch date of two weeks ago, over the last thirteen days,  anyone visiting the PreLaunch Australia website has been left staring at this;

So what happened? Did PreLaunch Australia actually launch? And if so… why haven't they updated anything and instead chosen to keep their members and the public in the dark?
Shrouded in secrecy like the MLM opportunity PreLaunch Australia was attached to (MyShoppingGenie), since the official launch date not much has been released on the opportunity itself.
The official Beehive Strategy website was revamped up a bit to include a new design and promotional video (which introduces you to the founders but not much else), whilst the PreLaunch Australia website has been left stagnant, giving off the impression the opportunity is still very much in PreLaunch.
Turns out that since quietly launching (so much for being the largest global pre-launch in history), the guys behind the opportunity have been quietly emailing batches of 500 free PreLaunch members, no doubt attempting to get them to cough up $248.95 to join MyShoppingGenie under the Beehive Strategy.
Outside of the following Facebook update from the PreLaunch Australia account, there's literally no public indication as to what exactly is going on.
And even then the update is massively vague, failing to detail exactly what this email contains or providing those that have signed up with a scheduled timeline of completion.
With two websites sitting stagnant (the Beehive Strategy and PreLaunch Australia), is there really any excuse for not updating the public and their members two weeks after the official launch date?
At the very least they could have pointed visitors to PreLaunch Australia to the Beehive Strategy post-launch.
If I didn't use Facebook and had joined PreLaunch Australia, chances are I'd have been sitting on my hands these past two weeks wondering what on Earth was going on.
Any chance I'd sign up when a random email was sent to me asking me to invest nearly $250 into the scheme?
Not bloody likely!
PreLaunch Australia might not have been the biggest prelaunch in global history, but there is certainly one thing we can all learn from it…
…how to completely bugger up the launch of your company and leave your members in the dark.