MyAdRich Review: $50 matrix-based recruitment scheme

There is no information on the MyAdRich website indicating who owns or runs the business. The information provided is the following vague marketing spiel:
MyadRich has been founded by a leading international Business group experienced in IT, Network Marketing,Capital markets,CORPORATE SOFT SKILLS and Personality Development.
The MyAdRich website domain ("myadrich.com") was registered in September 2013 and lists a "Dave Tony" as the owner.
An address in the British Virgin Islands is also provided, however this belongs to "Fidelity Corporate Services". They advise on their website that they operate 'in the BVI, providing offshore company formation and management services'.
Given the generic nature of the name "Dave Tony" and the fact the supplied corporate address for MyAdRich is little more than a mail forwarding address, I'm flagging the provided admin details as likely to be false.
As always, if a MLM company is not openly upfront about who is running or owns it, think long and hard about joining and/or handing over any money.
The MyAdRich Product Line
MyAdRich has no retailable products or services, with affiliates only being able to market affiliate membership to MyAdRich itself.
Once an affiliate has joined MyAdRich, they can then purchase positions in the compensation plan. Each positions comes bundled with a series of advertising credits, which can be used to display advertising on the MyAdRich website.
The MyAdRich Compensation Plan
The MyAdRich compensation plan revolves around affiliates signing up and purchase matrix positions. There are seven levels of matrices in MyAdRich, each using a 2×2 matrix model.
A 2×2 matrix places an affiliate at the top of the matrix, with two positions directly under them. In turn, these two positions branch out into another two positions each, making up the second level of the matrix:
(2×2 matrix)
As above, there are six positions in total which need to be filled, which is achieved either via direct or indirect recruitment of new affiliates (who purchase positions).
Commissions are paid out when a MyAdRich affiliate cycles out of a matrix (which happens when all positions in a matrix are filled). How much of a cycle commission is earnt depends on what level matrix an affiliate is cycling out of:
Bronze – $30 commission and entry into Silver
Silver – $150 and entry into Gold
Gold – $400 and entry into Platinum
Platinum – $1500 and entry into Diamond
Diamond – $5000 and entry into Senior Diamond
Senior Diamond – $8000 and entry into Titanium
Titanium – $30,000, $500 a month for twelve months ($6000), "a car" ("Toyota, Kia or Hyundia product") and re-entry into a Titanium matrix
Joining MyAdRich
Affiliate membership to MyAdRich is $50, which covers the cost of a Bronze matrix position.
According to MyAdRich's FAQ:
You may have multiple accounts and you may also use the same email address for each account.
Conclusion

With no retailable products or services, 100% of company revenue generated via affiliate membership (position) fees and commissions dependent on the recruitment of new affiliates, MyAdRich qualifies as a recruitment-driven pyramid scheme.
Affiliates buy in at $50 a pop and then set about recruiting new affiliates into the scheme that do the same. If affiliates stop buying matrix positions, the entire scheme stalls and ultimately collapses.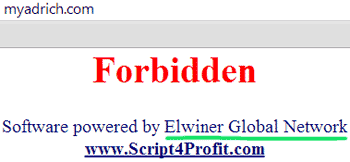 It's worth noting that MyAdRich is running "Script4Profit" software, which is owned by "EGN Software". On their website, EGN Software advise they are based in Indonesia, and offer various HYIP, recruitment-driven and revenue-sharing scripts for a few hundred dollars.
MyAdRich is hosted using EGN Software's name-servers, so it appears whoever is running it has bought a domain, spent a few hundred dollars on one of EGN Software's scripts and registered a bogus company in the BVI.
And then when the recruitment slows down and things ultimately turn sour, the anonymous MyAdRich admin will then just bail with everyone's money.