Cheri Marks accuses FSCA of lying about criminal investigation

Suspected MTI co-owner Cheri Marks has accused the FSCA of lying about a Mirror Trading International criminal investigation.
News of a possible criminal investigation into Mirror Trading International broke in October.
The FSCA followed this up yesterday with confirmation 'a criminal case has been opened by the FSCA with the South African Police Services.'
Marks' response was made through a serious of recorded voice messages, targeted at MTI affiliate investors (provided courtesy of MyBroadband forums' readers).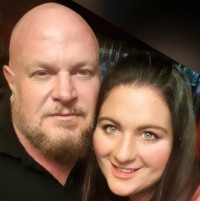 Marks (right with husband Clynton) begins by claiming MTI's legal team spoke to the FSCA;
and it was confirmed that a formal case has not been opened up against MTI and that the police are not investigating MTI yet.
Marks goes on to claim the FSCA's press-release is "not true".
I will not stand for the FSCA blatantly lying to people to purposefully create panic, distrust and (to) sow discord in our business.
Marks states that regulation of securities by the FSCA is "dirty tactics" and, even if MTI is committing securities fraud in South Africa, 'there is nothing else they (the FSCA) can do'.
Marks does not address the FSCA finding no evidence of trading taking place or external revenue being used to pay MTI withdrawal requests.
Instead she claims the FSCA regulating securities fraud as they are required to by law, constitutes an "autocratic dictorialship".
Supposedly there's an official MTI response coming. We expect it will contain more baseless denials and the same regurgitated debunked claims of trading.
It's important to note that all Mirror Trading International has to do to prove they are legitimate, is register with the FSCA and provided periodic audited financial reports.
They haven't in over a year of illegally soliciting investment, because obvious Ponzi is obvious.
Looking forward it's probably not worth the FSCA's time responding to Cheri Marks' ranting. Pending the conclusion of their investigation, stay tuned…
Update 19th December 2020 – MyBroadband forum readers have confirmed there is in fact a Mirror Trading International criminal case.
The case number is "245/11/2020" and is being handled by the Stellenbosch PD.
Writes MB forum member "Snyper564";
Contacted (removed) – SAPS Stellnbosch

They confirmed this case has been transferred to Cape Town – Special crimes/special investigation unit.
There haven't been any further updates from either the FSCA or MTI as I'm writing this.