LiveAdHits Review: $10 AdPacks & recruitment

The LiveAdHits website domain ("liveadhits.com") was registered on the 12th of October 2013, however the domain registration is set to private.
The LiveAdHits website doesn't explicitly provide information on who owns or is running the business, however they do mention that the admin's names are purportedly 'Mike,Roberta,Bobby,Ron and Andrew'.
To tell the truth we have mostly joined the hyip and mlm companies. Roberta Mike and Bobby also run 2 successful businesses. We have been part of a few revenue sharing until now (as members).
Referring to themselves as "the dream team", the LiveAdHits admins claim to have launched both "Pro Matrix Plus" and "Pro Matrix Advanced" prior to LiveAdHits.
Both Pro Matrix opportunities appear to be recruitment-driven schemes, with Pro Matrix Plus requires affiliates to purchase $25 positions in a matrix. Pro Matrix Advanced also uses matrix, but raises the minimum cost of participation to $200.
Both schemes, at least according to their Alexa website statistics, appear to be in decline.
Read on for a full review of the LiveAdHits MLM business opportunity.
The LiveAdHits Product Line
LiveAdHits has no retailable products or services, with affiliates only able to market affiliate membership to the site itself.
Once an affiliate has joined LiveAdHits, they are then able to purchase "AdPacks", with each purchase providing an affiliate a position in the company's compensation plan.
Advertising credits are also bundled with each position purchased, which can then be used to display advertising on the LiveAdHits website.
The LiveAdHits Compensation Plan
The LiveAdHits compensation plan revolves around affiliates purchasing $10 "AdPacks". With each AdPack purchase LiveAdHits promise a ROI of up to 4.5% a day, maturing at 130%. In addition to this the company also offers recruitment commissions and a four level matrix scheme.
Recruitment Commissions
Recruitment commissions are paid out on the affiliate membership fees paid when a new LiveAdHits affiliate joins the company.
These commissions are paid out via a 3×15 matrix, with affiliates paid according to how many positions in their matrix are filled with recruited affiliates.
A 3×15 matrix places an affiliate at the top of the matrix with three positions directly under them (level 1).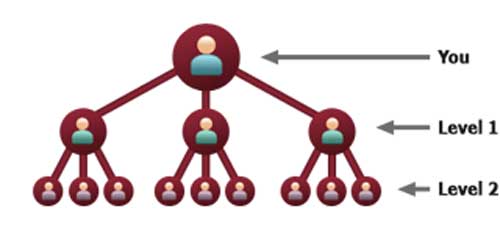 In turn, these three positions branch out into three additional positions (level 2) and so on and so forth down a total of fifteen levels.
LiveAdHits affiliates are paid a commission per recruited member into their matrix, with how many levels they are paid down on determined by their own affiliate membership rank.
Also note that how much an affiliate is paid is determined by the membership level a newly recruited affiliate buys in at.
The compensation plan material for the matrix payouts is slightly confusing, offering up two sets of commission payouts without an explanation.
Whereas I'd typically write-up the exact amounts paid out at each level determined by an affiliate's membership level, as I'm unsure I'll simply state that LiveAdHits' recruitment commissions appear to range from 10 cents (Package 1 affiliate on level 15) to $150 (Package 6 affiliate on level 1).
AdPack ROIs
Under the guise of "AdPacks", LiveAdHits offer up a ROI of up to $13 on $10 investments made by affiliates.
This ROI is paid out daily, under condition that an affiliate view ten company-supplied ads each day. How much of a daily ROI an affiliate receives depends on how much money they spend on affiliate membership:
Package 1 ($9.99) – 1.5%
Package 2 ($29.99) – 1.75%
Package 3 ($39.99) – 2%
Package 4 ($99.95) – 2.5%
Package 5 ($299.99) – 3.5%
Package 6 ($999.99) – 4.5%
In order to qualify for their daily ROI, an affiliate must view at least ten company-supplied advertisements. Optionally an additional fee can be paid by affiliates to waiver this requirement.
LiveAdHits affiliates must also purchase a monthly matrix position in order to receive their daily ROI (details below)
Matrix Commissions
In addition to investment ROIs LiveAdHit's pays out, the company also runs a four level matrix scheme.
A 2×2 matrix places an affiliate at the top of the matrix, with six positions under them. Each of these positions is purchased by new or existing LiveAdHits affiliates, and once all six positions are filled an affiliate cycles out.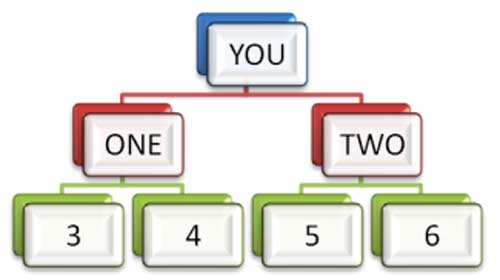 After cycling out of the first matrix, an affiliate is entered into a second 2×2 matrix. Once they cycle out of that matrix (all positions are filled), they earn $120.
There are four matrix levels in total, all using the same 2×2 matrix template above. Commissions paid out when affiliate cycles out of each of the four matrices is as follows:
Matrix 1 ($50 entry) – $50, entry into Matrix 2
Matrix 2 – $120, entry into Matrix 3
Matrix 3 – $500, entry into Matrix 4
Matrix 4 – $1500, re-entry into a new Matrix 1 matrix
Joining LiveAdHits
Affiliate membership to LiveAdHits is sold via "packages", with how much spent on an affiliate membership directly affecting an affiliate's income earning potential within the LiveAdHits compensation plan.
There are six affiliate Packages in total:
Package 1 – $9.99
Package 2 – $29.99
Package 3 – $39.99
Package 4 – $99.95
Package 5 – $299.99
Package 6 – $999.99
Conclusion
LiveAdHits' admins openly disclose that they have a lengthy past with revenue-sharing and HYIP opportunities, and that is reflected in the company's compensation plan and business model.
Whereas your typical advertising credit based Ponzi scheme is free to join, LiveAdHits charge a fee to participate on top of the cost of investments and/or matrix position purchases.
Unfortunately however the core Ponzi mechanic, that being ROIs paid out of new affiliate investment remains. Additionally the matrix components of the scheme add an additional pyramid scheme layer.
Without the constant investment of $10 AdPack positions, LiveAdHits has no money to pay out existing investors. Ditto on the affiliate purchase of matrix positions, without which both LiveAdHit's matrix schemes collapse.
This is further evidenced in the LiveAdHits refund policy, which states:
Can I request a refund?

No! Once the sale enters our system, it is part of income pool which we use to pay our active members. All sales are final.
The reason they can't offer refunds is because the second they take in new affiliate money, it's transferred out to existing affiliates.
Despite the obvious Ponzi and pyramid scheme mechanics of LiveAdHits' business model and admin(s)' prior experience with HYIPs and revenue-sharing schemes, the company insists that it's neither an HYIP, MLM or Ponzi scheme:
Are you an HYIP, MLM or Ponzi scheme?

NO. We are an advertising platform.
Advertising Platform? Whilst it's true that the company does bundle advertising services with its investment and matrix positions, the reality is that these positions and investments are only made on the expectation of income via the LiveAdHits compensation plan.
Investments in AdPack positions and the purchase of matrix positions, on the expectation of a recruitment or new investment dependent commission, pretty much kills the argument that LiveAdHits is just an "advertising platform".
Truth of the matter is it's a combination of al three: Ponzi, pyramid scheme and advertising platform, with neither one cancelling out the other two – and the first two bringing with them the sustainability problems of both business models.
How do LiveAdHits plan on addressing the inherent new investment and constant recruitment issues?
We have noticed a big problem in this type of program which is the lack of interest and poor management and this causes the program to go down. For a program to survive it needs constant growth.
They don't.
"Constant growth" refers simultaneously to both new investment and the recruitment of new affiliates. Like all Ponzi and pyramid schemes before it, once LiveAdHits affiliates stop recruiting and/or new investment money dries up ("lack of interest"), the scheme collapses.
No amount of "good" management can circumvent those fundamental Ponzi and pyramid scheme flaws.