It's Only 5 and Elton Potts fined $10,000 for securities fraud

It's Only 5 and owner Elton Potts have received a $10,000 securities fraud cease and desist from Michigan.
As per the Corporation, Securities and Commercial Licensing Bureau 19th April notice;
ItsOnly5.com is a publicly available website that is not registered in any capacity and has not registered any securities offerings under the Securities Act in Michigan.

It is owned and operated by Elton Potts, an individual last known to be a resident of the State of Michigan.
The CSCL cite It's Only 5 as being associated with the companies AACHEN AUTO K E B, INC. and TFN Group INC.
The CSCL go on to advise they opened an investigation into It's Only 5 after receiving a consumer complaint.
Evidence collected by Bureau staff shows that Respondent publicly solicited funds through its website, ItsOnly5.com, and promised of profits to investors based on a "forced matrix" operated by Respondent and its staff.

Investors could but were not required to recruit other investors to participate in the scheme and had to exert no efforts to realize the purported investment returns.
This is in line with BehindMLM's published August 2022 It's Only 5 review. Following our own research, we identified It's Only 5 as a matrix cycler Ponzi.
Respondent's offers and sales of these investment opportunities constituted investment contract securities that were not registered under the Securities Act, and Respondent and Potts have failed to claim an exemption, exception, preemption, or
exclusion justifying the failure to register the securities.
As a result of It's Only 5 and Potts committing securities fraud, the CSCL went on to issue a cease and desist.
The regulator has also issued a $10,000 fine;
In a Final Order, the Administrator intends to impose civil fines of $10,000.00 against Respondent under MCL 451.2604(4).
The $10,000 fine kicks in if It's Only 5 and Potts don't request a hearing within 30 days of the C&D notice being issued.
That deadline passed on May 24th. I was unable to find any evidence It's Only 5 or Potts requested a hearing.
Having declined to request a hearing to explain themselves, It's Only 5 and Potts have 60 days from May 24th to pay the $10,000 fine.
In addition to Elton Potts, It's Only 5 was fronted by:
Sarah Potts – credited as an It's Only 5 co-founder
John and Lisa Arnold – credited as It's Only 5 co-founders
Reem Shehadeh – credited as It's Only 5's Public Relations Manager and
Guillermo Joya – credited as It's Only 5's Sales & Training Manager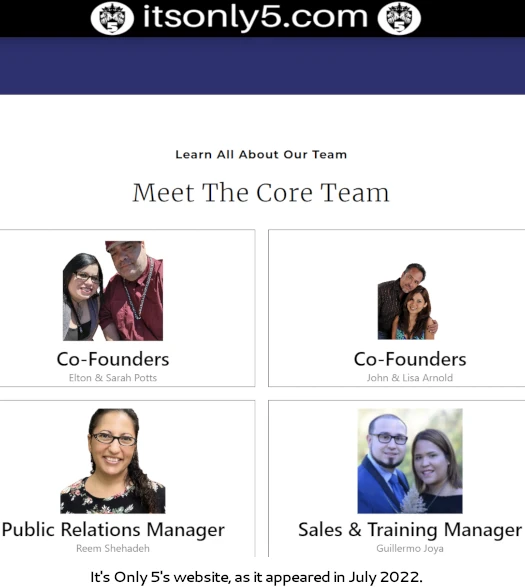 In BehindMLM's It's Only 5 Review, we noted that a month prior to the CSCL's notice It's Only 5 began deleting website and marketing video evidence.
Looks like It's Only 5 has collapsed or is on the verge of collapse. It's Only 5 website content and marketing videos are being deleted and/or marked as private.
A visit to It's Only 5's website today reveals the scheme has been shut down due to "unforeseen circumstances".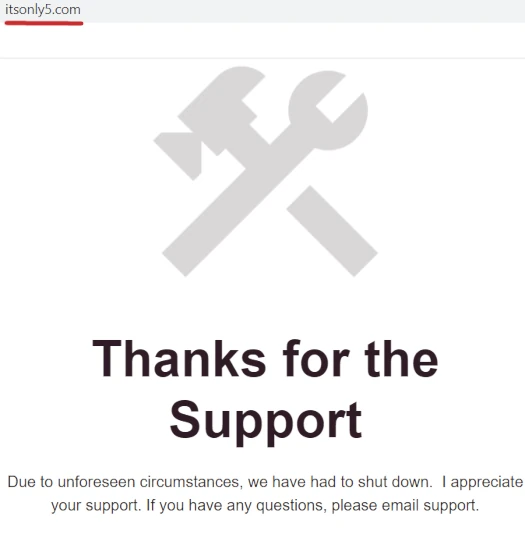 I'm not quite clear on how an MLM committing securities fraud getting busted for securities fraud is an "unforeseen circumstance".
A visit to Elton Potts FaceBook page reveals he's currently promoting My Car Club: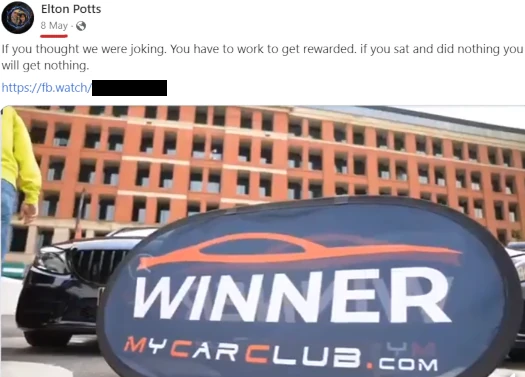 My Car Club is a marketing funnel for the Dubai-based NextGen Academy Ponzi scheme.
Pursuant to section 508 of the Securities Act, MCL 451.2508, a person that willfully violates the Securities Act, or an order issued under the Securities Act, is guilty of a felony punishable by imprisonment for not more than 10 years or a fine of not
more than $500,000.00 for each violation, or both.
Whether the CSCL takes further action against Potts for continuing to commit securities fraud remains to be seen.