ITP Corp app removed from Google Play Store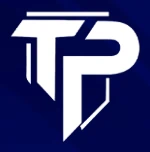 Google appears to have removed ITP Corp's Ponzi app from the Google Play Store.
Both the app and "Sergii Levchenko" dev account were removed as of September 11th, 2023.
In an attempt to cover up Google taking action, ITP Corp is claiming unscheduled maintenance.
Google appears to have taken action following a tip off from a BehindMLM reader.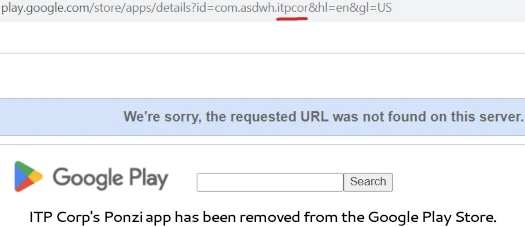 Upon realizing Google deleted their app and developer account, ITP Corp removed the "download software" link from their homepage (the page itself is still accessible).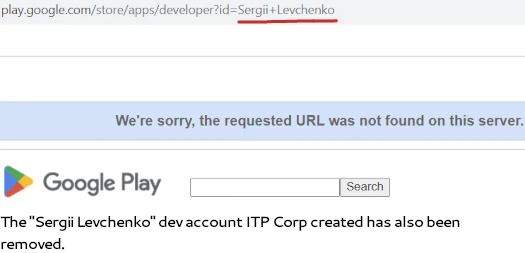 ITP Corp then posted a "maintenance" cover up on ITP Corp's official Telegram channel: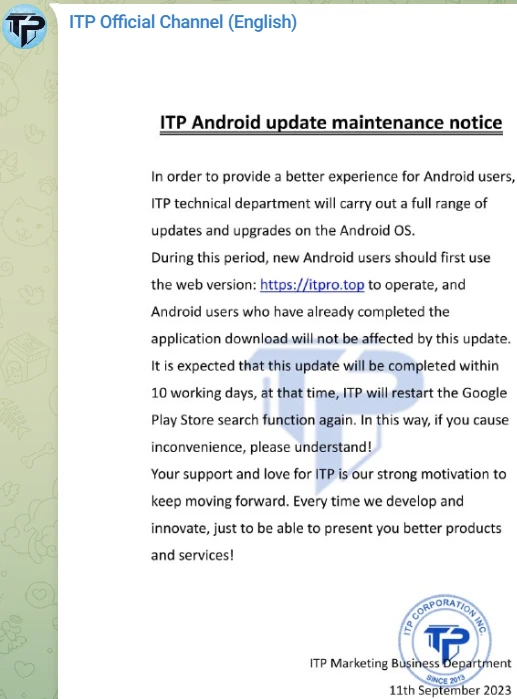 In order to provide a better experience for Android users, ITP technical department will carry out a full range of updates and upgrades on the Android OS.

During this period, new Android users should first use the web version.

It is expected that this update will be completed within 10 working days, at that time, ITP will restart the Google Play Store search function again. In this way, if you cause inconvenience, please understand!
ITP Corp's cover up of course makes no sense. App updates on the Google Play Store are pushed out once completed. Companies don't take down apps to "carry out" updates.
The 10-day timeframe suggests Google might have given ITP Corp 10 days to rectify undisclosed issues. It could just also be an arbitrary timeline.
The same reader who contacted Google also claims to have also contacted Apple.
I rang Apple today. In the 30 min phonecall, the first guy didn't take me seriously at all.

Another person called, this guy did take me seriously, took the link to the app, took the link to this site and said he will escalate but said they can't provide updates.
Google and Apple approving Ponzi apps on their respective stores has been a long-standing problem. If both companies are willing to remove obvious scams upon receiving complaints, this is a win for consumers.
Update 27th September 2023 – ITP Corp has abandoned its original app.
A new app has been uploaded to the Google Play Store, this time under the fictional developer "TaziNixo".