Infinite Gold Online Review: $58 recruitment scheme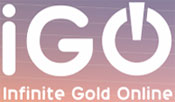 On their website, Infinite Gold Online advise that they
will be an offshore company, but we will have an information and training center/office in the Metro Manila soon.
Metro Manila refers to the city of Manila in the Philippines and its surrounding cities.
In addition to being based out of the Philippines, Infinite Gold Online have also registered themselves as an LLC in the US state of Delaware on September 18th. This appears however to be a virtual presence, as the address provided on Infinite Gold Online's registration is that of the agent they used to register the business.
On the management side of things, Infinite Gold Online state that the company
will be spearheaded by two highly successful individuals, namely, Mr. John Fernandez and Mr. Homer Bulos.
No further information on these individuals is provided by Infinite Gold Online and I was unable to find any additional MLM industry specific information on them.
Read on for a full review of the Infinite Gold Online MLM business opportunity.
The Infinite Gold Online Product Line
Infinite Gold Online has no retailable products or services, with affiliates of the company only able to market affiliate membership to the company itself.
Bundled with Infinite Gold Online affiliate membership is access to a digital library.
The Infinite Gold Online Compensation Plan
The Infinite Gold Online compensation plan revolves around the recruitment of new affiliates, and their placing in both matrix and binary based compensation structures.
Matrix Commissions
Matrix commissions in Infinite Gold Online are paid out using a 2×2 matrix. A 2×2 matrix places an affiliate at the top of the matrix, with two positions directly under them.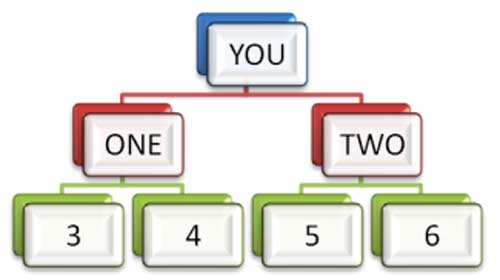 In turn these two positions branch out into another two positions each, making for a total of six matrix positions that need to be filled before the affiliate at the top cycles out.
Matrix positions can be filled either via direct recruitment or the recruiting efforts of an affiliate's up and downlines.
When all positions in a matrix are full, the affiliate at the top of the matrix cycles out and is paid $70. They are then entered into a new matrix, following the affiliate who recruited them.
If any personally recruited affiliates cycle out of a matrix, the affiliate who recruited them also earns a $10 referral commission.
Binary Commissions
The binary in Infinite Gold Online is used to track an affiliate's personal downline (affiliates they recruit and those recruited by their recruited affiliates).
A binary compensation structure places an affiliate at the top of a binary team, with two positions directly under them.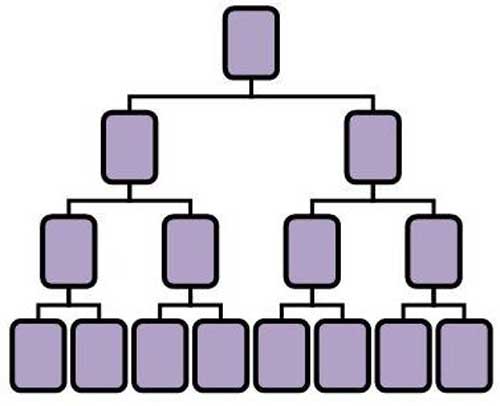 These two positions form the start of two sides, with Infinite Gold Online affiliates paid $2.50 for every newly matched pair of recruited affiliates found each week.
Newly recruited affiliates are paired at a 1:1 ratio, requiring one affiliate from one side of the binary to be matched with one affiliate from the other side.
Up to 200 pairs of newly recruited affiliates can be counted in a single week, capping Infinite Gold Online's binary commissions at $500 a week.
A 20% matching bonus on all binary commissions earnt by personally recruited affiliates is also available.
Joining Infinite Gold Online
Affiliate membership to Infinite Gold Online is $58 a year.
Conclusion
Infinite Gold Online ("iGO") is conceptualized to be a Content Aggregator – our business is not to sell products (although we have products like e-books you get packaged with your subscription – some of these products you can even sell) but to provide a service – that of collecting, choosing and collating useful, educational, informative, and entertainment content from multiple sources with specific authorizations, general fair use rights or even those we may legally include as part of the public domain.
The above, taken from the Infinite Gold Online website pretty much spells out the nature of the business. That is, your typical recruitment-driven scheme bundled with a digital library.
Nothing is bought or sold at a retail level and the company itself asserts that their 'business is not to sell products'.
Furthermore, Infinite Gold Online also appear to see commissions paid as a result of involvement in their scheme as a ROI: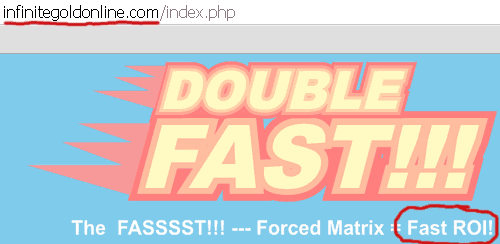 It is noted that the company has registered itself in Delaware, but whether or not they have registered with the SEC to sell securities to their affiliates is not clear.
I'm going to go out on a limb here and suggest they haven't.