iMobile Innovations Review: Straight-line shares?

iMobile Innovations operate in the mobile communications MLM niche and are based out of New York in the US.
The company is headed up by CEO Patrick Fenton, with his iMobile Innovations corporate bio stating: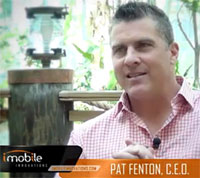 Hiring a personal business coach and mentor at age 23, Patrick has been a student of personal development, sales and leadership training his entire career.

He spent over a decade as an internationally recognized sales and motivational speaker; performing 96 live events per year in his 9 year speaking career and was sponsored nationally by ABN Amro Bank, Citibank and Flagstar Bank.

In 2008, Patrick founded Cellthisproperty; one of the early pioneers of text message marketing in the United States.

From 2009 to present, Patrick has designed and created world-class mobile media software, designed and created Imobile Innovations seminar/social sharing business model and secured relationships in the financial markets to effectively launch imobile Innovations.
I wasn't able to find any involvement in an MLM company by Fenton at an executive level, so iMobile Innovations appears to be his first attempt at running an MLM company.
Read on for a full review of the iMobile Innovations MLM business opportunity.
The iMobile Innovations Product Line
iMobile Innovations offer a series of products relating to mobile communications, marketing and training.
Mobile Websites
iMobile Innovations market websites (including hosting) with a design specifically targeted for browsing on mobile devices.
Three design tiers are offered, ranging in price from $349 (5 page website, 3 custom features, 1 embedded video and unlimited page views) to $1499 (15 pages, 10 custom features, 4 embedded videos, shopping cart and unlimited page views).
iHawk Mobile Marketing
iHawk is a $99.95 a month mobile advertising platform which allows members to market via mobile with the goal of creating a database (referred to in internet marketing circles as "the list").
iMobile Innovations claim is "2.1 million times better than email", providing members with text versions of
an autoresponder
marketing campaign launcher
timed automatic texts
coupon creator
attach videos to messages
cell phone number capturer
Digital Magnet Marketing System
The Digital Magnet Marketing System is a $119 a month marketing training platform that educates subscribers on
understand(ing) how to leverage tools like websites, social media, search engines, mobile websites, blogging, mobile and email marketing.
iMobile Innovations provide subscribers of Digital Magnet each month with
4 hours of "documentary" video
2 live webinars
a "step by step guide" on "where to start"
access to creator Mason Duchatschek's "Digital Magnet blog"
Star Leadership Training
iMobile Innovations give away their Star Leadership Training with any iMobile Innovations product purchase (retail or at the affiliate level).
iMobile Innovations claim their Star Leadership Training contains
the secret laws of success, historically proven principals that have produced massive results for those that have adopted these principals into their lives.
The iMobile Innovations Compensation Plan
iMobile Innovations offer affiliates retail, residual commissions via a unilevel compensation structure and participation in a series of straight-line revenue-sharing bonus pools.
Commission Qualification
In order to qualify for commissions, an iMobile Innovations affiliate must
generate at least 50 Business Volume (BV) points every 4 weeks (6 weeks upon signing up as a new affiliate) and
recruit at least one new affiliate or one new retail customer
Retail Commissions
Retail commissions are offered on the sale of all iMobile Innovations products. iMobile Innovations define retail commissions as 'the difference between the Retail price and the Partner price of a product'.
This equates to
Mobile Websites – $100 at the "Classic" and "Pro" tiers and $500 at the "Customer" tier
iHawk Mobile Marketing – $40 a month
Digital Magnet – $50 a month
Initial Order Bonus
The Initial Order Bonus is paid out on the first product order made by a recruited affiliate or retail customer.
The Initial Order Bonus is paid out at a rate of 20% of the BV generated by the order, with 1 BV equating to a $1 commission.
Note that the Initial Order Bonus is paid out on top of the retail commission paid out if the order is made by a retail customer.
Residual Unilevel Commissions
iMobile Innovations pay out residual commissions using a unilevel compensation structure. A unilevel compensation structure places an affiliate at the top of the structure, with every personally recruited affiliate placed directly under them (level 1):

If any of these level 1 affiliates go on to recruit new affiliates of their own, they are placed on level 2 of the structure. If any level 2 affiliates recruit new affiliates they are placed on level 3 and so on and so forth.
Using the above unilevel compensation structure, iMobile Innovations pay out a residual monthly commission down eight levels of recruitment.
Affiliates who generate less than 100 PV a month are paid out on level 1 volume generated by their unilevel team, with affiliates generating 101 PV or more a month earning on all eight payable levels.
PV stands for "Personal Volume" and is the volume generated by an affiliate's personal sales and that of their downline.
From level 3 of the unilevel, Group Volume (GV) also comes into play with an affiliate having to meet the minimum GV requirements if they wish to be paid on that level of their unilevel team.
iMobile Innovations pay out the following commission percentages on sales volume generated by an affiliate's downline:
Level 1 – 10%
Level 2 – 5%
Level 3 (500 GV) – 4%
Level 4 (2000 GV) – 4%
Level 5 (5000 GV) – 4%
Level 6 (10,000 GV) – 3%
Level 7 (15,000 GV) – 3%
Level 8 (20,000 GV) – 3%
Note that if an affiliate generates commissionable volume but is unqualified to earn on it (PV and GV requirements), this volume rolls up to the first qualified affiliate in their upline.
Straight Line Revenue-sharing Pools
When an affiliate joins iMobile Innovations, they are placed in a straight line queue. Affiliates who joined before them are infront of them and affiliates that join after them are placed behind them.
Any sales volume generated by affiliates behind an affiliate in the queue, is referred to as "iMobile Volume" (IMV).
For example, you were the 500th affiliate to join iMobile Innovations and there are now 700 affiliates in the company. Any volume generated by affiliates 501-700 count towards your own personal IMV.
If you were the 400th affiliate to join, any volume generated by affiliates 401 to 700 counts towards your personal IMV.
Note that as new affiliates are recruited, any volume they generate will also add to the IMV totals of all affiliates who joined before them.
In total, 12% of iMobile Innovations' global sales volume is set aside for the straight line revenue-sharing pool payout. This 12% volume is then split into 1% pools, with each corresponding to one of the twelve affiliate membership ranks within the iMobile Innovations compensation plan.
In addition to meeting IMV requirements to qualify for each of the 12 revenue-sharing pools (including retroactively all membership rank pools below an affiliate's current membership rank), GV qualification criteria also needs to be met.
The IMV and GV requirements for each of the 12 straight-line revenue-sharing pools are as follows:
Director – 2000 GV and 30,000 IMV
Executive – 6000 GV and 40,000 IMV
Silver Director – 10,000 GV and 60,000 IMV
Silver Executive – 15,000 GV and 75,000 IMV
Gold Director – 20,000 GV and 100,000 IMV
Gold Executive – 30,000 GV and 250,000 IMV
Platinum Director – 40,000 GV and 500,000 IMV
Platinum Executive – 50,000 GV and 1,000,000 IMV
Diamond – 100,000 GV and 2,000,000 IMV
Diamond Executive – 200,000 GV and 4,000,000 IMV
Ambassador – 300,000 GV and 8,000,000 IMV
Ambassador Executive – 500,000 GV and 10,000,000 IMV
Recognition/Lifestyle Bonuses
Not part of the current compensation plan, iMobile Innovations state that they have 'car bonuses, all-expense paid vacations, cruises and much more' slated for release in 'the 3rd quarter of 2013′.
Joining iMobile Innovations
Affiliate membership to iMobile Innovations is an annual $99 fee.
Conclusion
iMobile Innovations has a solid retail lineup, however I'm not too sure on the prices being charged. I have no idea what comparative services go for (I couldn't see any on the iMobile Innovations website), however at a retail level you're looking at $567.95 to $1717.95 upfront and $218.95 a month thereafter for the full product and service suite.
That's probably a price-point most affiliates are going to balk at, however iMobile Innovations do concede that what their offering is really targeted at businesses over individuals:
Big business solutions… small business prices.
Not that individual marketers can't make use of iMobile Innovations' products and services, just that I think it's probably unlikely at those pricepoints – at least not as a whole package.
On the compensation plan side of things there's retail (great!) and residual unilevel commissions. Recruited affiliate volume does count towards an affiliate's own volume qualification totals but with just the above two commissions I'd suggest the chance of iMobile Innovations winding up being full of affiliates paying affiliates is slim.
As mentioned previously affiliates are realistically going to be looking at (primarily) marketing what's on offer to businesses over individual affiliates.
The third component of the compensation plan however drags iMobile Innovations into some pretty murky waters. Generally speaking when any company feels the need to put this infront of a specific part of their compensation plan their compensation plan,
Adhering to security regulations it is important for our partners to understand that access to iMobile Innovations revenue sharing Global Bonus Pools are earned commissions and that our partners do not own shares in company profit.
warning bells should go off.
Typically global bonus pool qualification is solely attributed to an individual's own personal sales volume and that of their downline. A legitimate MLM company has a strong retail focus with most of this volume being via retail sales. The not so legitimate ones rely on affiliate sales volume, which effectively turns them into autoship-based affiliate recruitment schemes.
Getting back to iMobile Innovations though, those murky waters I mentioned earlier? It's how iMobile Innovations have implemented their Global revenue-sharing pools that is problematic.
I can sign up as an iMobile affiliate for $99 and then purchase enough products myself to self-qualify at the 100 PV level. Monthly subscription fees on some products would thus constitute unofficial autoship volume.
Then, having received my position in the straight-line queue, all I do is set about recruiting new affiliates and get them to duplicate what I did.
Once I hit 2000 GV (20 recruited affiliates on 100 PV autoship) and 30,000 IMV is being pumped out by affiliates recruited after me, I get my first taste of iMobile Innovations' revenue-sharing pools.
If I keep it up and the concept catches on with those I've recruited, over time continue to hit a higher and higher IMV and GV targets, get a larger share of the 12% total pool.
If the above method is used, that money is going to be largely affiliate money. The more greedy affiliates might even tally up the cost of iMobile Innovations' products and services for affiliates and market the company as an inclusive minimum spend straight-line share opportunity.
Is this required? No. Is it possible though? Entirely.
Not helping is iMobile Innovations paying out a $100 "special promotion until further written notice" for every 2 new affiliates recruited who generate 100 BV or more with their initial order (which is probably going to be self-consumption).
Alone the above "special promotion" is a red flag as, despite being paid out on sales volume and acquisition of retail customers too, only newly recruited affiliates can place initial orders.
Thus despite being paid out on sales volume it's effectively an affiliate recruitment commission.
When combined with the straight-line revenue-sharing component of the compensation plan, how iMobile Innovations is going to be marketed and what the focus is going to be becomes pretty self-evident.
The potential for a retail orientated business opportunity definitely exists in iMobile Innovations' business opportunity but as it stands, it's hard to look at it as any more than a *winkwinknudgenudge* psuedo-compliance attempt to justify the attached single-line revenue-sharing scheme.
As a potential iMobile Innovations affiliate doing their due diligence I'd more than ever recommend a check of your potential upline's volume ratio between retail customers and recruited affiliates.
The odds are already stacked towards recruiting affiliates to hit revenue-sharing volume targets so a lack of retail activity is definitely something to be concerned about.
Without the straight-line revenue-share it would be a concern anyway but with it what you've got is potentially affiliates paying out affiliates each month, based on how early they got into the opportunity and how successful their own recruiting efforts and that of their recruited affiliates have been.
If that's the case then it's a pretty flimsy argument to put up a disclaimer stating affiliate's aren't qualifying for shares in the company when that's pretty much exactly what you're offering.
Join iMobile Innovations, reach volume targets via recruitment, get shares and get paid a monthly dividend based on the company's volume performance of those who joined after you.
What else are you going to call it?