GiraCoin securities fraud warning issued by Spain

GiraCoin has received a securities fraud warning from Spain's Comision Nacional del Mercado de Valores.
As per the CNMV's February 7th warning, GiraCoin and Gira Financial Group AG are
not authorised to provide the investment services detailed in Article 140 of the Spanish Securities Markets Act.
This is the equivalent of a securities fraud warning in other jurisdictions.
The CNMV's GiraCoin notice is a bit odd, seeing as the company appears to be dead.
BehindMLM reviewed GiraCoin back in November 2016.
The company was run by GiraCoin Financial Group AG. GiraCoin's business model centered around investment in GiraCoin Ponzi points.
GiraCoin solicited investment across €50 to €111,111 packages.
I thought perhaps there was a reboot that attracted the CNMV's attention, but I was unable to confirm.
At the time of BehindMLM's GiraCoin review, the company was operating from "giracoin.com". Today that domain is disabled.
The CNMV's fraud notice cites GiraCoin operating from "girauno.com". Alexa traffic rankings to that domain show what's left of GiraCoin has collapsed (5.5 mill+).
Perusal of GiraCoin's social media accounts reveal the company's official FaceBook page was abandoned in June 2019.

GiraCoin's official Twitter page was abandoned in March 2018.
The last post on GiraCoin's FaceBook page directs people to a then newly created Telegram group.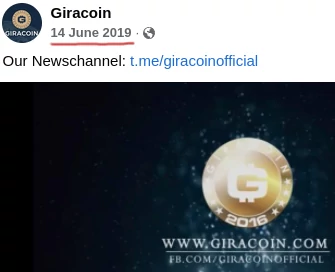 Perhaps that's where GiraCoin promotion is now taking place.
I also noted "Tramac SA", which appears to be a 2020 rebranding attempt by GiraCoin on YouTube.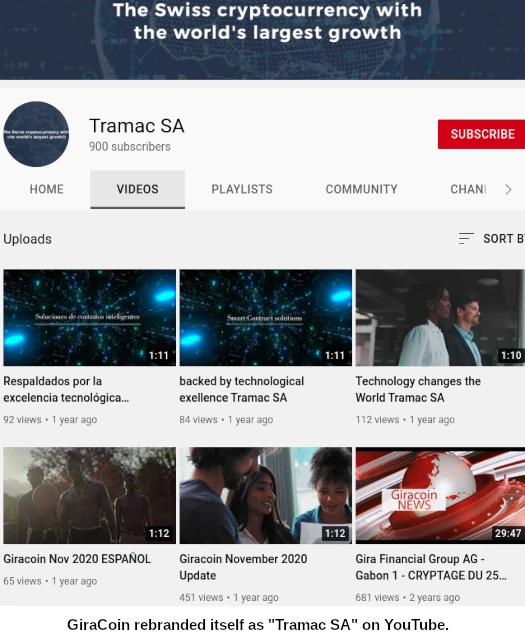 There is a legitimate Tramac SA mining company but it has nothing to do with GiraCoin. As far as I can tell, GiraCoin's Tramac SA rebrand went nowhere.
Whatever it goes by, GiraCoin is a collapsed Ponzi scheme full of bagholders. If you sign up now you're all but guaranteed to join them.