Ganancias Deportivas securities fraud warnings in Italy & Spain
Ganancias Deportivas is a Spanish-language MLM company.
Affiliates marketing Ganacias Deportivas pitch a 20% monthly ROI, in addition to recruitment commissions.
Over the past few months, Ganancias Deportivas has received securities fraud warnings from both Spain and Italy.
Ganancias Deportivas operates from the website domain ("gdenlinea.net"), privately registered on February 17th, 2021.
No information about who owns or runs the company is provided.
On October 4th Spain's CNMV issued its Ganancias Deportivas securities fraud warning.
The regulator confirmed Ganancias Deportivas "is not authorised to provide the investment services" in Spain.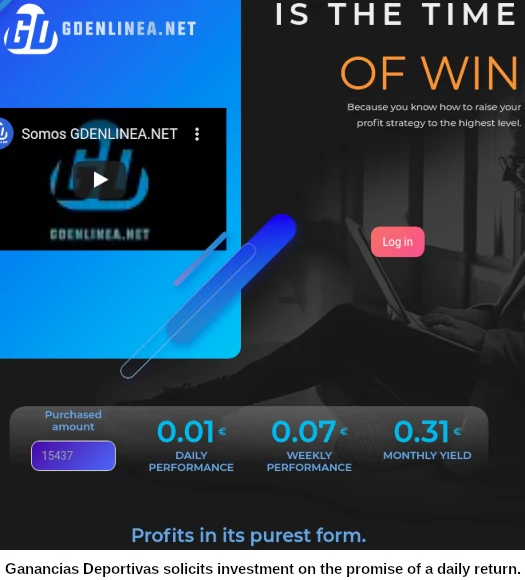 This was followed up by Italy's CONSOB on December 10th.
Consob has ordered the blackout of 7 new websites that offer financial services/financial products illegally.
Ganancias Deportivas was one of the cited companies.
Despite committing securities fraud, which is illegal, Ganancias Deportivas asserts it's a
 legally constituted company that bases its activity on Crowd-Investing and trading, to help people fulfill their dreams through the use of new technologies.
Alexa traffic analysis shows a decline in activity throughout December.
Recruitment in both Italy and Spain appears to have all but collapsed. Instead, Ganancias Deportivas is being promoted heavily in Argentina, Mexico and Venezuela.
Ganancias Deportivas' official Facebook page is adminned from Costa Rica and Spain.