FX Trading Corp Ponzi collapses, blames exchanges

As per an announcement sent out to investors a few hours ago, the FX Trading Ponzi scheme has collapsed.
FX Trading Corp launched in late 2018 and was your typical MLM crypto Ponzi scheme.
FX Trading Corp promised investors 500% returns on investments of up to $50,000, purportedly generated via cryptocurrency arbitrage.
Although it presented it was based out of South Korea, FX Trading Corp primarily targeted Brazil.
Brazilian authorities issued an investment fraud warning against the company last month.
In a weaksauce response to the warning, FX Trading Corp falsely claimed their "automated arbitration platform" investment opportunity wasn't a security.
Nonetheless, regulatory action in their primary market appears to have prompted FX Trading Corp's admins to pull the plug.
Rather than acknowledge they were running a Ponzi scheme and were wary of authorities in their largest market coming after them, FX Trading Corp management blames the collapse on their exchanges.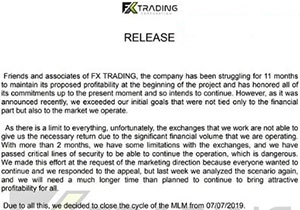 As per FX Trading Corp's June 29th "we're running away with your money" announcement;
The exchanges that we work (with) are not able to give us the necessary return due to the significant financial volume that we are operating [sic].

(For) more than two months, we have some limitations with the exchanges, and we have passed critical lines of security to be able to continue the operation, which is dangerous.
Riiiiiiiiiight.
The thing about Ponzi schemes like FX Trading Corp is when authorities start cracking down on them, as Brazil and Spain have recently done, laundering invested funds becomes increasingly difficult.
You can either keep jumping through hoops to keep the scam alive (e.g. shell companies to open bank accounts), or just close up and run off with everyone's money.
FX Trading Corp's management have simply chosen the latter.
In an attempt to stem a flood of complaints to authorities, FX Trading Corp have promised affiliates affiliates who didn't steal more than they invested will have their initial investments 'returned proportionally as a daily gain'.
The MLM side of the business, although effectively dead without the Ponzi returns, will officially be shuttered on July 7th.
Without new investment I imagine what little FX Trading Corp do continue to payout will dry up next month.
The scammers behind the scheme just need a bit more time to squirrel away the money they've stolen away.
Update 15th July 2019 – Master Distributor Phillip Han is heading up F2 Trading Corp, a blatant FX Trading Corp reboot scheme.