FVP Trade Ponzi collapses, pulls "regulators!" exit-scam

The FVP Trade Ponzi scheme has collapsed.
Rather than just admit they've run out of money, FVP Trade blames regulators in the UK.
As per a July 18th notice from "FVP Management";

During the company's process of exchanging stable coin USDT to fiat and subsequently topping up fiat to MT4, the sheer transaction volume of the company has caught the attention of international anti-money laundering organizations and the company has been notified that all its current assets which includes bank deposits have been temporarily frozen.
While not directly naming UK authorities, FVP Trade suggests regulatory action has been taken against it in the UK.
Upon receiving the notice, the company has immediately appointed a professional British legal team to deal with the matter.

The company will attempt to solve all its current problems through proper legal channels in order to get its assets back.
Along with suspending withdrawals, FVP Trade practically spells out its exit-scam to investors;
In order to protect the company's data from further damage and vulnerability, the company had decided to remove all system data, access and information temporarily.

We will restore the system data at a later date when the company's status gradually returns to the norm in order to prevent further damage to our company's security and reputation.
And just like that, FVP Trade is over.
FVP Trade originally launched as FVP Holdings in early 2020. The Ponzi scheme is believed to be run by scammers from South-east Asia.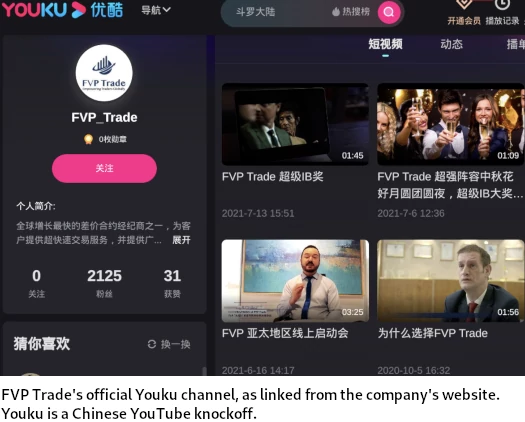 Due to the use of simplified Mandarin, China and Singapore are frontrunners.
Total FVP Trade victim losses are unknown. Based on SimilarWeb traffic estimates, the majority of FVP Trade investors are believed to be from Italy and Vietnam.