Flexkom scammers convicted in Belgium

A criminal court in Antwerp has convicted Asker Sakinmaz, Cengiz Ehliz and Erwin Fally.
The pair were behind the Flexkom pyramid scheme, which collapsed in 2017.
According to local news reports, Belgian authorities began investigating Flexkom back in 2014. The criminal case was initiated following a civil complaint filed by victims.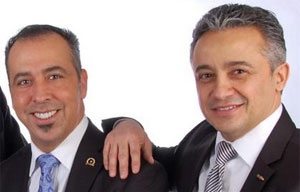 As per their respective February 2020 sentences, Sakinmaz and Ehliz (right) were sentenced to forty months in prison and an €18,000 EUR fine.
Erwin Fally copped a thirty month prison sentence and €6000 EUR fine. €433,000 EUR was also seized.
With respect to the civil party who initially filed a complaint back in 2014, they were awarded €190,000 EUR in damages.
As noted by the Antwerp Criminal Court;
As a result of their well-thought-out international fraud system, smooth sales talk and crappy products, cleverly packaged as the way to get rich quick, they caused serious financial damage to the injured parties.
Despite the fraud convictions, monetary penalties and asset recovery, somehow Flexkom itself as a company was acquitted.
BehindMLM reviewed Flexkom back in April 2013, identifying the pyramid nature of the scheme.
In response to our review, Erwin Fally claimed I was a "moron".
Last year Cengiz Ehliz resurfaced with Weeconomy, a Flexkom reboot with cryptocurrency fraud.
According to Ehliz's Facebook page, he's currently in Munich, Germany promoting Weeconomy.
As of February 2020, Asker Sakinmaz was residing in Turkey. In response to BusinessForHome's coverage of his conviction, he told the publication he planned to appeal.