Exp Asset Ponzi scheme collapses, pulls "we got hacked!" exit-scam

The Exp Asset mobile wallet Ponzi scheme has collapsed.
Rather than admit they ran out of money though, Exp Asset has pulled a "we got hacked!" exit-scam.
Exp Asset surfaced in late 2018. The company was run by Patryk Krupinski and was your standard MLM crypto Ponzi affair.
Exp Asset affiliates invested $100 or more in bitcoin, on the promise of an advertised 120% ROI.
Supposedly returns were funded by "trading on financial markets, mining cryptocurrencies, trading on cryptocurrencies and making arbitrage"… but you know the deal.
Following non-payment to its affiliate investors, yesterday Exp Asset advised
the largest hacker attack was carried out against the Exp Asset platform.

There have been attempts to steal our database on several occasions in recent months.

This time the attack consisted of damage to the database files.
This was followed up by another announcement earlier today;

Unfortunately, the attack we had damaged a lot of the necessary history that is able to restore the system to its original state.

The base is unfortunately very reticulated and it will take many weeks to restore.

Unfortunately, no one will earn in the Exp Asset company, but neither will lose.

In the coming weeks, we will systematically check and settle each account separately and pay out those whose balance is still negative.
And with that, Patryk Krupinski gives himself and the Exp Asset team "many weeks" to make a clean break with whatever they've stashed away.
In order for that to work, Exp Asset victims have to keep quiet and not file complaints with authorities.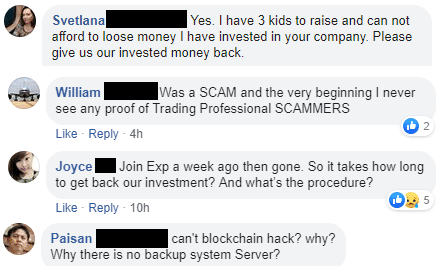 To that end Exp Asset victims are being told to sit tight on the promise of
a new product that will be safer not only for the company but especially for users.
According to its update, and take this figure with a grain of salt, Exp Asset solicited $166 million in investment.