Ecosway "raided" Evolv Health to create Epic?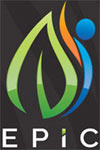 Epic launched in 2013 and is headed up by CEO Glen Jensen (see BehindMLM Epic review here). As part of their launch Epic offered what they call a "$100 Million Dollar Leadership Development Strategy".
We realise that top talent in any industry should have the respect and recognition they deserve.

We are attracting the best and brightest people from around the world to join in this Epic era.
This "strategy" is openly advertised on the Epic website, accompanied by a link to a corporate epic email address: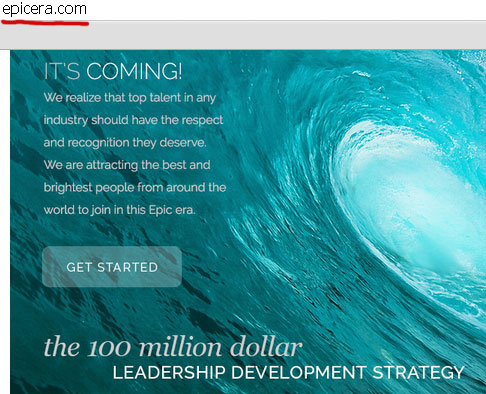 Presumably the idea is that affiliates and management of other MLM companies are to email Epic and, if they join the company, receive some of the $100 million Epic are offering.
Not surprisingly, one existing MLM company has taken issue with Epic's offer and have filed a lawsuit against both Epic and their parent corporation, eCosway.
In a petition filed in Texas on November 13th 2013, Evolv Health requested a temporary restraining order, temporary injunction and permanent injunction against Epic.
In addition to their beef with Epic's $100 million poaching offer, Evolv has also taken issue with the conduct dating back earlier this year.
In May of 2013 Matt Steffe, an Evolv affiliate at the time, approached the company about a possible "business opportunity" involving eCosway.
On June 6th a meeting between Roscoe White (Evolv's Chairman of the Board) and Jensen took place, to discuss the investment proposal Steffe had raised.
A mutual non-disclosure and non-circumvention agreement was signed, in which both parties (specifically eCosway) agreed that 

any confidential information received from Evolv (was made) in the strictest confidence (and was not to be used) other than for the purpose of evaluating the potential transaction.

Furthermore (eCosway) would not circumvent Evolv regarding any business relationship between Evolv and any third party identified by Evolv as a component of its business, solution or process.
Presumably the "potential transaction" mentioned referred to investment into Evolv Health by eCosway.
During the June meeting and 'in communications that continued after that meeting', Evolv 'disclosed to Jensen and eCosway confidential and proprietary information'.
Ultimately nothing in the way of an investment deal came of the meeting and subsequent communications between Evolv and eCosway. That in itself should have been the end of it, however things got awfully messy between the two parties once eCosway revealed they were going to launch Epic.
Evolv assert that
eCosway and Jensen had no intention of honouring the mutual non-disclosure and non-circumvention agreement and had no interest in an investment opportunity with Evolv.

Instead, the meeting and agreement were a ruse to gain access to Evolv's confidential information.

Jensen and eCosway were planning the launch of a new multi-level marketing company, Epic, which would be partnering with eCosway and directly competing with Evolv.
Evolv's suspicions that eCosway and Jensen had violated the signed agreements were raised after Evolv began receiving 'phone calls regarding the potential sale of Evolv to a third-party'.
In the meeting between eCosway, Glen Jensen and Evolv, Evolv assert that as an alternative to investment, Jensen had 'raised the possibility of eCosway buying Evolv'.
Evolv accuse Jensen and eCosway of spreading this information (and violating the signed agreements) to 'create uncertainty as to Evolv's future among Evolv's distributors, customers and employees'.
What happened next can only be described as the collecting "raiding" of Evolv's distributors by affiliates who left Evolv to go and work with Epic.
In their petition Evolv specifically name Matt Steffe (affiliate), Travis Bott (Vice-President and affiliate),  Kevin Keranen (Executive Vice-President), Easton Rutkowski (customer service lead and sales co-ordinator), Kyle Palmer (information technology) and Roberto Gonzales (President of Evolv Mexico) of
conspiring to steal Evolv's confidential information, undermine it in the marketplace and raid its employees and distributors, all for the purpose of launching Epic.
The poaching of Gonzales is of particular note, as Evolv claim that he brought over his 'entire executive team and important distributors from Evolv Mexico to Epic'.
On September 12 2013, Gonzales and Evolv's Latin America team resigned from Evolv and took their positions at Epic.

Shortly following Gonzales' resignation, most of (Evolv's) distributors in Latin America terminated their relationships with (Evolv).
Additionally Kyle Palmer was instrumental in covering up the conspiracy, after he 'unlawfully accessed Evolv's (email) server and deleted emails' that were mistakenly sent to Kevin Keranen's Evolv email address.
These emails, later recovered by Evolv, are said to contain details of a plan to 'steal Evolv's Latin American management and distributors'.
As a result of the conduct above, Evolv are seeking "over $1,000,000" in damages from Epic (EpicEra Incorporated), eCosway USA and Glen Jensen, accusing them of engaging in
breach of contract (the signed confidentiality agreement between eCosway and Evolv)
misappropriation of trade secrets
common law misappropriation
violation of the Texas Theft Liability Act
conversion
tortious interference with existing contracts
civil conspiracy
aiding and abetting
business disparagement and
defamation
Upon hearing Evolv's petition on the same day it was filed, the Dallas County Division Court granted Evolv a Temporary Restraining Order.
The order prohibits eCosway and Glen Jensen
(1) From using or disclosing for any purpose whatsoever any confidential information related to (Evolv's) marketing and advertising methods and strategies, cost information, price lists, sales information, and supplier and vendor lists and information.

(2) From contacting, attempting to contact, recruiting, engaging or hiring away any of (Evolv's) employees, sales representatives or distributors, in violation of (Evolv's) contractual rights.

(3) From disparaging (Evolv's) business or otherwise communicating with (Evolv's) employees, sales representatives, or distributors (affiliates) in an effort to tortuously interfere with (Evolv's) contracts.

(4) From hiding, secreting, destroying, changing, or modifying any document, in either hard copy or electric form, including emails, relevant to the subject matter of this lawsuit.
The Temporary Restraining Order is "effective immediately" until "further order" of the court.
eCosway and Jensen will have an opportunity to explain why a Temporary Restraining Order should not be granted against them on November 21st, failing which the order will remain in place.
Personally my take on raiding, pillaging, poaching or whatever else you want to call it is that it's entirely up to an affiliate which company they wish to market. So much emphasis is placed on affiliate's working independently and not being employees of the MLM company's they market, that it's entirely fair to thus restrict them in anyway.
If they want to jump ship then that should entirely be their choice. And if Epic want to offer a $1,000,000 slush fund to attract affiliates (as opposed to relying on the marketability of their products and compensation via their business model), then they should be free to do that too.
The problem here, and on which point I entirely side with Evolv on, is the investor meeting set up in May. If it's provable that there was never any intention non eCosway's part to entertain the idea of investing in Evolv, then there's simply no excuse for eCosay, Epic and Glen Jensen's conduct.
It's an open secret that eCosway had previously tried to launch in the US but failed to gain any traction, attempting to do so by raiding another company under false pretences is just not on.
Looking forward, if Jensen, Epic and eCosway can't convince the Judge on the 21st that there's no need for a restraining order against them, the extent of its affect on Epic's business operations should be interesting to observe.
Currently there's a big banner towards the bottom of the Epic website advertising a "Mexico Event" on November 23rd.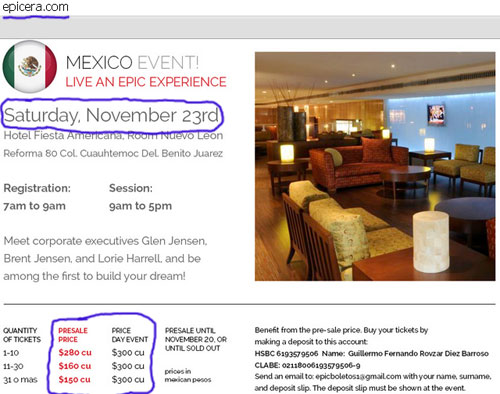 Presumably aimed at targeting Evolv's affiliates in Mexico, no doubt the going ahead of the event is now in question.
There's also the greater question of what affect the order might have on Epic's ability to have any of its products made. Whether or not Epic has relied on confidential Evolv information to secure its products is unclear, but if they have – that'll be enough to throw the business into (temporary) limbo.
Meanwhile what's going on over at Evolv? If they're entertaining investment and buy-out offers then it'd be safe to assume things are on the decline?
And if they weren't, with the losing of their entire Latin American distributor base and effective gutting of their corporate staff and key affiliates, things certainly can't be looking all that good over there.
Pending any further announcements from either Evolv or Epic, I guess we'll have to wait and see what comes of the November 21st hearing.
Stay tuned…
Footnote: My thanks to Troy Dooly for originally breaking this story. Evolv's petition and the Temporary Restraining Order can both be viewed in full over at MLM Helpdesk.