Earn With Yin Review: $10 and $30 "tokens" Ponzi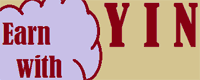 There is no information on the Earn With Yin website indicating who owns or runs the business.
The Earn With Yin website domain ("earnwithyin.com") was registered on the 15th of October 2013, however the domain registration is set to private.
As always, if an MLM company is not openly upfront about who is running or owns it, think long and hard about joining and/or handing over any money.
The Earn With Yin Product Line
Earn With Yin has no retailable products or services, with affiliates only able to market affiliate membership to the opportunity itself.
The Earn With Yin Compensation Plan
The Earn With Yin compensation plan revolves around affiliates joining the company and then investing in "token positions".
There are two token positions, with each paying out a specified ROI:
Token 1 ($10) – $20 ROI (200%)
Token 2 ($30) – $42 ROI (140%)
30% of all ROIs paid out must be re-invested, with referral commissions on affiliate investments paid three levels deep:
Level 1 – 7%
Level 2 – 5%
Level 3 – 3%
Finally cumulative ROI bonuses are also paid out on downline ROI payouts as follows:
$100 total downline ROI = $25 bonus
$300 total downline ROI = $90 bonus
$600 total downline ROI = $200 bonus
$1000 total downline ROI = $400 bonus
$2000 total downline ROI = $1000 bonus
Joining Earn With Yin
Affiliate membership to Earn With Yin is free, however affiliates must invest in token positions if they wish to generate commissions.
Conclusion
With no retail products or services, 100% of the ROI revenue Earn With Yin pay out is sourced from affiliates.
This is confirmed in the company's compensation plan explanation, which states
Depending on speed, 30 to 50% from purchases of Hybrid Cycler positions (tokens) are automatically kept reserved for Cycler earnings and are distributed to the Next in Line cycler position.

The remaining funds are kept reserved for Capped Rev-Share. The Capped Rev-share pays 0.1% every hour.
Dissecting the Ponzi speak, both paragraphs essentially describe the recycling of newly invested affiliate money (by way of token position investment) to pay out existing affiliate investors.
The same is conveyed in Earn With Yin's "no refunds" refund policy:
Can we get a refund if we want ?
NO REFUNDS! We share the revenue from your purchase with all members, so we cannot afford to offer refunds.

The moment the payment enters our system, it is no longer 'your' money, and it certainly isn't 'our' money.

It belongs to 100% ALL members because we shared those funds with EVERYBODY!
As with all Ponzi schemes, once the new affiliate investment stops so too will Earn With Yin's ROI payouts.