Digital Generation Review: Cloud-mining Ponzi scheme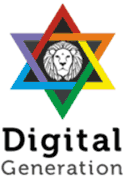 Formerly known as "Coin Generation", establishing where Digital Generation is being run out of is a bit of a challenge.
The company advertises four addresses on its website:
a "headquarters" in Porto, Portugal
an "administrative office" in California in the US
a "legal unit" in London, England and
an "offshore division" in Belize
Digital Generation's "headquarters" is nothing more than a rented virtual office from Regus. Photoshopped images from the Regus website of The Brasilia Building attempt to give the impression that Digital Generation has physical office space there, but they obviously do not: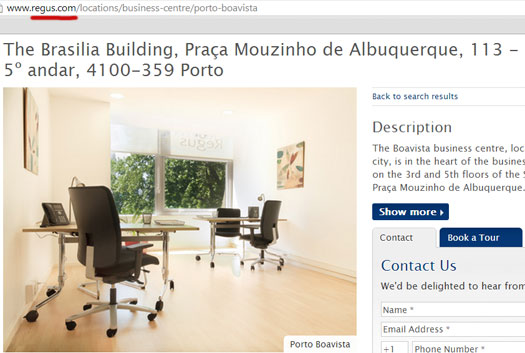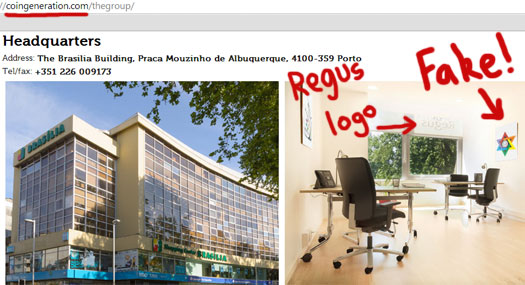 Not surprisingly, the address provided for the "administrative office" is also virtual, belonging to Servcorp.
The "legal unit" is an address of a business that offers rented mailboxes, as seen below in Google Maps:
Meanwhile the Belize address is full of companies that offer offshore corporation services, being also entirely virtual in nature as far as Digital Generation is concerned.
There is naturally no information on the Digitial Generation website indicating who owns or runs the business.
The generic name "Mark Peterson" appears as the owner of the domain "coingeneration.com", but given the deception exhibited thus far, I'm inclined to say it's unlikely this person exists.
The address in Portugal sticks out like a sore thumb and if I had to guess, I'd say that's likely where the anonymous owners of Digital Generation are operating out of. The offshore registration in Belize is probably the only legit listing out of the bunch, and was done so solely to hide the owners' money.
As always, if a MLM company is not openly upfront about who is running or owns it, think long and hard about joining and/or handing over any money.
The Digital Generation Product Line
Digital Generation has no retailable products or services.
Software is available for download from the Digital Generation website, which is apparently tied to the company's compensation plan.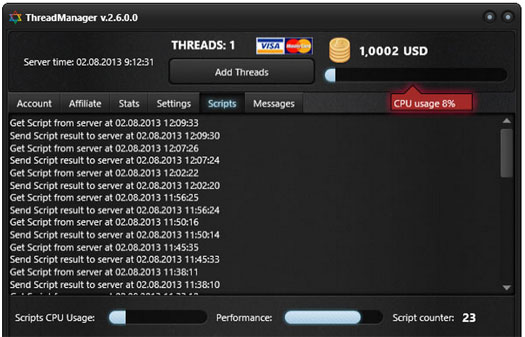 Affiliates purchase a "software license" for $50. This permits an affiliate to then run cloud-computing"threads", which Digital Generation claims provides revenue for them to pay commissions with.
The Digital Generation Compensation Plan
The Digital Generation Compensation Plan sees affiliate invest $50 and collect an advertised $30 a month ROI for 12 months.
The minimum standard award is $1 per day ($30 per month) for one running thread.
There doesn't appear to be any limit to the amount of thread investments an affiliate can make, however ROIs are tied into the provided Digital Generation software being run.
This is tracked via internet communication and servers operated by Digital Generation (no specific information is provided to affiliates).
Referral commissions are also offered, paying out a 20% referral commission on any ROIs paid out to personally recruited affiliates (level 1). Level 2 (affiliates your level 1 affiliates recruit), pays out a 10% ROI commission.
Joining Digital Generation
Basic affiliate membership with Digital Generation is $50. This includes one thread investment position.
Additional thread investment positions add an additional $50 a pop to the cost of Digital Generation affiliate membership.
Conclusion
We'll pay you for letting us use your computers processing power (sic).
Under the guise of letting Digital Generation use an affiliate's "processing power", Digital Generation profess to use said power to generate revenue to pay affiliates with.
Why they charge affiliates a $50 fee per thread position then makes little sense, unless, and it's pretty obvious they are, the company simply takes all new affiliate investment and uses it to pay off existing affiliate investors.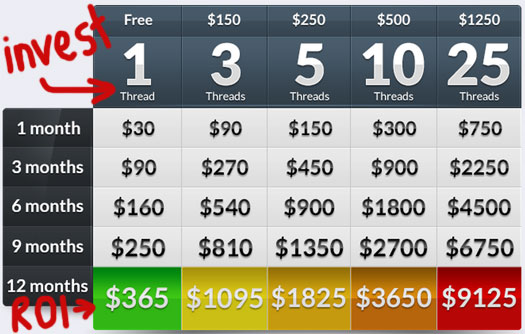 $1 a day per position for a year equates to a $365 ROI payable on every $50 affiliate investment. Additional referral commissions paid out will only decrease the time it takes the scheme to collapse.
As with all Ponzi schemes, that collapse will eventuate once new affiliate investment slows down.
If we assume Digital Generation aren't telling porky pies about their software (and they are about their offices and management, so there's a bit of a question mark there), then the software is used to power what is essentially a distributed crypto-currency mining platform.
That said platform would generate revenue needed to pay out the ROIs Digital Generation are promising though is laughable. Think about it, if it was, why on Earth would they be charging affiliates for investment positions?
On the flipside, if Digital Generation are just using new affiliate money to pay existing affiliates off with, meaning the software is just a 100% ruse, who knows what they are doing with people's computing power and internet connections.
That the company is running a Ponzi scheme irrespective of whether any actual distributed mining is taking place is a given, it's the added possibility of nefarious activity taking place through their application that adds an additional layer of threat to the scheme.
Signing over access to your computer and internet connection for $1 a day, to anonymous Ponzi shysters no less, doesn't seem like the smartest of moves…