Michael Force "uncooperative", unpaid attorneys want out ($90,000+)

The client relationship between Michael Force and his attorneys has reached breaking point, with all three requesting permission to withdraw from the case.
Suggesting he was aware of an investigation well before the FTC's January 29th filed complaint, on January 15th Force hired three attorneys to represent them.
The same attorneys also represented co-defendants Digital Altitude, Mary Dee and Thermography for Life.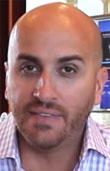 Since January Force (right) and his co-defendants have racked up over $90,000 in legal fees.
Back in May Force and Mary Dee demanded access to $100,000 in fraudulently obtained funds to fund their legal defense. The motion remains pending.
Signaling they believe the motion will likely be denied, on July 13th Force's unpaid attorneys filed a motion requesting permission to withdraw from the case.
Cited reasons for the requested withdrawal include:
a failure to cooperate
over $90,000 in unpaid legal fees and
a "significant and material breakdown of communication"
The withdrawal filing also provides some insight into how Michael Force has approached the FTC's case against Digital Altitude thus far.
Defendants have failed to cooperate and respond to the requests of the Attorneys.

Attorneys have had to request extensions during the proceedings as Defendants continue to delay the production of discovery documents and continue delay providing crucial information to Attorneys, thus thwarting Attorneys' efforts to comply with this Court's Scheduling Order and to provide proper legal representation for the Defendants.
The FTC allege Digital Altitude was a fraudulent business that bilked victims out of over $14 million dollars.
Can't imagine why Force wouldn't want to hand over requested discovery documents…
With respect to Force and Mary Dee failing to pay the attorneys, the filing states;
Defendants have breached the retainer agreements entered into with Attorneys by failing to pay their attorneys' fees, and providing no adequate assurances that they will do so in the
future.

As stated in previous motions filed in this case, the Defendants owe Attorneys over ninety thousand dollars ($90,000) in legal fees, and the Defendants have failed to pay the majority of outstanding due invoices beginning from February until the present date.

Furthermore, due to the lack of cooperation coupled with the Defendants' failure to pay past due invoices, there has been a significant and material breakdown of the ability of the Defendants and Attorneys to continue to work together in this matter.

At the present stage, the relationship between the Defendants and Attorneys appears to be irreparable, and Attorneys cannot provide effective legal representation due to the aforementioned outstanding issues.
The attorneys cannot withdraw without approval of the court, with a hearing scheduled for October 22nd to decide the matter.
In the meantime settlement negotiations between Digital Altitude, Michael Force and Mary Dee continue, with the filing additionally revealing
the FTC have conducted ongoing discussions regarding settlement and have tendered an offer of settlement that may be accepted or rejected by Defendants.
Stay tuned…