Copy Profit Success Global rebooted as FX Signal Education Plus?

Copy Profit Success Global popped up on our radar about a year ago.
After about a month of obnoxious "we're gonna take over forex" marketing, Copy Profit Success Global launched… and then flopped. Hard.
A libel and slander lawsuit filed by iMarketsLive is also believed to have contributed to CPS Global's quick demise.
Today Copy Profit Success Global is no more. Its founders, Joel Santiago and Joe Otis, have abandoned most of their social media profiles.
A YouTube channel Santiago still low-key uploads to though, suggests CPS Global has rebooted as FX Signal Education Plus.
To trace the origins of FX Signal Education Plus we turn to a GoFundMe campaign created a few months ago.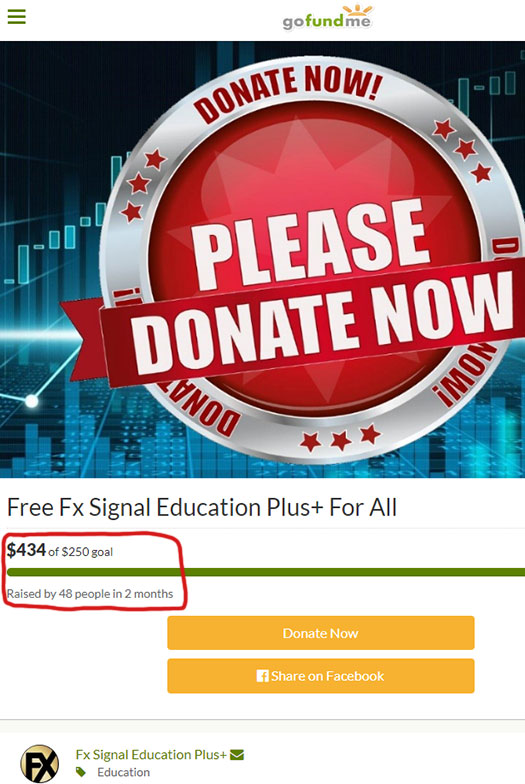 As you can see, currently $434 out of a stated $250 goal has been raised.
Where did that money go and to who? Who knows.
FX Signal Education Plus has a web presence, on which is claims to be "an online and offline learning community."
Fx Signal Education Plus+ provides an interactive classroom that offers guidance from forex enthusiast and experts in.

These experts help teach our members how to become more knowledgeable and efficient in currency markets.

If you are interested in forex markets or if you are looking to share your expertise then we will help you take you to the next level.
To access FX Signal Education Plus you're looking at $9.99 a month or $99.90 annually.
There's no mention of a commission structure, however FX Signal Education Plus affiliates are provided referral links.
That brings us to Joel Santiago's YouTube channel: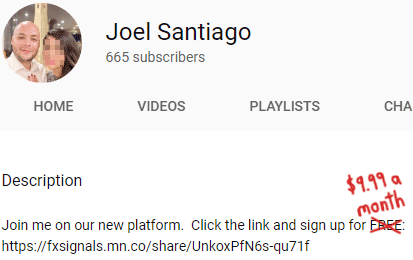 "Our platform" hey.
Naturally FX Signal Education Plus provides no information on its website about who owns or runs the business.
In fact all you can do on there is subscribe or sign in.
FX Signal Education Plus' web presence is hosted on Mighty Networks.
As per their website, Mighty Networks is
the simplest way to build your brand online. In a few clicks, you have everything you need to experiment, grow, or engage your members in the way that you want.
It's basically a way to group people, charge them money and pitch whatever to them. And there's nothing wrong with that.
Although they've since disabled access to it, Google cache reveals Santiago is an FX Signal Education Plus "gold host".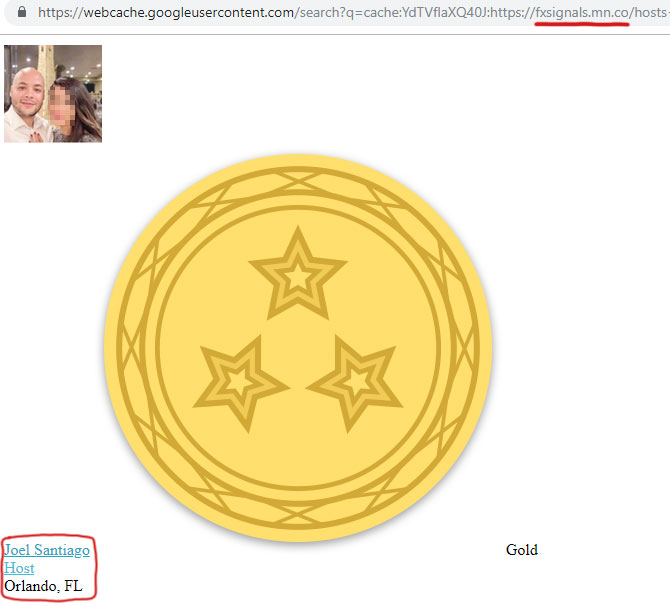 Apparently there's also "ambassadors", but no idea what they are.
If FX Signal Education Plus was purely a manual signal service, I wouldn't have given it a second look.
This however doesn't gel with affiliate referral links, gold hosts, ambassadors and the overall secrecy.
Ironically, FX Signal Education Plus' GoFundMe campaign provides more information than what's on their website;
We at Fx Signal Education Plus+ don't believe you should have to pay $100's or $1,000's to get the education needed to be successful in Forex markets. We have set a lofty goal of impacting million's by providing Forex tools and education 100% Free!

For us to accomplish this, we need your help.

Fx Signal Education Plus+ is able to crowd source the best Forex tools and education for the benefit of the whole. These tools and resources would be expensive for anyone individual, but together we are able to bring you these services Free as a part of this community.

We just ask that you help us 1 of 2 ways…

1. Share your Fx Signal Education Plus+ link everyday

2. Considering a small financial contribution.

It's simple, to keep these services growing, just share the good news with other's, it's free! Or simply make a small contribution monthly. Anything will help.

Our Signal Education alone has a cost of $250 a month to maintain.
Putting aside $9.95 a month is not free, forex tools seems to go beyond simple a manual signal service.
One of our core criticisms of Copy Profit Success Global was an auto trader, possibly copied over from CPS Matrix.
No idea if that's part of FX Signal Education Plus, but I wouldn't be surprised.
As a potential FX Signal Education Plus subscriber, you'll want to immediately get to the bottom of two things;
1) Is there an attached automated trading service in any way shape or form?
and
2. why do subscribers of a $9.99 a month service need affiliate referral links?
Whatever you do don't give FX Signal Education Plus any benefit of the doubt. Joel Santiago's disastrous track record speaks for itself.
Y'all gonna pretend to be forex trading gurus, but then beg for a few hundred to get your business going? C'mon now.