CFTC secures Entry of Default against 4 iComTech scammers

The CFTC has secured an Entry of Default against four iComTech Ponzi scammers.
Following their failure to respond to the CFTC's lawsuit, Entry of Default was entered against David Brend, Moses Valdez, Marco Ruiz Ochoa and Juan Arellano Parra on July 20th.
Of the four defaulted defendants, David Brend did attempt to file a pro-se responsive pleading on July 14th.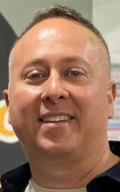 Citing himself as "not a professional attorney", Brend (right) professed his innocence in his filing.
I am innocent of all allegations. I am a victim and my business partners and friends are also victims of this company iComTech.

I have no ownership or contract verbal or non-verbal or authority of any kind over decisions or operations of iComTech.

I do not speak Spanish and do not understand Spanish.

I relied on my business partner other investors like myself who spoke both English and Spanish to advise me. The only language I speak is English.

I was an investor and had invested 30-40+ (valued in the hundreds of thousands of dollars) bitcoins into this company iComTech, that I truly believed to be trading and mining bitcoins.

Any bitcoins I made I would turn around and reinvest them back into iComTech.

Myself and all of my friends lost all of our investment.

When this company stopped paying us, I tried to reach out to Roy Landers' phone … who I was told was the attorney representing David Carmona and the company iComTech.

I did so to negotiate with him and others to get at least our original bitcoins back so we wouldn't lose them.

I was told by Roy Landers that David Carmona stopped paying his attorney fee and he was no longer representing Carmona or iComTech.

I have real evidence that shows that I invested and lost along with my friends. I only signed up my friends and family. I never signed up a stranger.

I believe in this this business iComTech, so I introduced it to the people I cared about the most.

If I was doing these terrible things that I'm being accused of to my friends and family then I wouldn't have any friends or family left. But, that's quite the contrary.

In fact, everyone who I personally signed up is a friend of mine to this day even though they lost like I did in iComTech.

I can never participate in any type of fraudulent business practice with knowledge it was a lie, and could hurt others including myself.

I am very honest, and I only speak the truth and nothing but the truth. My business partner and I are very credible and honest men.

My friends and family that I directly sponsored into the business are also very credible, influential, outstanding citizens.

This is a very painful and unfair attempt to further hurt my family and I after we just went through a chapter 7 bankruptcy in August of 2022, and after we lost all our bitcoins in iComTech.

I would appreciate being dismissed from this case before further damage is done to my family and to my reputation.

My family and I have always been Jehova's Witnesses and we read the Bible daily.

I have full faith and confidence in Jehovah God Almighty and his son Jesus Christ will protect my family and I, and that the truth will come ou and justice will be done.

Thank you for listening to me your honor. I do hope the real criminals get justice for what they have done to us.
On July 18th Brend's filing was stricken as inappropriate. Brend was directed to consult with the court's pro se clinic for guidance.
With Entry of Default recorded, the CFTC is free to file for default judgment against Brend, Valdez, Ochoa and Parra at a later date.
Both the DOJ and CFTC consider Brend a central figure in the iComTech Ponzi scheme.
The CFTC has sued Brend for commodities fraud. The DOJ has filed criminal charges, resulting in Brend's arrest last November.
As part of their case the DOJ alleges Brend, on a recorded iComTech conference call, "admitted, in substance and in part, that he knew IcomTech was a scam".
Brend has pled not guilty and was released on a $400,000 bond. He is scheduled to face trial on February 12th, 2024.
Update 6th September 2023 – Following an agreed upon stipulation, Marco Ruiz Ochoa's Entry of Default was set aside on August 9th.
From August 9th, Ochoa was given thirty days to file an answer to the CFTC's Complaint. As at the time of this update he hasn't filed an answer.
In related news, the CFTC has been given an extension of time to serve David Carmona (45 days from August 22nd).
The DOJ have also filed a motion requesting the CFTC's civil iComTech case be stayed, pending the outcome of parallel criminal proceedings.
The DOJ's motion was filed on August 15th with a decision remaining pending.