Card Geniuses Review: Poker Training and MLM?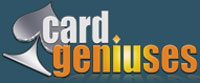 Last year I was contacted by a BehindMLM reader who requested a review of something called the "Poker Training Network". Finally getting around to researching the company today, I soon discovered that the Poker Training Network website now redirects to "Card Geniuses".
Card Geniuses is a company that markets poker training and noticing that they had an affiliate program, I skimmed over the details and after seeing that they have an MLM commissions structure, figured I'd just go ahead and review them instead.
Read on for a full review of the Card Geniuses MLM business opportunity.
The Company
Poker Training Network was headed up by co-founder and CEO Dennis Nadeau and appears to have been launched in early 2011. I wasn't able to find out when it happened or why, but today the Poker Training Network website ("pokertrainingnetwork.com") redirects to the Card Geniuses website.
Poker Training Network appears to no longer exist.
I'm not sure whether the people behind Poker Training Network are the same behind Card Geniuses or whether they signed on as affiliates as Card Geniuses do not disclose anywhere on their website who is running the company or who owns it.
The company's website domain ("cardgeniuses.com") was registered on the 8th of April 2011, however the domain registration information is set to private.
As always, if an MLM company is not openly upfront about who is running or owns it, think long and hard about joining and/or handing over any money.
The Card Geniuses Product Line
Card Geniuses market membership to what they call their "Gaming Card University, which Card Geniuses claims access to will enable poker players
to think for yourself and create an effective playing style that works well for you in order for you to be a great poker player.
Membership to the Gaming Card University is either free or "Gold", which comes in at $9.95 a month.
Free membership to the program provides access to
a newsletter
"free videos"
forums
a blog
quizzes
practice games
Gold membership also provides access to the above and in addition:
an "academic corner"
poker article library
resource center
poker lesson podcasts
poker training simulator
special advanced training videos
"IQ knowledge center"
Mind Game videos by "Jim Karol"
premium video access
In their marketing material for the university, Card Geniuses claim that
because poker is constantly evolving, it's necessary for people to learn from a resource that's always on the cutting-edge and forefront of poker and card games.
The Card Geniuses Compensation Plan
Card Geniuses pay their affiliates using a unilevel MLM compensation structure. A unilevel compensation structure places an affiliate at the top of the structure, with every personally recruited affiliate placed directly under them (level 1).
If any of these level 1 affiliates recruit new affiliates of their own, they are then placed on level 2 of this structure.
Card Geniuses only pay out on the first two levels of their affiliate's unilevel compensation structures, at a rate of 30% on level 1 and 10% on level 2.
These percentages are paid out on the sale of "Gold" Gaming Card University memberships, which cost $9.95 a month. No commissions are paid out on the recruitment of new affiliates or "free" Gaming Card University members.
The minimum withdrawal balance for Card Genius affiliates is $20.
Joining Card Geniuses
Membership to Card Geniuses as an affiliate is free.
Conclusion
For some strange reason Card Geniuses go out of their way to clarify that the opportunity 'is not Multi-Level Marketing' because 'there are no enrollment fees and no monthly fees associated with becoming an affiliate'.
I'm not sure where Card Geniuses got their definition of MLM from, but having a compensation plan that pays out on multiple levels (2) most definitely makes Card Geniuses an MLM company.
Although only offering commissions on two levels of a unilevel compensation structure is notably on the shallow side of things in terms of residual income value.
That aside and the confusion of what exactly happened to the Poker Training Network, Card Geniuses appears to be a pretty solid service driven MLM business opportunity.
The Gaming Card University service is subscription based, however the affiliate side of the business is free and (to the best of my knowledge) requires no participation or purchase of a subscription to the university training program.
I will note though that there is an inherent risk of the company being made up of affiliates being the primary source of Gaming Card University subscribers, due to the nature of the product.
In marketing the Gaming Card University, Card Geniuses' affiliates are going to have to know the service inside out. No doubt the question of "well, are you a member" is going to come up and if an affiliate doesn't have an active subscription, that could be perceived as a lack of genuine faith in Card Geniuses' training offering.
One quick and easy way to verify this as a potential Card Geniuses affiliate would be to enquire with your potential upline as to how many non-affiliate Gold subscribers they have vs. Card Geniuses affiliate subscribers.
Oh and if you are approached by someone to join Card Geniuses, ask them what on Earth happened to The Poker Network and fill us in by leaving a comment below (ditto if you find out who's running things).
I find it incredibly strange that an MLM company can disappear and rebrand itself under a new name, raising not even the slightest of peeps from the industry.
Good luck!