Blessing4All Review: Ads2Freedom scheme reboot

Blessing4All launched in February 2014 and is headed up by "admin" Edwin Ramos.
On the Blessing4All website, Ramos is credited with having been 'involved in online programs for more than 5 years in which he acquire the needed skills and knowledge on how to operate an online business'.

Blessing4All and Ramos (right) are based out of the Philippines, with a "certificate of business name registration" from the Philippine Department of Trade and Industry provided on the company website.
Note however that,
Blessing4all Enterprise is 100% online business for now but as we grow and the need arises we will set up a base office for this program.
On the MLM history side of things, Ramos' YouTube account reveals a plethora of uploaded videos marketing "Ads2Freedom". Further research reveals Ramos to be the owner of the opportunity, which used a series of matrices to pay affiliates commissions on the recruitment of new Ads2Freedom affiliates.
Despite Ramos claiming to have involvement in online programs for five years, I was unable to find anything specific other than Ads2Freedom.
In December 2013 Ramos advised on the company website that Ads2Freedom had their hosting account suspended by HostGator. Ramos claimed this was due to HostGator's policy against "matrix or MLM program(s)".
Ramos claimed the HostGator backups of Ads2Freedom were "useless because they are corrupt", and did not restart the scheme elsewhere. At least not under the Ads2Freedom name.
Read on for a full review of the Blessing4All MLM business opportunity.
The Blessing4All Product Line
Blessings4All has no retailable products or services, with affiliates only able to market affiliate membership to the site itself.
Bundled with Blessing4All affiliate membership is an "ebook collection", which the company states is
in ZIP file and some ebooks also have MRR and PLR so you can resale this ebooks online if you want but you need to set up a Salespage for it.
The Blessing4All Compensation Plan
Dubbed "profit-sharing", the Blessing4All compensation plan revolves around the company taking in money from new affiliates and, after pooling it together, paying it out to existing affiliates.
Revenue-Sharing
Blessing4All take $5 out of every $30 paid by new affiliates, 10% of all affiliate earnings and $4 out of the $5 fee charged to affiliates who received more than they have put into the company, and place it into "profit-sharing pool fund".
This fund is then split equally each day among all Blessing4All affiliates. Each share is then split 50% between the affiliate and their upline.
The more referrals you have, the bigger your profit-share will be.
2up Pass-Up Bonus
When a new Blessing4All joins the company, $2 of their fee is put into a 2-up style compensation plan.
This plan requires all new affiliates to "pass-up" a $2 commission on the first and second affiliates they recruit to their upline (the affiliate who recruited them).
In turn, affiliates who they recruit must also pass-up $2 from their first and second affiliates to them. This continues down with every new affiliate added in the downline passing up $2 commissions on their first and second recruits (hence the name "2-up").
2×2 Matrix
Blessing4All utilise six 2×2 matrices, each placing an affiliate at the top of the matrix with six positions directly under them: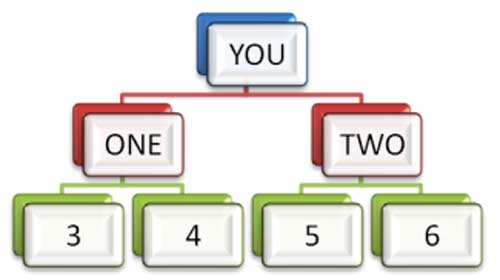 Filled positions in the matrix represent directly or indirectly recruited affiliates, with each matrix paying out a "cycle" commission once all six positions are filled.
Bronze Matrix – $10 commission and entry into Silver Matrix
Silver Matrix – $16 commission and entry into Silver Matrix
Gold Matrix – $30 commission and entry into Platinum Matrix
Platinum Matrix – $60 commission and entry into Diamond Matrix
Diamond Matrix – $120 commission and entry into Titanium Matrix
Titanium Matrix – $240 commission and entry into another Titanium Matrix
A 100% matching bonus is paid out to an affiliate's immediate upline (the affiliate who recruited them) when they earn any of the above cycle commissions.
"Points" are also awarded to affiliates when they cycle, which can be used to purchase various products via Blessing4All's affiliate-only online storefront. Points are given a value of 1 point = 20 cents.
Joining Blessing4All
Affiliate membership to Blessing4All is $30, with affiliates who have earnt more than $30 charged an additional $5 every quarter.
Conclusion
Given that Edwin Ramos' previous Ads2Freedom opportunity was suspended only recently and that the backups were "corrupted" (convenient), it's not hard to put two and two together to figure out what's going on here.
Likely due to Ads2Freedom organically collapsing due to its recruitment-driven nature, Ramos has rebooted the scheme with added revenue-sharing and pass-up components. Otherwise Ads2Freedom and Blessing4All are pretty much the same.
The revenue-sharing component is straight up Ponzi investment. Blessing4All affiliates invest their $30 on the expectation of a >100% ROI over time, paid out of new affiliate membership fees.
Meanwhile the 2-up and matrix components of the compensation plan drag Blessing4All into pyramid scheme territory, with both commission systems being dependent on a constant influx of new recruits.
Once new affiliate recruitment slows down or stops altogether, Blessing4All will not be able to sustain its revenue-sharing scheme.
The company does state that "50% of the profit from their eStore" will be added to the pool, but I think it's a bit silly to pretend anybody other than affiliates will be purchasing anything from there. And even then, that's only because Blessing4All partially pay out their cycle commissions as points, which are useless for anything but purchases made through the eStore.
Both the matrices and pass-up plans stall if recruitment stops or slows down.
The $5 quarterly fee will inject some new affiliate money into the scheme every so often, but there's still the problem of affiliates achieving a cumulative 100% ROI, which has to be funded from new affiliate money.