Bitsolives Ponzi scammers charged, two arrested in India

Five scammers behind the Bitsolives Ponzi scheme have been charged by Indian authorities in Mumbai.
One arrest has been made in Pune. The other four scammers are on the run.
Bitsolives was an MLM crypto Ponzi that surfaced in 2017. 300% returns were on offer, paid through the scheme's Buxcoins Ponzi shitcoin.
As reported by BehindMLM readers in the comments of our review, Bitsolives collapsed in early 2019.
As reported by the Hindustan Times;
The accused have been identified as Ganesh Sagar, Prashant Brahmbhatt, Chandrashekhar Bali, Anuj Ojha and Mohsin Jameel.

Sagar, Brahmbhatt and Bali are directors in the firm, while Pune-based Ojha is its administrative head.

Jameel is the owner of a blockchain developer firm Bull Infotech that developed Bitsolive. Sagar has been in the field of network marketing for the past 16 years, states the FIR.

Police officers said that one of the accused was arrested by Pune police last month.

"We will soon get his custody. The directors of the firm, Bitsolive, are believed to be based in Dubai and London," the officers added.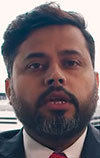 Mohsin Jameel (right) worked as CEO of Bitsolives. He is believed to operate out of the UK.
Indian authorities have been tracking Jameel for some time, with Bitsolives being the latest Ponzi in a series of scams.
Circa 2017 Jameel had been tied to no less than seven fraudulent investment companies in the forex and crypto niches.
Indian authorities believe Jameel has stolen $1.5 billion dollars through his schemes.
Anuj Ohja is based out of Pune and Ganesh Sagar was also arrested in Pune some time ago. This means that accomplices Prashant Bahmbhatt and Chandrashekhar Bali are likely hiding in Dubai.
Due to limited extradition treaties and non-existent regulation of MLM related securities fraud, Dubai is a safe-haven for scammers. BehindMLM considers Dubai to be the MLM scam capital of the world.
The UK isn't far behind, as evidenced by Mohsin Jameel scamming people out of over a billion dollars and facing no regulatory consequences.
On his personal website, Jameel cites himself as "amongst (the) UK's most successful british entrepreneur(s)".
The investigation into Bitsolives was prompted by complaints by victims.
The complainant and his friends were told that if they invested in Buxcoin, they would become millionaires and they should rope in more investors as it's a chain system

The accused claimed that before this, no coin in the world can be used for foreign trading, so if the investors use more and more Buxcoin for forex trading, then demand for Buxcoin would go up across the globe and its value will shoot up.

When investors asked the director of the company about their money, they said that the pandemic adversely impacted their investment model.

The company directors later during their seminars kept on promising that the investors would get their profits, which never happened.
It's a familiar story that continues to play out across MLM crypto Ponzis operating today.
Pending any further updates to the Bitsolives case, stay tuned…