BitRobot collapses, hackers out exit-scamming admin?

The BitRobot Ponzi scheme has collapsed.
In a departure from the usual exit-scam though, hackers are claiming to have taken over BitRobot's website.
According to a lengthy message published on BitRobot's website, "a group of experienced French-speaking hackers" have taken it over.
Our group of hackers is made up of very normal people that you meet in everyday life. In the shadows, we are on the hunt for Internet scams.

After a long investigation of several weeks, we have all the elements at our disposal to prove that Bit Robot is a genuine scam for its customers. You, the customers, are in reality the victims.
I'm not necessarily buying that but it is what it is.
According to the hackers, Belgian national Arnaud Racine is the anonymous admin behind BitRobot.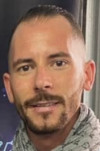 In the comments below BehindMLM's BitRobot review, Racine (right) was outed in August 2020 (comment #2).
Another reader claimed Racine wasn't BitRobot's owner, but instead was the owner of BitRobot's non-existent trading bots.
According to the French hackers, Racine claimed to be a "leader" within BitRobot.
This is totally wrong. First of all, he is more of a specialist in Ponzi schemes. And regarding Bit Robot, he was the real ruler.
The hackers dismiss Laurent Barthelemy as CEO, claiming Racine planted him as a friend to aid in deception.
Arnaud used his "friend" Laurent to have someone take all the wrongs for him.

Arnaud wanted to get by as a simple "leader" who is not part of the company.
Voice messages between Racine and Barthelemy are provided as evidence of Racine "dictating" operations.
Barthelemy also didn't have access to BitRobot's financials, which were allegedly under Racine's name.
Unfortunately the messages are in French and I can't verify them.
In one voice message, an exit-scam plan in which mispaid funds are paid is laid out by Racine;
Laurent refers to the bonuses of the pre-launch challenge which took place from July 15 to September 15, 2020.

Laurent expressed his opinion: according to him, the bonuses should not have been paid in the form of funds in the "deposit wallet".

Overwhelming response from Arnaud at the end of the extract: "When we go SCAMMER them , we will tell them it's because of that" followed by a laugh.
An operational timeline of a year to a year and a half is also discussed. Along with plans to create "pseudo partnerships" with a "famous card" merchant.
As alleged by the hackers, Racine implemented his exit-scam on or around December 22nd or 23rd. This is when Racine cleaned out over $300,000 of cryptocurrency held in BitRobot's affiliate investment accounts.
There was also a massive embezzlement on the night of January 6-7. Unfortunately, our crook took a little more care at this point, since we have no clear record.

All we can say is that the traceability of funds has been blurred by means of a "mixer" which allows to "launder" its cryptocurrencies.
Racine is has purportedly gone into hiding. His communications with investors became increasingly sporadic throughout December.
Based on website traffic estimates from Alexa, BitRobot's victims are primarily from Venezuela, Russia and Argentina.
Update 25th April 2023 – Belgian authorities have named Laurent Myriam Claude Barthelemy as BitRobot's owner.
Barthelemy was arrested in Brazil on April 18th.
Update 27th April 2023 – Arnaud Racine has been arrested in Belgium.