BigWhale collapses, "we got hacked!" exit-scam

The BigWhale Ponzi scheme has collapsed.
After BigWhale's admins drained invested funds earlier today, a "we got hacked!" exit-scam ruse was sent out to investors.
BigWhale's exit-scam ruse is the usual crypto bro nonsense. Something about a "failed zApproveLoanGrant transaction" and "snoop attack".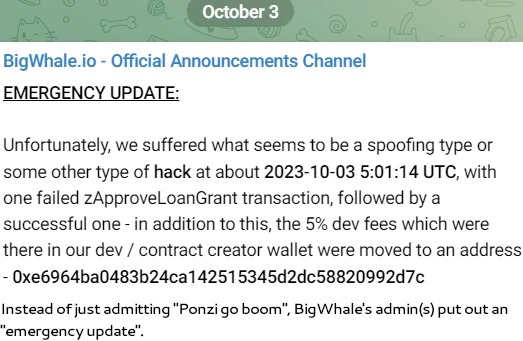 It's not worth getting into because, honestly – it doesn't matter (ChatGPT write me up a crypto exit-scam ruse, CTRL+C, CTRL+V).
The actual reason BigWhale collapsed is because investor recruitment collapsed.
SimilarWeb tracked just 19,000 visits to BigWhale's website in August 2023, down from a high of ~27,000 in July.
27% of BigWhale's website traffic originated from the US (down 37% month on month), 20% from the UK (up 25% month on month, RIP), and 11% from France (down 58% month on month).
Having cleaned out investors, BigWhale's admins are pretending to be in cahoots with the Russian government.
Not only are we going to use the fullest extent of the law to go after the person or persons behind this hack/attack, we will also use ALL OTHER MEANS NECESSARY – and we do have such resources at our disposal, to go after the ones who are behind this.

We work with assets within the Russian government directly, among other things, which at this point in time, we're OK to share with you all.

We will go above and BEYOND legal resources, and we will stop short at saying what the Russian government and its contacts are capable of – but we hope you get the message loud and clear.:

This is not just money involved, there are lives involved behind this, and we do not take kindly to that.

We are not responsible for what actions the hacker or hackers may face from agents who may or may not be working directly with us – and we are in no way bluffing about this.
To dissuade BigWhale investors from filing complaints with authorities, the promise of a refund is being dangled from a stick.
We will refund all investor funds down to the last cent.

We will move ahead in both directions – that is, the investigation, as well as the refunds that we now owe to all of our investors – that is you all.
BigWhale was a simple BNB staking Ponzi scheme, pitching investors on up to 2% a day.
The only names attached to BigWhale are Marianna Vilchez, a Canadian resident…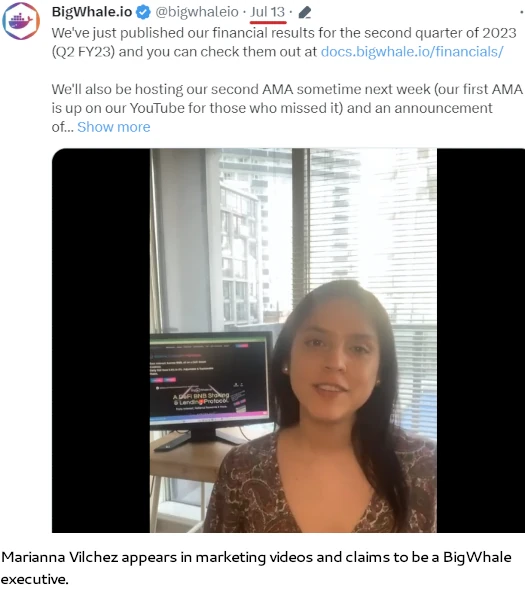 …and "Jeroen M.", an admin who got butthurt over BehindMLM's BigWhale review.
Pending an investigation by authorities, how many BigWhale victims there are and how much they've lost is unclear.
Update 6th October 2023 – The Texas State Securities Board has outed Syed Sameer as BigWhale's admin.