BLGM investors file complaints with Hong Kong police

Last month saw the arrest of Better Living Global Marketing mastermind, Luke Teng.
Teng, along with four female investors have yet to be charged, but police have raided BLGM's offices and collected scores of evidence.
While they've been going over it all and building a case, increasing numbers of investors have been filing complaints with local police.

Prior to the raid and arrest of Teng (right), when there was still slim hope those who invested in BLGM might get paid yet, Hong Kong police had received only seventeen complaints.
Over the past month or so, that has ballooned out to over one hundred. And it's expected that number will rise, with an estimated 50,000 local Hong Kong residents having invested in the scheme.
Globally, police estimate Better Living Global took in $50 million HKD ($6.4 million USD) from investors.
BLGM launched in the shadow of Zeek Rewards, an $850 million dollar Ponzi scheme. Both schemes utilized the Ponzi points business model, seeking to mask the fraud taking place behind penny auctions.
What was particularly devious about Better Living Global Marketing was the stealth marketing that took place.
Wary of the SEC shutting down Zeek Rewards, Teng and his investors made it extremely difficult to obtain publicly available information about BLGM.
Indeed, it wasn't until July 2013 that, after receiving numerous requests to do so, I finally managed to piece together enough information to publish my own BLGM review.
BLGM's Ponzi model saw the scheme offer affiliates 99 day ROIs, paid out of newly invested affiliate funds.
It didn't take long for the massive amount of Ponzi points being invested and reinvested in to grossly inflate the amount of penny auction bids available, a phenomena also observed in Zeek Rewards.
As early as April 2014 the scheme began to experience cashflow problems, with investors claiming they were unable to make withdrawals.
BehindMLM formally covered BLGM's cash flow problems in November 2014.
Even now, with Hong Kong police set to reveal the extent of fraud that took place within BLGM, investors are divided on the issue.
As with all Ponzi schemes, BLGM looks to be shaping up as a battle between the scheme's net winners losers (those who stole enough funds to profit, and those they stole from).
On one side of the fence you have investors like Jeff Johnson;
Jeff Johnson, 57, a therapist from Los Angeles, joined in December 2013.

After paying US$10,000 for points to make bids, he successfully bid US$500 for a MacBook Air, but was told he would have to buy the product and receive a rebate on the difference in price in the form of more points. \

He paid US$1,100 for the computer, but got nothing back.

He and 400 other angry members demanded their money back from the scheme's US promoters at a conference in Las Vegas in March last year. Some said they had lost up to US$100,000.
And then there's the net-winners, investors like Everett Hale;
Everett Hale, a promoter of the scheme from Las Vegas, said it was legitimate, and insisted some participants "chose not to understand" the company's business model.
Claiming people "don't understand the business model" is a common tactic deployed by scammers.
Even when the nuts and bolts of the fraud they perpetuated are laid out on the table for all to see, they still insist people just don't "get it".
Universally these are people who profited and made large amounts of money.
As per his LinkedIn profile, Hale has since moved on from BLGM: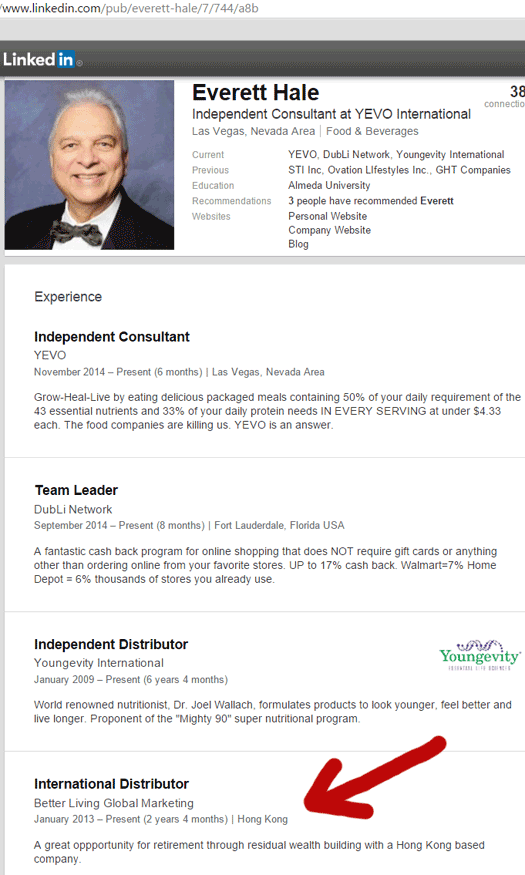 Having been involved in Yongevity prior to investing in BLGM, he has since signed up as an affiliate with Dubli and Yevo.
Exactly how much money Hale stole from BLGM investors is unclear.
Looking forward, Teng and the four Hong Kong Ponzi pimps he was arrested with have yet to be formally charged.
As per the South China Morning Post,
Teng did not respond to requests for comment.

(He) and the four women have not been charged and must report back to police next month.
Should regulators in Hong Kong push forward with a case against Teng, Better Living Global Marketing might very well be one of the largest MLM Ponzi scheme busts we've seen outside of the US.
Stay tuned…