Auruma International Review: Bullion & recruitment

Auruma International was launched in late 2011 by CEO Victor Foo. Foo, a Malaysian national, operates Auruma out of Singapore however the company itself is actually incorporated in the British Virgin Islands (a known tax haven).
Foo has been involved in the insurance industry since 1991, with Auruma appearing to be his first MLM venture.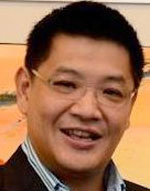 In addition to Auruma, Foo (photo right) has also operated SG Net Pte Ltd since 2009. SG Net
offers customers a platform to buy and sell physical gold and silver products on a secured online portal.
In early 2012 Foo launched a third venture, Singapore Precious Metals Exchange Pte Ltd (SGPMX). SGPMX is a "valuables" storage facility that 'offers clients anonymity as well as speedy transactions'.
SGPMX has a $1 million USD minimum deposit rule and operates out of a "free trade zone" that has been established next to Changi International Airport.
Citing Malaysia's Kuala Lumpur International Airport (KLIA) as a comparison, Foo told "The Star Online" back in February 2012 that
Moving 100kg of gold from your house to KLIA is no laughing matter. To clear a consignment at KLIA takes at least 45 minutes. But at Changi Airport, it takes only three minutes.

If you are a high nett worth individual, you wouldn't want to expose yourself and you don't want your name to appear in the export papers.
Foo reassured The Star however that he wasn't 'going to be laundering any blood money' though, because if he was 'the Singapore authorities will close (him) down'.
In an interview with "AurumaWorld" (April 2011), Foo claimed he set up Auruma after his previously launched SG Net business stabilised:
After SG Net found it's footing, I started to look for easily accessible avenues for the man in the street to preserve his, or her, wealth.

That was what prompted me leverage on SG Net's infrastructure and to start Auruma International.
Read on for a full review of the Auruma International MLM business opportunity.
The Auruma International Product Line
Auruma International trade in precious metals, offering members the chance to purchase (at "member prices") silver and gold bullion, Dirham (currency used in the middle east) and various numismatic coins.
Auruma members are also able to sell precious metals through a replicated storefront to retail customers.
Upon purchasing gold and silver through Auruma, the company stores it at "Certis Cisco", which the company states is a "24 hour maximum security bonded government secure warehouse".
12 months gold and silver storage at Certis Cisco is included with each 12 month Auruma membership subscription. After 12 months (from the date the gold or silver is stored), Auruma members can continue to have their metals stored at a cost of half a percent of the value of the metal annually.
Alternatively (and during the first twelve months of storage) an Auruma member can have their metal shipped to them or pick it up in person from Certis Cisco.
Finally, Auruma also provides services allowing members to trade their metals between eachother.
The Auruma International Compensation Plan
The Auruma compensation plan was created by "original founding member" Michael Georghiou and revolves around the sale of Auruma membership and bullion.
Auruma membership and bullion commissions are all tied into separate unilevel compensation structures, which operate independently of eachother.
A unilevel compensation structure places an affiliate at the top of the structure, with every personally recruited affiliate placed directly under them (level 1).
If any of these level 1 affiliates recruit new affiliates of their own, they are then placed on level 2 of the original affiliate's unilevel structure. If any level 2 affiliates recruit new affiliates they are placed on level 3 and so on and so forth.
Using the above unilevel compensation structure, Auruma pay out down 8 levels of recruitment.
Retail Commissions
All paid Auruma members are provided with a retail storefront from which they can resell Auruma precious metal products.
Auruma themselves, nor any compensation plan material I cited went into any further detail about retail commissions so I am unable to provide any additional information.
Commission Qualification
In order to qualify for commissions, Auruma members must purchase a "half sliver of silver" each month (autoship).
The Auruma compensation plan material I cited did not go into any further details regarding the cost of these silver slivers, so I am unable to provide any further information.
Note that Auruma provide the example price of 10 oz of silver costing $40, so a "half sliver" of silver would no doubt cost less than that.
Membership Commissions
Paid Auruma membership is $299 and pays out a commission down 8 levels of recruitment using a unilevel compensation structure.
Level 1 pays out $60 per Auruma membership sold and level 2 pays out $30. The Auruma compensation plan material I cited didn't explicitly mention what the commissions were for levels 3 to 8 on the sale of Auruma membership, however I believe these levels follow the level 2 $30 commission rate.
Note that in order to qualify for commissions on the sale of Auruma membership down levels 2 to 8, an Auruma member must be purchasing a minimum of 10 oz of Silver each month.
In their compensation plan material Auruma use the example silver price of $40 per 10 oz of silver, putting the above monthly required purchase at around $40.
Silver commissions
Auruma use the same 8 level unilevel compensation structure to pay out commissions on recruited downline purchases of silver, with members required to purchase silver themselves each month to qualify for commissions.
To qualify for levels 1-5 in the unilevel Auruma members must be purchasing 10 oz of silver each month. To qualify for levels 6 to 8 of the unilevel Auruma members must be buying 20 oz of silver each month.
How much of a commission paid depends on what unilevel level the affiliate purchasing the silver sits on and is paid out as a percentage of the total purchase price:
Levels 1 to 6 – 0.5%
Level 7 – 1%
Level 8 – 2%
Gold commissions
Gold commissions in Auruma are paid out in much the same manner as silver commissions, with members required to first qualify before being paid on the gold purchases made by their recruited downline.
Whereas silver commissions require monthly qualification via the purchase of silver, gold commissions are an annual qualification of 50g of gold for levels 1 to 5 and 100g of gold for levels 6 to 8.
In their compensation plan material Auruma provide the example price of $60 a gram of gold, meaning the above two qualifications come in at $3000 and $6000 respectively.
The percentages paid out on the purchase of gold by an Auruma affiliate's recruited downline are the same as silver:
Levels 1 to 6 – 0.5%
Level 7 – 1%
Level 8 – 2%
Joining Auruma
Membership to Auruma is $299 with a $99 fee payable annually thereafter.
Conclusion
Let me preface by saying I'm not a gold and silver guy and largely have no idea or interest in how these markets work. Approaching Auruma from an MLM perspective however, at first glance all the right things appear to be in place.
There's retail, a preferred customer option and an obvious tangible product. Sure the commission qualifications basically equate to pay to play but with a viable retail option that would place the legitimacy of the business in how the members participated.
Upon closer inspection of the Auruma business model though, things start to fall apart.
First and foremost is the lack of focus on retail, explainable I believe due to the paradox of bothering to offer retail but then having a free to join preferred customer option, which brings with it wholesale member prices.
As such your prospective Auruma retail customer will no doubt face the tough choice of buying as a customer at full retail price, or signing up as a free preferred customer with no requirements and purchasing at member wholesale prices.
To confuse the matter even more, Auruma compensation plan creator Michael Georghiou claims he "doesn't know" why anybody would sign up as a preferred customer, only that "they can".
From this we can take that the retail storefront Auruma members are given is largely useless, and that the paid membership option (according to Georghiou) makes the preferred customer option also useless.
So what are we left with?
Members signing up, paying membership fees and then being forced to buy metals from Auruma if they wish to earn commissions on their recruits also buying metals from Auruma (who are hoping their recruited downlines are going to buy metals and so on and so forth).
Before we get into the pyramid'esque picture above though, let's take a step back and look at Auruma membership and how it fits into the compensation plan.
Referred to as a "commissionable product" by Georghiou, Auruma membership pays out a $60 commission as long as an affiliate has a monthly minimum order of silver with the company (autoship).
If an affiliate wishes to increase this commission down 8 levels of recruitment, they simply increase their monthly autoship order to a higher required minimum.
In effect Auruma members are being paid commissions upon the recruitment of others, with any products bought (at a non-retail level) merely incidental to the recruitment process, primarily resulting out of commission qualification on the sale of said memberships.
Be it silver, gold or any other tangible product under the sun, if you're paying out commissions on the recruitment of new members the product automatically becomes irrelevant.
Auruma tries to get around this by claiming that its membership (referred to as a "business center") is a product. But is membership a product? Not in MLM it isn't.
Steering the Auruma opportunity into even murkier waters, in his compensation plan presentation Georghiou recommending viewers to 'purchase a business center' and then recruit '3 others to do exactly the same… so you can earn commissions out of the them acquiring their business centers'.
Things deteriorate even further with Georghiou explaining away Auruma's mandatory autoship qualifications by telling viewers they can 'buy silver out of (their) business center sales (commissions)'.
With Auruma's business centre's being nothing more than a required qualification to participate in the income opportunity, as you can see there's a strong case for what appears to be an effective pyramid scheme here.
Making matters only worse is the fact that even the maths behind the compensation plan doesn't seem to add up.
Auruma make a big deal of not setting the price they sell precious metals at, instead simply deferring to the market value of them. Fair enough and I have no problems with that.
Throw in an MLM compensation structure though and I have to wonder where does the commission money come from then?
Even if we assume some of the membership fees are being diverted into the unilevel commission payouts, that still leaves a largeish amount of unaccounted for commission revenue owed.
Let me give you an example:
You buy $500 worth of silver as an Auruma affiliate, meaning Auruma give you certificates and what not and store for you $500 worth of silver. Assuming your commissions eligible upline (all eight of them) are qualified, where does the commission money come from on your purchase of the silver?
In traditional MLM it would come from the product markup, with the company taking the hit on the wholesale product price (if wholesale commissions were offered). But here Auruma themselves don't set the price, the market does. So where is the commissions money coming from?
At $299 a pop ($99 second year onwards) Auruma membership fees are only going to cover so much. And what if we start talking silver and gold purchases in the thousands of dollars, what then? Where on Earth does the commissions money come from?
One possible explanation is the fact that Auruma guarantee members that they will buy back their silver and gold at whatever the going market rate is at the time – minus any commissions paid out on the original purchase of the metals (and a "small" processing fee).
These are the same commissions I am talking out above. But before you jump up say 'ahah! Auruma are just taking in money and paying out commissions with it, as evidenced by the subtraction of commissions paid out in the offered "buy-back"', there's one more consideration that needs to be taken. One that totally throws the above hypothesis out the window.
Auruma offer all members the option to ship the gold (immediately after it is purchased) door to door, or  members can themselves rock up to Singapore and cart the gold off themselves.
Putting aside the logistics of either scenario aside for the moment, this presents us with the scenario of Auruma paying out commissions on the purchase precious metals and then having to actually stump up the good should a member wish the goods shipped or to pick them up.
Given the metals are sold at market price, where does the commission money come from? How are Auruma paying out commissions and selling the metals to their members at the market rate?
Giving Auruma the benefit of the doubt that they are indeed "storing" actual gold and silver for members, this problem is evident in all three options available to members – storage, delivery or pickup.
Is there a wholesale circle (from whom Auruma purchase from) within the wholesale prices Auruma claim to offer their members? Surely Auruma aren't simply just banking on their members never actually taking the deliver or pickup options?
And finally, what happens if I buy $10,000 of silver today and the price of silver goes up tomorrow? Even after the commissions paid out (this money is paid to affiliates so it's not in Auruma's hands anymore) have been subtracted, how is Auruma paying me more the next day than I paid them for the silver the previous day?! 
Again, where on Earth is the money coming from?
Despite spending a great deal of time trying to make sense of this I can only draw the conclusion that, mathematically speaking, the Auruma opportunity just doesn't add up… literally.