Aluva struggling, pivots to crypto securities fraud

BehindMLM reviewed Aluva the same month it launched in June 2021.
In reviewing Aluva, I was kind of neutral on the MLM opportunity.
There's nothing overtly offensive about Aluva's MLM opportunity.

Unfortunately there's also nothing to really hook you in.

Founder Gavin Dickson's story about his father is a nice touch but the underlying message is basically "look after yourself before it's too late".

And you don't necessarily need an energy drink, multivitamin drink or weight loss supplement to achieve that.
Almost two years into Aluva's launch, SimilarWeb tracks negligible traffic to its website.
This isn't definitive, but it's a good indication Aluva isn't doing well.
Since launch, Aluva has marketed a range of nutritional supplements.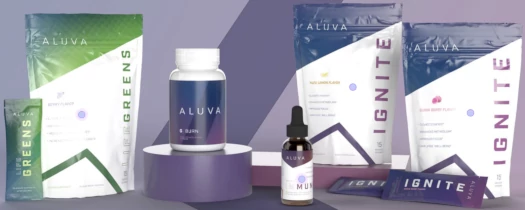 Then, on or around January 10th, the company announced it was pivoting to AUX.
Participate in the biggest financial shift of the century and get your time back, more freedom, and finances on track using AUX.

This incredible platform launches 1/15!
AUX stands for Aluva University & Exchange; and you can probably guess where this is going…
Through AUX, Aluva pitches a 2% to 20% passive monthly ROI: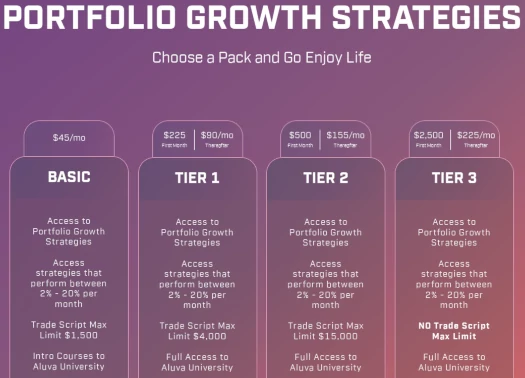 It's your typical trading bot offering, with prices starting at $45 a month.
Basic – $45 a month and able to invest up to $1500
Tier 1 – $225 and then $90 a month, able to invest up to $4000
Tier 2 – $500 and then $155 a month, able to invest up to $15,000
Tier 3 – $2500 and then $225 a month, no investment limit
Funds invested are purportedly traded on investor's behalf through Aluva's "trade script".
Participate in state-of-the-art trading systems with Aluva's hands-free API integration.

We'll handle the technicalities – your just invest, trade and earn.
Aluva marketing suggests fees and investment are solicited in bitcoin and ether.
Attached to Aluva's "trading script" investment scheme is AUX University.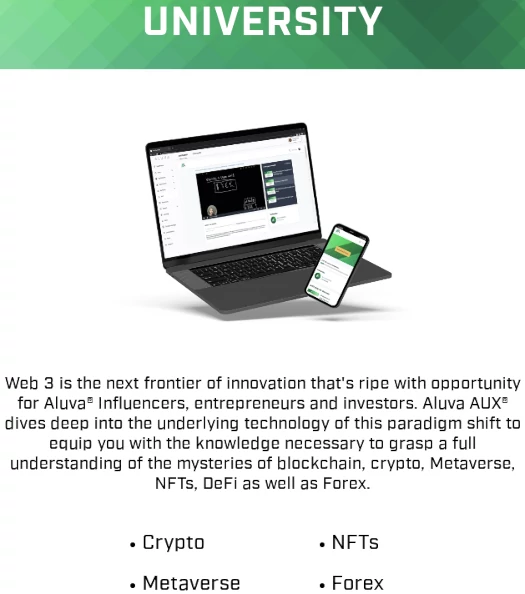 You know the drill, crypto buzzwords and an education platform nobody cares about.
AUX is $240 a month standalone or bundled with Tier 1 and higher investment plans.
The Basic tier provides access to "intro courses to Aluva University".
To be clear, there's nothing inherently illegal about Aluva's passive investment trading opportunity.
Being a US-based company however, the legitimacy Aluva's "trading script" scheme hinges on registration with the SEC.
A search of the SEC's Edgar database reveals neither Aluva or founder and CEO Gavin Dickson are registered.
This means that at a minimum Aluva is committing securities fraud.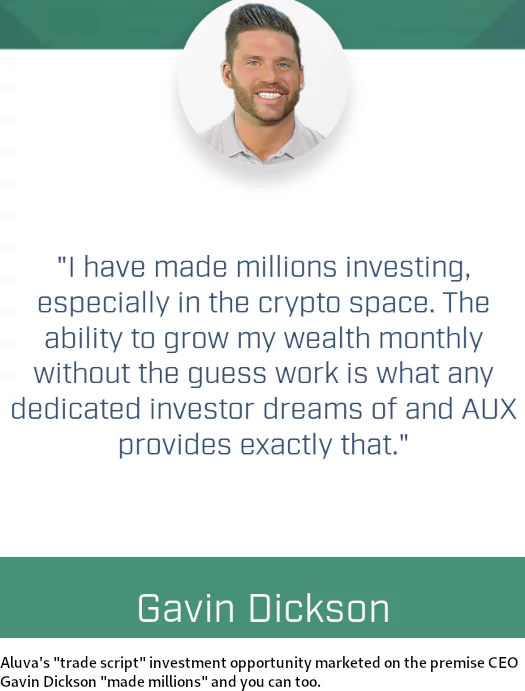 On top of that, Aluva fails to disclose particulars of its "trading script" to consumers. This is a potential violation of the FTC Act (disclosures).
Failing regulatory intervention, MLM trading bot schemes typically end in one of two ways;
the bot blows up; or
a rigged trades exit-scam.
Regardless of how Aluva's "trading script" investment scheme ends, the only people who will make money with it are Gavin Dickson, early investors and/or top recruiters.