All Teamed Up Review: $25 matrix positions

All Teamed Up operate in the internet marketing MLM niche and appears to be based out of the Newfoundland in Canada.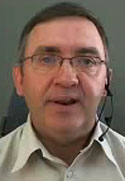 Heading up All Teamed Up is Rodney Brace. Brace (right) credits himself as the "sole proprietor" of his marketing company "Top Dog Advantage". On the All Teamed Up website, Brace explains
This Product Driven Income Plan is owned and operated by Top Dog Advantage Inc. We have been in business since 1999 and incorporated in 2007. I, Rodney Brace, am sole proprietor.

We have been developing software and services for a few years. We have been marketing even longer, promoting other company's products and services.

Our goal as always been to create/promote products and services that help people be more successful in business, especially the home-grown-businesses and entrepreneurs.

We recently decided to package our products in a way that is the most cost effective for the consumer and still remain profitable for us.
Prior to releasing software through Top Dog Advantage in 2008, Brace states on the company's website that
from 2001 – 2008 we worked with companies and individuals to assist them with branding their email communications professionally.

We suspended this service in March of 2008 so we could focus on more cutting edge technologies.
Read on for a full review of the All Teamed Up MLM business opportunity.
The All Teamed Up Product Line
All Teamed Up has no retailable products or services, with affiliates only able to market $25 matrix positions in the company's compensation plan.
Bundled with each $25 matrix position is a series of products, sourced from admin Rodney Brace's software company, Top Dog Advantage.
Product 1
No details.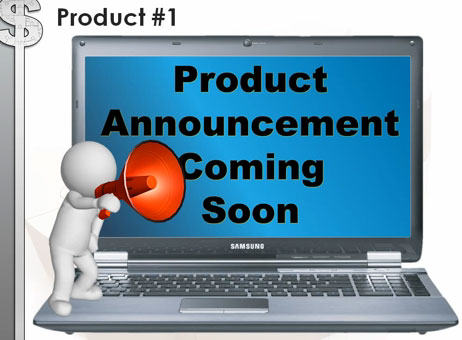 Product 2
A "video email postcard system" which appears to have been created in 2011.
Product 3
A "video app system" called Vappsy, launched under Top Dog Advantage in April 2013.
Product 4
Website Communicator Tool,
In March 2008 we released Website Communicator™ software. There is absolutely nothing else on the Internet that lets Website owners accomplish what this program does. It is the most powerful software available that humanizes a Website.
Product 5
An "audio video conference system".
In January 2010 we released a webinar software program that requires no download, Audio Video Conference. It is FLASH based and works from the website.
Product 6
Something called "Top Dog Academy":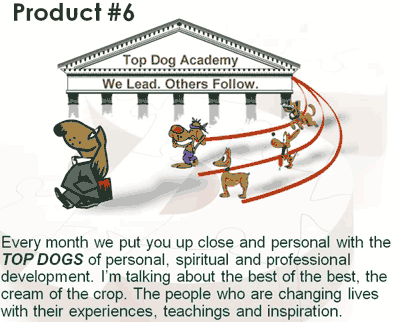 The All Teamed Up Compensation Plan
The All Teamed up Compensation Plan revolves around affiliates purchasing $25 matrix positions which then enter them into a series of matrices.
All Teamed Up use six 3×2 matrices to pay out commissions. A 3×2 matrix places an affiliate at the top of a matrix with 3 positions directly under them (level 1). In turn, these three positions branch out into another three positions each (level 2).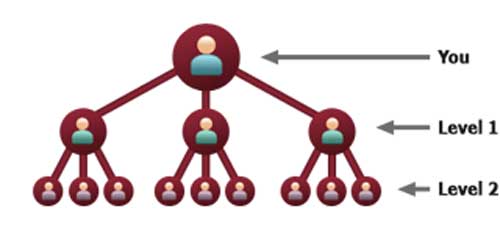 Positions in an All Teamed Up matrix are filled via affiliate purchases of matrix positions for $25 a month. Positions can be filled via positions purchased by directly recruited affiliates, or affiliates recruited by an affiliate's up and downlines.
In order to qualify for commissions, an All Teamed Up affiliate must personally sell at least three matrix positions to their personally recruited affiliates. Note that these matrix positions must be paid on each month, with any positions dropping out replaced by new ones.
If an affiliate fills their matrix they earn a percentage of the affiliate fees paid by the bottom nine positions (level 2)  of the matrix. Here are the respective commission payouts on all six All Teamed Up matrices:
Matrix 1 – $85 a month
Matrix 2 – $170 a month
Matrix 3 – $340 a month
Matrix 4 – $680 a month
Matrix 5 – $1360 a month
Matrix 6 – $4320 a month
Note that the above commission are a baseline 60% of the monthly affiliate fees paid on all level positions in each matrix (minus a monthly matrix charge at each level).
Affiliates can increase this percentage payout on the 6th matrix, determined by how many matrix positions they sell to personally recruited affiliates:
 26-50 positions – 65% (extra $360 a month)
51-100 positions – 70% (extra $720 a month)
101 or more positions – 75% ($1800 a month)
Note that these percentages only affect Matrix 6 commissions, not the entire series.
Referral commissions are available on personally recruited affiliate commissions, paying out 15% of the monthly commission paid out at each matrix level.
Joining All Teamed Up
Affiliate membership to All Teamed Up is $25 a month.
Conclusion
On their own there's nothing wrong with Top Dog Advantage's product line, with red flags stemming solely from All Teamed Up's compensation plan.
In choosing to utilise a six matrix system, Rodney Brace has essentially launched a $25 a pop recruitment-driven opportunity that has nothing to do with the purported sale of the products he's attached to it.
For starters there's the issue of retail, of which there is none within the All Teamed Up business opportunity itself.
Then there's the red flag that selling $25 positions in a compensation plan raises. Products are bundled with these positions however due to the nature of the compensation plan, affiliates are paid to sell positions (to recruited affiliates), rather than any products or services.
If positions in the All Teamed Up compensation plan are not sold on a continual basis, the company's matrices will stall. When that happens, those at the bottom of what is effectively a 6 tiered pyramid scheme stop paying their $25 a month.
This means those above them take a commission hit and when they lose enough they too stop paying their $25 a month and before you know it the scheme has collapsed.
And if that wasn't bad enough, All Teamed Up is currently offering "Founding Member Profit Share" scheme in addition to the regular compensation plan, in an effort to attract early bird affiliates (note Brace's own position in the comp plan below).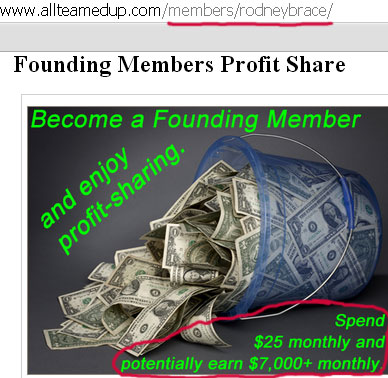 In exchange for signing up early, Brace promises his Founding Members a 'share in a percentage of profits each month for the first year'.
Those "profits" are 100% sourced from affiliate fees, so in promising what is essentially a 12 month ROI on a $25 a month fee, Brace introduces a Ponzi investment scheme element to the business as well.
"Founding" affiliates get in early on the expectation of a >100% ROI of their $25 fee, payable over 12 months.
That is of course provided All Teamed Up can sustain affiliate recruitment over those first twelve months and doesn't collapse first…