AdTelligent Review: $10 advertising node scheme

There is no information on the AdTelligent website indicating who owns or runs the business.
The AdTelligent website domain ("adtelligent.com") was registered on the 23rd of August 2013, however the domain registration is set to private.
It's also worth noting that at the time of publication, McAfee's site advisor has classified the AdTelligent website as a "malicious site":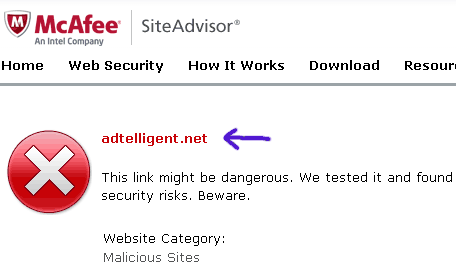 As always, if an MLM company is not openly upfront about who is running or owns it, think long and hard about joining and/or handing over any money.
The AdTelligent Product Line
AdTelligent has no retailable products or services. Affiliates join the company and then purchase $10 worth of "advertising nodes", which AdTelligent claim provides access to their 'network of millions of ad spaces' offering 'billions of impressions per day'.
The AdTelligent Compensation Plan
AdTelligent allow affiliates to deposit a maximum of $10,000 with the company, payable in $10 installments.
For each $10 deposit made by an affiliate, the company guarantees a $15 payout (150%).
The earnings on the node are yours to keep until that particular media buy would expire at a total potential earning of $15.00
In addition to the ROI promised above, AdTelligent also offer referral commissions on each deposit made, paying out 5% on each deposit down five levels of recruitment.
Joining AdTelligent
Affiliate membership to AdTelligent is free, however affiliates must make a minimum deposit of $10 if they wish to generate commissions.
Conclusion
With no retailable products or services and all commissions paid out of new affiliate deposits, AdTelligent functions as a Ponzi investment scheme.
Affiliate make investments of $10, with the company guaranteeing a 150% ROI of $15. No timeframe is provided for the ROI to be paid out in full, yet the scheme clearly runs on the implication that affiliates will receive 150% of what they put into the scheme.
Despite the above however, AdTelligent insists that it does not run an investment scheme:
Members understand that we offer a marketing product and are not an investment opportunity.
Yet in the same paragraph, taken from the AdTelligent compensation plan, the company then proceeds to spell out the very definition of a Ponzi scheme:
Member understands that we share revenue received from the profits of Ad Pack sales made at AdTelligent.net.

The revenue is shared to a random group of positions and we can only share profits based upon how much we receive on any given day.
The Ponzi nature of AdTelligent is then further spelled out in the company's "no refunds" refund policy:
We have a strict NO REFUND policy. This is due to ad package revenue being shared with other members immediately upon payment.
With ad package revenue being sourced entirely from affiliates and then "shared with other members immediately" (existing investors), quite obviously AdTelligent's claim that it is not an investment opportunity is just lip-service.