AdProfitFund Review: $10 advertising based Ponzi

There is no information on the AdProfitFund website indicating who owns or runs the business.
The AdProfitFund website domain ("adprofitfund.com") was registered on the 25th of June 2013, however the domain registration is set to private.
A big of digging around on the AdProfitFund website revealed the hosting of banners that advertise something called "Xtreme Text Ads":
Xtreme Text Ads charges affiliates $15 to join and then pays them $5 per affiliate they recruit.
There's no information on who owns or runs Xtreme Text Ads on the website, however the domain registration lists a "Greg Chadwick" of "Trax Web Design Inc." as the owner, operating out of British Columbia in Canada.
At this point I was ready to chalk up the trail going cold with Chadwick simply being a web designer, however when I visited the domain of the supplied email address in the registration ("traxwebdesign.com"), I found it redirected to yet another income opportunity.
Trax Web Design's website domain redirects to something called "MyVipLinks", which appears to be a directory of dodgy-looking affiliate income opportunities.
Given that web design company websites generally don't redirect to income opportunity sites, in addition to designing them I'm going to go out on a limb and suggest Chadwick owns all of the websites above, including AdProfitFund.
Read on for a full review of the AdProfitFund MLM business opportunity.
The AdProfitFund Product Line
AdProfitfund has no retailable products or services, with affiliates only able to market AdProfitFund affiliate membership itself.
The AdProfitFund Compensation Plan
The AdProfitFund compensation plan revolves around affiliates investing in "ad packs". Each adpack costs $10 with AdProfitFund guaranteeing a 1.5% daily ROI for 150 days (total ROI: 225%).
AdProfitFund also offer referral commissions on money invested by recruited affiliated, payable down three levels of recruitment.
Level 1 (personal recruits) – 7%
Level 2 – 3%
Level 3 – 2%
Joining AdProfitFund
Affiliate membership to AdProfitFund is free, however affiliates must participate in the investment scheme if they wish to withdraw any commissions paid out.
Conclusion
With all revenue in AdProfitFund sourced from affiliates and paid out via guaranteed daily ROIs, AdProfitFund functions as a Ponzi investment scheme.
Truly passive income. Earn 45% per month on your purchased shares. Earn 225% per Position.
Affiliates join the company, invest in ad packs (which are really nothing more than positions in the comp plan), and then earn a passive daily ROI on each position, subject to new investors continuing to pump money into the scheme.
In addition to the websites I mentioned in the introduction of this review, I was able to track down one other that is tied into Trax Website Design: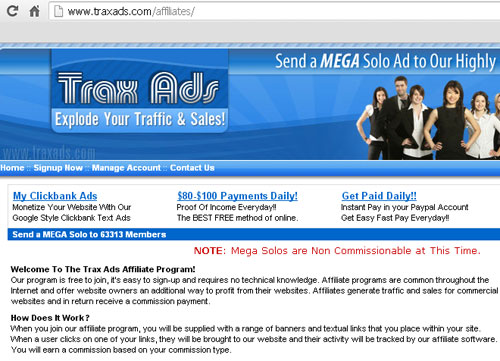 The Trax Ads website domain is also registered to Greg Chadwick and offers a single level affiliate program, paying out 40% on the sale of ad packages.
After launching a string of advertising based income opportunities  that never really went anywhere, AdProfitFund appears to be the next evolution of Greg Chadwick's attempts at running an online income opportunity.
Unfortunately, as with all Ponzi schemes, once new investors stop funding their accounts, Chadwick will eventually run out of new money to pay out the daily 1.5% ROI he guarantees existing investors.
Once that happens, kaboom.