11 Daily Doubler Review: Reality Profit rebooted

A few months ago I took a look at a business that allowed members to join, invest money and offered a fixed ROI that increased the longer they left their money in the system.
With no products being sold to customers and all revenues generated coming from member investments, this was a clear-cut case of Ponzi.
That business was Reality Profit, and whereas most Ponzi schemes seem to have a shelf life of roughly two years or so before they naturally collapse, Reality Profit seems to have run into troubles just two months out. At least if the launch of 11 Daily Doubler is anything to go by.
They're baaaaaaaaaaack…
The Company
There is no information on the 11 Daily Doubler website indicating who owns or runs the company.
The domain '11dailydoubler.com' was registered on the 11th March 2012, and lists a Jack Hagen with an address pointing to '123 Brooke Street, Luxemburg' in the US state of Wisconsin.
I'm going to go ahead and assert that this is a completely bogus listing, based ont he fact that according to Google no Brooke Street exists in Luxemburg, and who filled in the domain registration seems to think "LU" is the valid US state code.
As for who's running it, who knows, however due to laziness on the admins part they reveal they're the same people running Reality Profit: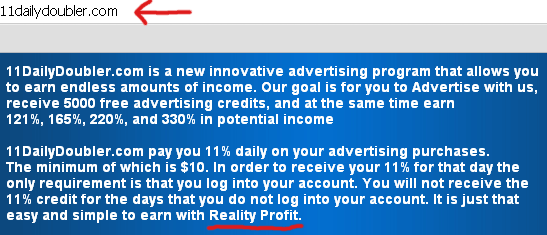 Failing to proof check their simple copy and paste, quite obviously these aren't the smartest tools in the shed. Although you wouldn't expect anything less from people who misspelt the name of their company in the title tags of the website ("11 Daily Dobler").
Sloppy sloppy sloppy, although the owners do cover themselves in the company FAQ:
Information on this Web site may contain inaccuracies or typographical errors.
I'll say…
The 11 Daily Doubler Product Line
11 Daily Doubler has no retailable products or services. Instead, members join the company for free and invest money in $10 lots.
Bundled with each investment are a series of advertising credits, which can be used to advertise on an inhouse ad network featured on the 11 Daily Doubler website.
The 11 Daily Doubler Compensation Plan
11 Daily Doubler pay out an 11% percent ROI on member investments, provided they login to their 11 Daily Doubler website account at least once a day.
Investments are made in $10 lots with the company claiming that withdrawals can be made at any time. The maximum that can be invested per member account is $10,000.
Additionally 11 Daily Doubler pay out referral commissions on the investments made by people you recruit into the company. Your direct referral's investments pay out a 9% commission and anyone they recruit who invests (your level 2) pays out a 6% commission.
Joining 11 Daily Doubler
Membership to 11 Daily Doubler is free however members must invest money with the scheme if they wish to earn anything.
Free members are able to generate commissions, however they themselves must first invest in the company if they wish to withdraw these earnings.
Conclusion
As a private transaction, this program is exempt from the Any Canadian money policy and US Securities Act of 1933, the US Securities Exchange Act of 1934 and the US Investment Company Act of 1940 and all other rules, regulations and amendments thereof.

We are not FDIC insured. We are not a licensed bank or a security firm.
Points for honesty, but a "private transaction"? Cmon fellas…
With no other revenue source than member investments into the scheme and no products being sold by members to customers, all we're looking at here is a bog standard Ponzi scheme offering a daily ROI of 11%.
11 Daily Doubler try to pass themselves off as an advertising program:
11Dailydoubler.com an online advertising program and seek to provide its members a good platform to advertise their businesses/programs.
Yet at the same time offer no refunds:
ALL SALES ARE FINAL. NO REFUNDS will be issued for any reason.
Logic would dictate that if members were actually purchasing advertising and not just investing their money, should they not use the advertising credits provided with each investment, they'd be entitled to a refund.
Of course with a Ponzi scheme using new and existing member's investments to pay off existing returns, that's not possible – hence 11 Daily Doubler's "no refund" policy.
Reality Profit offered a ROI of 8% a day and was launched in early June, just under two months ago. With 11 Daily Doubler offering an 11% ROI, I imagine they'll run into problems even quicker.
At that point the same admin will no doubt launch their next short-lived Ponzi scheme and we'll be back again with another review. Till then…