Allied Wallet execs indicted, owner Ahmad Khawaja on the run

Four Allied Wallet executives, including owner and CEO Ahmad "Andy" Khawaja, have been indicted on fraud charges.
This latest round of indictments follows charges filed in 2019, as well as an FTC lawsuit detailing theft of $110 million.
According to a DOJ press-release put out earlier today;
Four individuals have been charged in the District of Massachusetts with conspiring to deceive banks and credit card companies into processing more than $150 million in credit and debit card payments on behalf of merchants involved in prohibited and high-risk businesses, including online gambling, debt collection, debt reduction, prescription drugs, and payday lending, according to an indictment unsealed today in Boston.
Our interest in the case stems from the "high-risk businesses", many of which were MLM pyramid and Ponzi schemes.
The indictees in the DOJ's August 26th announcement are Ahmad "Andy" Khawaja, 49, of Los Angeles, California, Thomas Wells, 74, of Martin County, Florida, Mohammad "Moe" Diab, 45, of Glendale, California, and Amy Ringler Rountree, 38, of Logan, Utah.
All four defendants have been charged with conspiracy to commit wire fraud. Diab and Rountree are facing the additional charge of conspiracy to commit bank fraud.
The indictment alleges that Khawaja, Diab, Rountree, Wells, and others engaged in a scheme to defraud several financial institutions, the card brands, and others of money and property by fraudulently inducing them to provide payment processing services to merchants engaged in prohibited or high risk transactions, and to merchants that were terminated for fraud, chargeback, or other compliance concerns, through knowingly misrepresenting the types of transactions that the merchants were processing and the true identities of the merchants.

The defendants and their co-conspirators accomplished the scheme through, among other steps, creating shell companies, designing fake websites that purported to sell low-risk retail and home goods, and using industry-standard codes that miscategorized the true nature of the transactions.

Through the scheme, the defendants and their co-conspirators fraudulently obtained more than $150 million in payment card processing through more than 100 sham merchants.
This is the play any time you see someone harp on about "if so and so company wasn't legit, why would (insert reputable finance company) partner with them?"
For some reason scammers flock to dodgy MasterCard merchants. Without fail these connections are set up through shell companies as per the methodology above.
Note that I haven't cited a copy of the original indictment. I believe it's under seal for reasons we'll get into below.
Before we continue, it's important to note the FTC fraud charges were settled in May 2019.
I believe there is significant overlap between the FTC's lawsuit from 2019, and the conduct Khawaja and his fellow Allied Wallet executives have now been indicted for.
The relevant criminal indictments from 2019 were filed against Khawaja, Diab and six others.
Those charges pertained to
conspiring to make and conceal conduit and excessive campaign contributions, and related offenses, during the U.S. presidential election in 2016 and thereafter.

Khawaja (right) worked with George Nader (one of the indictees and a convicted pedophile),
to conceal the source of more than $3.5 million in campaign contributions, directed to political committees associated with a candidate for President of the United States in the 2016 election.

By design, these contributions appeared to be in the names of Khawaja, his wife, and his company.

In reality, they allegedly were funded by Nader. Khawaja and Nader allegedly made these contributions in an effort to gain influence with high-level political figures, including the candidate.

As Khawaja and Nader arranged these payments, Nader allegedly reported to an official from a foreign government about his efforts to gain influence.
Khawaja was further implicated in a $1.8 million web of excessive contributions, organized with the other four defendants.
Upon learning of grand jury proceedings pertaining to his conduct,
Khawaja obstructed a grand jury investigation.

Knowing that a witness had been called to testify before the grand jury, Khawaja allegedly provided that witness with false information about Nader and his connection to Khawaja's company.
As of July 2021, the case against Mohammad Diab is still playing out. Diab was released on bond in December 2019.
He was re-arrested on these new charges on August 26th.
Ahmad Khawaja, who has dual US and Lebanese citizenship, was never apprehended. He's been a wanted fugitive on the run ever since.
That's not to say Khawaja has gone underground though.
In September 2020 it emerged Khawaja, who is married to a Lithuanian national, had been picked up by Lithuanian authorities on an international arrest warrant.
Police said Ahmad "Andy" Khawaja "performed multimillion-dollar transactions and was in possession of significant amounts of money" when arrested.

His detention on Sept. 3 on an international arrest warrant was kept secret, and police confirmed it only after Monday's ruling by a court in the Lithuanian capital, Vilnius, that he should remain in jail pending extradition hearings.

Khawaja is in custody at the request of the U.S. pursuant to an indictment issued in 2019.
The outcome or status of Khawaja's extradition proceedings in Lithuania are unclear. I couldn't find any followup information.
All I can confirm is Khawaja, to date, hasn't been extradited back to the US.
Up until June 2021, Khawaja was posting gratuitous covers in spammy advertorial publications.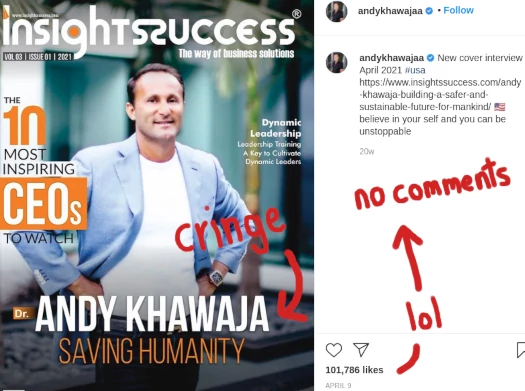 Khwaja evidently sees himself as the savior of humanity.
Sidenote: Khawaja's Instagram account stats are botted up the wazoo. As I write this he's rocking 3.4 million followers, hundreds of thousands of likes on each post but has zero engagement.
Since the latest indictment Khawaja's status is unclear. If his social media is anything to go by, Khawaja has been travelling freely throughout Europe despite the Lithuanian arrest and his status as a fugitive.
At the risk of pointing out the obvious, Khawaja probably isn't travelling on legitimate documents.
At the time of publication there was nothing new on Pacer for Khwaja, Mohammad Diab or Thomas Wells.
Amy Ringler Rountree's indictment case has appeared but doesn't contain the actual indictment.
I believe it might be sealed pending Khwaja's arrest (re-arrest?).
From Rountree's case docket, she was arrested on August 26th and presented before a court in Utah later the same day.
A Public Defender was assigned to Rountree and she was released pending a to-be-determined appearance in Massachusetts.
At the time of publication Allied Wallet's website was accessible. The payment processor appears to still be in business.
I've scheduled a case/docket check for all four defendants for next Wednesday. I'll report back any updates then.
Update 1st September 2021 – The Allied Wallet indictment was indeed sealed on August 25th.
Following the arrest of Diab, Wells and Rountree on August 26th, the indictment was unsealed on August 27th.
Update 29th September 2023 – A superseding indictment was filed against the Allied Wallet defendants on September 26th, 2023.