Zoned AI Review: AI image generator grift crypto Ponzi

Zoned AI fails to provide ownership or verifiable executive information on its website.
Zoned AI's executives are presented on a first-name basis as cartoon avatars: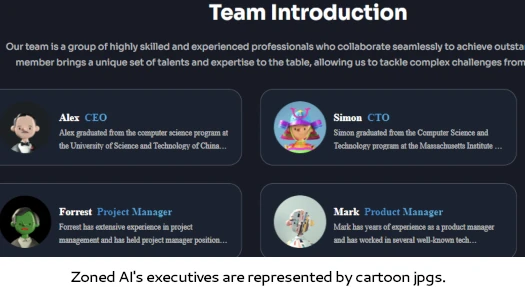 Zoned AI's website domain ("zoned.ai"), was privately registered on April 18th, 2023.
Zoned AI's Twitter profile was created in Chinese in September 2022.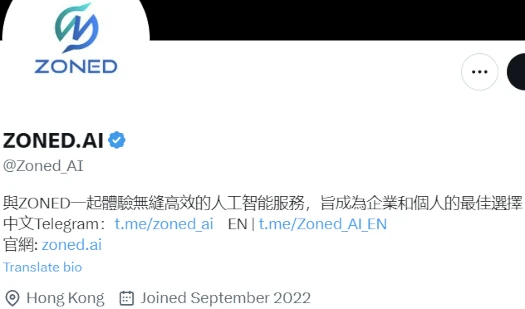 Zoned AI's website documentation is also presented in Chinese: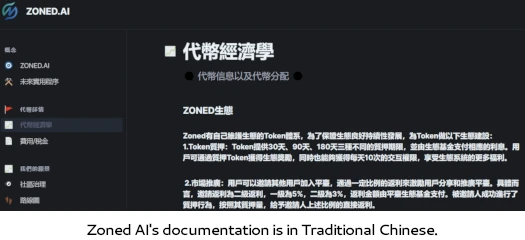 Be it Hong Kong or somewhere else, it's pretty clear that Chinese speakers are behind the company.
Of note is the use of Traditional Chinese, which is used in Hong Kong, Taiwan and Macau.
As always, if an MLM company is not openly upfront about who is running or owns it, think long and hard about joining and/or handing over any money.
Zoned AI's Products
Zoned AI has no retailable products or services.
Affiliates are only able to market Zoned AI affiliate membership itself.
Zoned AI's Compensation Plan
Zoned AI affiliates sign up and invest tether (USDT) in ZONED token packages.
Standard Package – invest 10 USDT and receive 10 ZONED
Intermediate – invest 100 USDT and receive 105 ZONED
Premium – invest 200 USDT and receive 210 ZONED
Once invested in, ZONED tokens are parked with the company on the promise of a passive return over 30, 90 or 180 days.
Zoned AI pays a referral commission on ZONED token investment down two levels of recruitment (unilevel):
level 1 (personally recruited affiliates) – 5%
level 2 – 3%
Joining Zoned AI
Zoned AI affiliate membership is free.
Full participation in the attached income opportunity requires a minimum 10 USDT investment.
Zoned AI Conclusion
Zoned AI is an attempt to capitalize on recent developments with AI image generation platforms.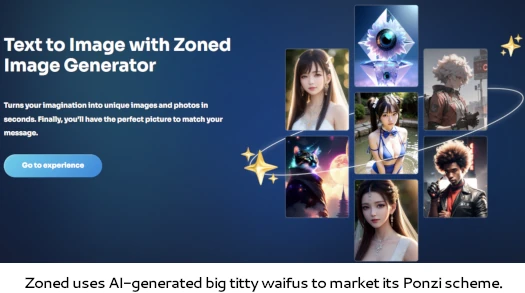 Zoned is image generator offers you a chance to be an artistic master, AI painter, AI drawing creator, nft creator, random art generator.

Enter your text prompts to create image with your imagination and never-before-seen.

From cartoon portraits and science fiction movie characters to digital arts, Zoned is image generator from text is your wand for any stylish pictures.
Even if Zoned AI's platform existed (the "image generator" and "AI chat" links on Zoned AI's website are disabled), this has nothing to do with Zoned AI's investment scheme.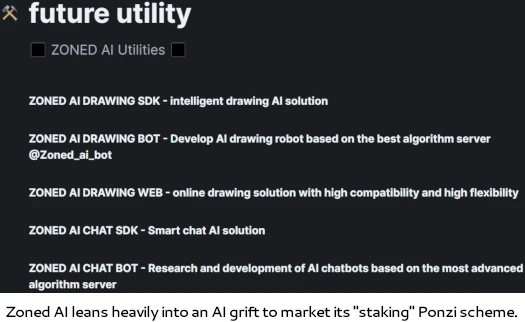 Zoned AI is running a typical "staking" model MLM crypto Ponzi. Affiliates invest in ZONED tokens, stake said tokens and receive a passive return.
Early investors cash out tether invested by later investors, with there being no other source of revenue generated.
On top of this is a two-tier deep compensation plan, which financially incentivizes recruitment of new Zoned AI investors.
With nothing being marketed or sold to retail customers, the MLM side of Zoned AI operates as a pyramid scheme.
As with all MLM Ponzi schemes, once affiliate recruitment dries up so too will new investment.
This will starve Zoned AI of ROI revenue, eventually prompting a collapse.
The math behind Ponzi schemes guarantees that when they collapse, the majority of participants lose money.