Xsinergia Review: Trading bot bitcoin Ponzi scheme

Xsinergia provides no information on its website about who owns or runs the company.
Xsinergia's website domain ("xsinergia.com") was privately registered on February 19th, 2019.
"Related companies" cited in Xsinergia's Terms and Conditions are Synergy of Assets and Partners S.L., Nousgo World Wide Traveling S.L. and TOR GLOBAL TRAVEL S.L.
Another company, Sinergia De Activos Y Socios S.L. is purportedly incorporated in Spain but has a Polish mailing address.
Further research reveals official Xsinergia marketing material citing Enrique de Mena as CEO of the company.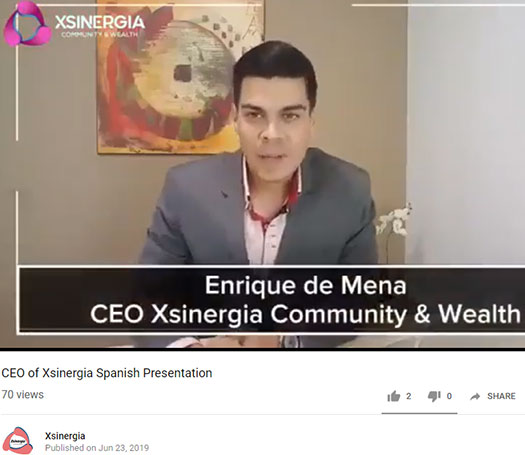 This is supported by a June 12th post on Xsinergia's official Facebook page, which states it's a
100 percent Spanish Company with physical headquarters in Malaga, South of Spain.

Created by Luis de Mena and Enrique de Men's. [sic]
Possibly due to language-barriers, I was unable to put together an MLM history on either founder.
In addition to no executive information provided on Xsinergia's website, it appears neither De Mena has a digital footprint outside of the company.
Finally, note that although Xsinergia represents itself as a Spanish company, Alexa currently pegs Brazil (22%), Mexico (14%) and Iran (8%) as top sources of traffic to its website.
Read on for a full review of Xsinergia's MLM opportunity.
Xsinergia's Products
Xsinergia has no retailable products or services, with affiliates only able to market Xsinergia affiliate membership itself.
Xsinergia affiliate membership provides access
an internal travel portal, through which Xsinergia affiliates can book travel;
various cryptocurrency, trading strategies, network marketing and business marketing courses; and
an internal e-commerce platform, through which Xsinergia affiliates can "buy high quality products"
Xsinergia's Compensation Plan
Xsinergia affiliates invest bitcoin on the promise of a 200% ROI:
Earn up to 3% daily profits until doubling your investment with our Automated arbitrage system.
Investment packages offered by Xsinergia include:
Start-up – $100
Beginner – $300
Intermediate – $500
Advanced – $1000
Professional – $3000
Master – $5000
Executive – $10,000
Investor – $20,000
Legend – $50,000
Once 200% in returns are reached, an Xsinergia affiliate must reinvest in order to continue earning.
Note that all Xsinergia affiliates are charged a 6% return and commission withdrawal fee.
Recruitment Commissions
Xsinergia affiliates are paid to recruit new investors.
How much is paid out is determined by which investment package a recruited affiliate invests in:
recruit a Start-up, Beginner or Intermediate affiliate and receive a 6% commission
recruit an Advanced, Professional, Master or Executive affiliate and receive an 8% commission
recruit an Investor or Legend affiliate and receive a 10% commission
Residual Commissions
Xsinergia pays residual commissions via a binary compensation structure.
A binary compensation structure places an affiliate at the top of a binary team, split into two sides (left and right):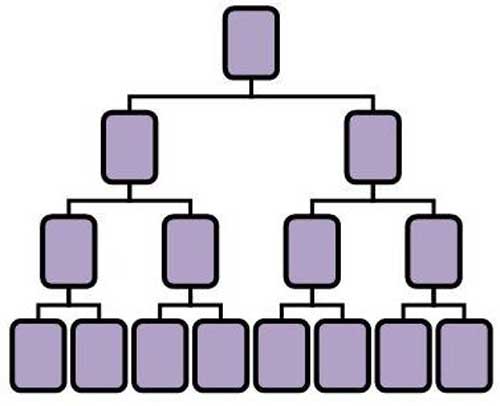 The first level of the binary team houses two positions. The second level of the binary team is generated by splitting these first two positions into another two positions each (4 positions).
Subsequent levels of the binary team are generated as required, with each new level housing twice as many positions as the previous level.
Positions in the binary team are filled via direct and indirect recruitment of affiliates. Note there is no limit to how deep a binary team can grow.
At the end of each day Xsinergia tallies up new investment volume on both sides of the binary team.
Residual commissions are paid at 10% of funds invested on the weaker binary side.
Note that Xsinergia caps daily residual commission rates based on the highest package an affiliate has invested in (e.g. Professional affiliates can earn up to $3000 a day).
Once residual commissions are paid on weaker side volume, it is matched with volume on the stronger side and flushed.
Any leftover volume on the stronger binary team side is carried over into the following day.
Rank Bonuses
Xsinergia rewards affiliates for qualifying at ranks within their compensation plan as follows:
Bronze (generate $1000 in accumulated weaker binary team side volume) – no bonus
Silver (generate $5000 in accumulated weaker binary team side volume and recruit two Bronze or higher ranked affiliates) – no bonus
Gold (generate $10,000 in accumulated weaker binary team side volume and recruit two Silver or higher ranked affiliates) – no bonus
Sapphire (generate $25,000 in accumulated weaker binary team side volume and recruit two Gold or higher ranked affiliates) – an iPhone XR
Ruby (generate $50,000 in accumulated weaker binary team side volume and recruit two Sapphire or higher ranked affiliates) – a MacBook laptop
Emerald (generate $100,000 in accumulated weaker binary team side volume and recruit two Ruby or higher ranked affiliates) – an "international trip for 2"
Diamond (generate $500,000 in accumulated weaker binary team side volume and recruit two Emerald or higher ranked affiliates) – a Mercedes Class A
Blue Diamond (generate $1,000,000 in accumulated weaker binary team side volume and recruit two Diamond or higher ranked affiliates) – a Mercedes Class C
Black Diamond (generate $3,000,000 in accumulated weaker binary team side volume and recruit two Blue Diamond or higher ranked affiliates) – a Maseratti GT
Elite Travel Club
Xsinergia takes 3% of company-wide investment volume and places it into the Elite Travel Club.
Emerald and higher ranked affiliates receive an equal allocation of the Elite Travel Club, which they can use to purchase travel through Xsinergia's internal travel portal.
Joining Xsinergia
Xsinergia affiliate membership is $15 plus a $100 to $50,000 investment.
How much a Xsinergia affiliate invests directly impacts their income earning potential.
Conclusion
Xsinergia bills itself as the "world's most intelligent cryptocurrency platform". The travel and e-commerce portals have nothing to do with the MLM side of the business.
To that end the company claims to generate external ROI revenue via automated trading.
XSINERGIA´s most profitable activity is the automated trade.

Through this service, the package selected by our users will be destined to daily trade through our High-end technology calibrated bots to generate daily profits in cryptocurrencies.

Our strategies were carefully studied and planned to arrive at a constant positive result guaranteeing our users positive earnings.
No evidence of Xsinergia engaging in trading of any kind is provided. Nor are there any other verifiable sources of external revenue.
Furthermore Xsinergia's business model fails the Ponzi logic test.
If Luis and Enrique de Mena actually had access to a bot that was able to legitimately generate daily returns of up to 3%, the obvious thing to do is use it and keep 100% of the profit.
Why sell access to the golden goose for as little as $100?
At the end of the day the only verifiable source of revenue entering Xsinergia is new investment.
The use of new investment to pay existing affiliates a 200% return makes Xsinergia a Ponzi scheme.
Recruitment commissions also an add additional pyramid layer to the scheme.
Further evidence of Xsinergia committing fraud can be found in the list of countries the country bans participation from.
The following countries are restricted and, you are not allowed to become an Independent Seller if you are a resident, citizen of any of the following countries: Algeria, Bangladesh, Cambodia, Nepal, North Korea, USA, Canada, United Arab Emirates.
Cryptocurrency trading, automated or otherwise, is not illegal in the US.
Nor is offering a passive investment opportunity, provided you register with the SEC and provide ongoing evidence you are actually funding returns with external revenue.
In fact given the potentially lucrative US investment market, the only reason not to register your otherwise legitimate opportunity… is if you aren't doing what you publicly represent you are.
Which in Xsinergia's case is using trading bot revenue to generate passive returns for their investors.
As with all MLM Ponzi schemes, when affiliate recruitment inevitably slows down so too will new investment.
This will starve Xsinergia of ROI revenue, eventually prompting a collapse.
The math behind Ponzi schemes guarantees that when they collapse, the majority of participants lose money.