World Mining Review: Daily ROI cryptocurrency mining Ponzi

The World Mining website domain ("world-mining.net") was privately registered on October 23rd, 2017.
World Mining claims to be "a British company", which is based on the October 25th incorporation of "World Mining LTD".
The London address used to incorporate World Mining actually belongs to UK Packaging, an unrelated business.
Philip Johnson is listed as the sole Director of World Mining LTD. On the World Mining website he's credited as the company's CEO.
The name is suitably generic and no information about Johnson in connection to World Mining outside of the incorporation is available.
This raises the strong possibility that World Mining's "Philip Johnson" doesn't exist.
Images used to represent World Mining's executive team on their website are stock images: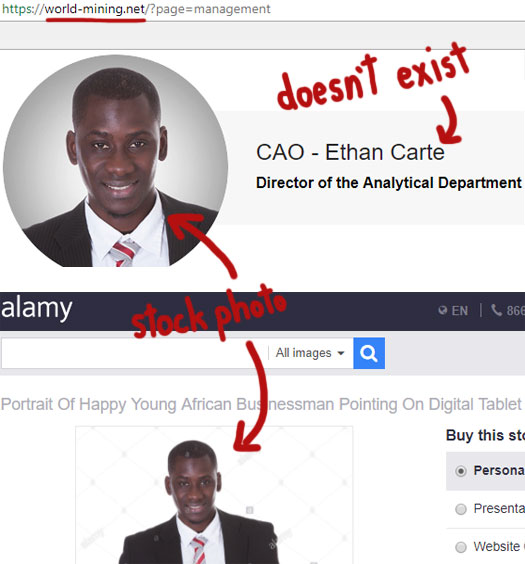 This means that in addition to Philip Johnson, none of the"powerful team of professionals, experts in their field" World Mining claims to have actually exist.
As always, if an MLM company is not openly upfront about who is running or owns it, think long and hard about joining and/or handing over any money.
World Mining Products
World Mining has no retailable products or services, with affiliates only able to market World Mining affiliate membership itself.
The World Mining Compensation Plan
World Mining affiliates invest funds on the promise of an advertised daily ROI:
Server S1 – invest $15 to $2025 and receive a 324% ROI after 360 days
Server S2 – invest $150 to $7500 and receive a 348% ROI after 360 days
Server S3 – invest $900 to $15,000 and receive a 289% ROI after 280 days
Server S4 – invest $4500 to $150,000 and receive a 329% ROI after 290 days
Server S5 – invest $30,000 to $300,000 and receive a 390% ROI after 300 days
World Mining pay referral commissions via a unilevel compensation structure.
A unilevel compensation structure places an affiliate at the top of a unilevel team, with every personally recruited affiliate placed directly under them (level 1):

If any level 1 affiliates recruit new affiliates, they are placed on level 2 of the original affiliate's unilevel team.
If any level 2 affiliates recruit new affiliates, they are placed on level 3 and so on and so forth down a theoretical infinite number of levels.
World Mining cap payable unilevel levels at nine, with commissions paid out as a percentage of funds invested across these nine levels:
level 1 (personally recruited affiliates) – 5%
level 2 – 2%
levels 3 and 4 – 1%
levels 5 to 9 – 0.5%
Joining World Mining
World Mining affiliate membership is free, however free affiliates can only earn referral commissions.
Full participation in the World Mining income opportunity requires a minimum $15 investment.
Conclusion
The ruse behind World Mining's daily ROI payouts is cryptocurrency mining. The company claims to have one of 'the most powerful industrial and private facilities for a successful and productive mining'.
Naturally, no evidence of any such facility is provided.
Furthermore, World Mining's business model makes no sense.
According to the World Mining website, the company has been
with cryptocurrency for many years and know how to effectively mine and sell it, so we offer our tenants very beneficial and profitable conditions for development.
Putting aside the fact that World Mining didn't exist until October, 2017, if the anonymous owner(s) of the company have been generating annual ROIs upwards of 300% for "many years", why on Earth are they now soliciting investment from randoms over the internet?
The reality behind World Mining is that from company management, its mining facilities to even its business model – everything about the company is bogus.
The sole verifiable source of revenue entering World Mining is new affiliate investment, the use of which to pay existing affiliates a fixed ROI makes it a Ponzi scheme.
As with all Ponzi schemes, once new affiliate recruitment slows down so too will newly invested funds.
This will starve World Mining of ROI revenue, eventually prompting a collapse.
The math behind Ponzi schemes guarantees that when they collapse, the majority of investors lose money.