WebTalk Review: YourNight social network resurrected

WebTalk provides no information on its website about who owns or runs the business.
WebTalks' Terms of Use provide a PO Box address for their "support team" in the US state of Florida.
The WebTalk website domain ("webtalk.co") was first registered in 2010. The domain registration was last updated on July 20th, 2018.
Robert Garbowicz of First Round Capital is listed as the owner, through the same Florida PO Box address.
Garbowicz is the founder of YourNight, a social network MLM launched in 2010.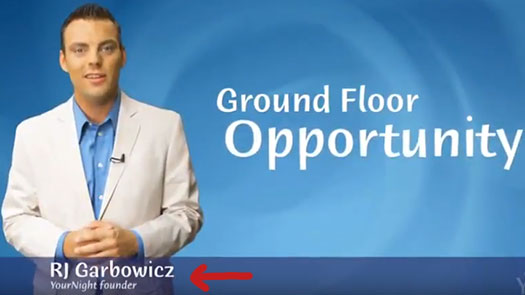 Despite projecting it would have 50 million users within a year and a half, YourNight collapsed in less than twelve months.
Read on for a full review of the WebTalk MLM opportunity.
WebTalk Products
Like YourNight, WebTalk is based on a social network.
Free WebTalk members are locked at having 50 contacts (Facebook equivalent of "friends").
In addition to free membership, WebTalk offers the following premium subscriptions:
Pro ($20 a month or $200 annually) – 500 contacts, 5 messages a month to non-connected WebTalk members, 5 email messages, no banner ads and see who viewed your profile
Pro Plus ($30 a month or $300 a year) – increases of 1000 contacts, 10 messages a month to non-connected WebTalk members and 10 email messages
Pro Platinum ($40 a month or $400 a year) – able to view profiles without member knowing, able to search members based on age and gender, increases of unlimited contacts, 20 messages a month to non-connected WebTalk members and 20 email messages
The retail side of the business is advertising on the social network, through "SocialCPX".
Advertising offered is both traditional and via in-house search results when WebTalk users make search queries.
The WebTalk Compensation Plan
The business side of WebTalk is handled through "SocialCPX".
WebTalk generate revenue through SocialCPX via premium subscriptions and advertising fees.
Known commission rates on WebTalk subscriptions and services are as follows:
10% of premium subscription fees paid by personally referred WebTalk members
10% of ad budget spent by personally referred advertisers
10% of advertised local services purchased through WebTalk
2% to 9% of commission generated if a product is purchased through the WebTalk news feed
5% of app subscriptions sold via an in-house app store
Residual Commissions
WebTalk are offering residual commissions to their first million affiliates.
In addition to being one of the first million to sign up, residual commission qualification also requires recruiting and maintaining at least one premium subscription WebTalk member.
Note that a WebTalk affiliate's own subscription does not qualify them for residual commissions.
Residual commissions in WebTalk are paid out via a unilevel compensation structure.
A unilevel compensation structure places an affiliate at the top of a unilevel team, with every personally recruited affiliate placed directly under them (level 1):

If any level 1 affiliates recruit new affiliates, they are placed on level 2 of the original affiliate's unilevel team.
If any level 2 affiliates recruit new affiliates, they are placed on level 3 and so on and so forth down a theoretical infinite number of levels.
WebTalk caps payable unilevel team levels at five.
A 10% commission is paid on revenue generated by affiliates in the first five levels of the unilevel team.
Joining WebTalk
WebTalk affiliate membership appears to be free.
If an affiliate wishes to maintain a premium WebTalk membership subscription, they're looking at an additional fee of up to $40 a month.
To the best of my knowledge having a premium membership doesn't benefit a WebTalk affiliate through the compensation plan.
Note however that each WebTalk affiliate must maintain at least one personally referred member with a premium membership to qualify for residual commissions.
Conclusion

If it was hard to crack the social network back in 2010, it's certainly not any easier eight years later.
And much of what I published in our 2010 YourNight review still holds true for WebTalk.
The concept of an MLM social network is primarily flawed, because nobody wants to be part of what is essentially a group of marketers hoping to pitch you on something.
Case in point, have a closer look at WebTalk's premium memberships.
Benefits offered are strictly marketing advantages, in that you're paying to increase your advertising reach to WebTalk members.
How does this benefit a non-affiliate WebTalk member? It doesn't.
They'll receive unsolicited emails and messages through WebTalk, be limited to 50 contacts and be targeted based on their supplied age and gender by marketers.
Is this already going on to certain degrees in other social networks? Sure – but it's certainly more pervasive in WebTalk.
This is because nobody is going to pony up for premium subscriptions unless they feel they're getting something for it.
In this sense WebTalk operates no differently to any other social network:  Regular members are the product advertisers are paying for access to.
I'm not knocking this business model. I'm just pointing out that it's not really bringing anything new to the table.
And that extends as far as WebTalk's MLM income opportunity too.

As evidenced by YourNight, MLM companies have been trying to fuze social networks and an MLM opportunity for nearly a decade at least.
For reasons I've already covered above, it just doesn't work.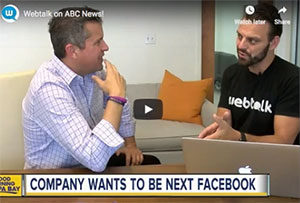 Hell, arguably with all the nonsense Facebook has been exposed for over the past few years – it'll be even harder to launch a business opportunity social network now more than ever.
Facebook has the "social" social network niche cornered, there's no question about it. Yet there are other players in the social network space.
If we look at these companies (Twitter, Instagram, SnapChat, Pinterest, LinkedIn etc.), they've each brought their own flavor to the social network space.
Users have signed up to these networks because they get access to a specific niche within the social network space they can't get anywhere else (clones launched in their wake aside).
Here WebTalk fails. It's basically a Facebook clone with aspects of LinkedIn baked in.
Other than making a big hoo-haa about "sharing 50% of our revenue with users", WebTalk brings nothing new to the social network table.
And that brings us right back to WebTalk's primary purpose being to pitch its members on advertised products and services.
Again, this is what all social networks do to some extent. But how subtly the goal can exist whilst still delivering a service true to their stated goal is key.
With Twitter that's communicating to the world directly though SMS-style messaging. In Facebook it's, essentially, connecting with friends. In Instagram it's sharing photos organized in a timeline.
Beyond charging for access to its members to advertise to, what is WebTalk's unique stated purpose?