WealthBot Review: Monthly ROIs via Amazon used textbook arbitrage?

WealthBot provide no information on their website about who owns or runs the business.
The WealthBot website domains ("wealthbot.info" and "wealthbot.online") were respectively registered on December 12th and November 25th, 2016.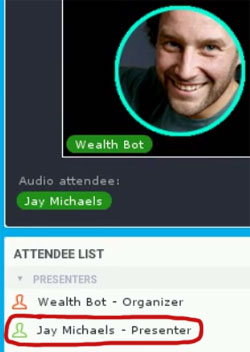 The ".online" domain is registered privately. Ronald Schulz is listed as the owner of the ".info" domain, care of InMotion Hosting Inc. Address and contact details in the WealthBot domain registration belong to InMotion Hosting.
InMotion Hosting is a web hosting company. Other than appearing to host WealthBot's website, the two companies don't appear to be connected.
WealthBot marketing videos feature Jay Michaels as a presenter. I was however unable to find any additional information connecting either Ronald Schulz or Jay Michaels to WealthBot.
As always, if an MLM company is not openly upfront about who is running or owns it, think long and hard about joining and/or handing over any money.
WealthBot Producs
WealthBot has no retailable products or services, with affiliates only able to market WealthBot affiliate membership itself.
The WealthBot Compensation Plan
WealthBot affiliates invest $100 or more in bitcoin on the promise of a monthly ROI.
In total there are two "plans" WealthBot affiliates can invest in:
Safe 90 Day Plan – pays a compounded 30% ROI every 30 days with invested funds locked in for 90 days
Safe Liquidity Plan – pays a 5% ROI every 30 days, funds can either be compounded the following month at 5% or the interest or the interest plus invested funds withdrawn after 30 days
Referral Commissions
WealthBot pay referral commissions in invested funds via a unilevel compensation structure.
A unilevel compensation structure places an affiliate at the top of a unilevel team, with every personally recruited affiliate placed directly under them (level 1):

If any level 1 affiliates recruit new affiliates, they are placed on level 2 of the original affiliate's unilevel team.
If any level 2 affiliates recruit new affiliates, they are placed on level 3 and so on and so forth down a theoretical infinite number of levels.
WealthBot cap payable unilevel levels at four, with commissions paid out as a percentage of funds invested across these four levels:
level 1 (personally recruited affiliates) – 3%
levels 2 and 3 – 3%
level 4 – 1%
Note that WealthBot referral commissions are paid out each month after a ROI payout has been paid.
Joining WealthBot
WealthBot affiliate membership is free, however affiliates must invest at least $100 in bitcoin in order to participate in the attached income opportunity.
Conclusion
The ruse behind WealthBot's monthly ROI payouts is used textbook arbitrage through Amazon.
You're not reading that wrong, WealthBot are claiming they can generate a monthly ROI of over 30% (once referral commissions are factored in), by inserting themselves into Amazon's used textbook marketplace.
Naturally there's no proof of any textbook arbitrage provided, with the only verifiable source of revenue entering WealthBot is affiliate investment.
The ROI ruse of Amazon textbook arbitrage also fails the Ponzi logic test.
If Jay Michaels and whoever he's working with were able to generate 30% monthly ROIs via used textbook arbitrage, why would they be soliciting bitcoin investment over the internet from randoms?
30% a month equates to 360% ROI a year. When compounded it works out to even more.
If the owners of WealthBot were able to legitimately and consistently generate 30% a month, surely they'd invest their own money quietly and reap the rewards?
It makes absolutely no sense for the owners to open up WealthBot to the public to collect 1% to 3% referral commissions down four levels of recruitment, when they claim they can generate 30% a month on any amount.
Furthermore, even if we cast the Ponzi logic test aside and take WealthBot at its word, Jay Michaels and those with him on official WealthBot webinars clearly have American accents.
Alexa also currently estimate the over 40% of traffic to the WealthBot ".info" domain originates out of the US.
With a monthly ROI offered on deposited amounts, clearly WealthBot are offering a security to US residents.
A search of the SEC's Edgar database turns up nothing for "WealthBot", meaning the company is offering unregistered securities. This is illegal in and of itself.
Of far greater concern to potential WealthBot affiliates however is the guarantee that the majority of Ponzi investors lose money.
Each month ROIs are paid out WealthBot's liabilities grow. When affiliate recruitment inevitable slows down, the ROI reserve funds shrinks until WealthBot collapses.
In order for the WealthBot admins and a few early investors to make money the majority of WealthBot affiliates have to lose it.