Vitaxel Review: VionMarket e-commerce & pyramid recruitment

Vitaxel launched in Malaysia back in August of 2015.
In February 2016 the company went public on the US stock exchange through Vitaxel Group, listed as VXEL.
Shares were initially valued at 20 cents each, before plummeting to 3 cents within a week. Vitaxel shares are currently valued at 1 cent each.

Heading up Vitaxel is founder Lim Hui Boon. Leong Yee Ming serves as CEO.
In addition to Vitaxel, Boon also founded Ho Wah Genting. According to their website, Ho Wah Genting is
a Malaysian group of companies with a wide portfolio of business interests encompassing mining, manufacturing, trading and travel.

Leong Yee Ming comes from Ho Wah Genting, having held the positions CFO, COO and Treasurer. He currently serves as a Ho Wah Genting Board Member.
Prior to Vitaxel, neither Lim Hui Boon or Leong Yee Ming appear to have any MLM experience.
Read on for a full review of the Vitaxel MLM opportunity.
Vitaxel Products
The sole retail product I was able to find within Vitaxel is preferred customer membership to its VionMarket.
VionMarket is an e-commerce platform stocked with third-party merchant products. Visitors to the site are unable to browse any of the listed products without first signing up.
Vitaxel sell VionMarket preferred customer membership for $15. This includes 100 VionMarket Points, which can be put towards purchases.
Of note is the Vitaxel website also lists VTrips and VSpark as offered products and services.
The VTrips website advises the service is "coming soon". VSpark appears to be some sort of payment processor.
Neither appears in the Vitaxel compensation plan or have anything to do with the company's MLM opportunity.
The Vitaxel Compensation Plan
The Vitaxel compensation plan primarily pays affiliates who purchase a package to recruit other affiliates who do the same.
Recruitment Commissions
Vitaxel affiliates are paid to recruit new affiliates.
How much of a recruitment commission is paid out is determined by how much a new Vitaxel affiliate spends on their membership, as well as how much the recruiting affiliate spent when they signed up.
Action Package affiliates earn
$7.50 for recruiting another Action Package affiliate
$48 for recruiting a Business Package affiliate and
$120 for recruiting a Career Package affiliate
Business Member affiliates earn
$11.25 for recruiting an Action Package affiliate
$72 for recruiting another Business Package affiliate and
$180 for recruiting a Career Package affiliate
Career Package affiliates earn
$15 for recruiting an Action Package affiliate
$96 for recruiting a Business Package affiliate and
$240 for recruiting another Career Package affiliate
If a Vitaxel affiliat recruits at least two package purchasing affiliates within thirty days of joining the company, they receive a 5% recruitment commission bonus from the third recruited affiliate onwards.
Residual Commissions
Residual commissions in Vitaxel are paid out via a binary compensation structure.
A binary compensation structure places a Vitaxel affiliate at the top of a binary team, split into two sides (left and right):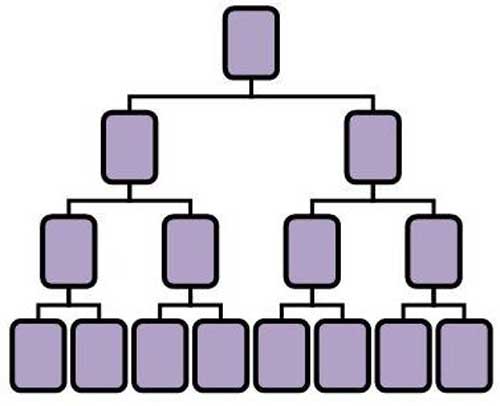 The first level of the binary team houses two positions. The second level of the binary team is generated by splitting these first two positions into another two positions each (4 positions).
Subsequent levels of the binary team are generated in the same manner, with each new level housing twice as many positions as the previous level.
Positions in the binary team are filled via direct and indirect recruitment of new Vitaxel affiliates. Note there is no limit as to how deep a binary team can grow.
Each Vitaxel affiliate package corresponds to a set number of points:
Action Package ($130) – 75 points
Business Package ($800) – 480 points
Career Package ($2000) – 1200 points
At the end of each day Vitaxel tally up new points on both sides of the binary. Points are generated as new affiliates are recruited into a binary team.
Vitaxel affiliates are paid a commission for every 100 points matched on both sides of their binary team:
Action Package affiliates are paid $10 (capped at $120 a day)
Business Package affiliates are paid $15 (capped at $1000 a day)
Career Member Package affiliates are paid $20 (capped at $3000 a day)
Consumption Bonus
The Consumption Bonus appears to be based on a Vitaxel affiliate's downline earnings (recruitment and residual commissions).
Vitaxel affiliates can earn up to a 100% match on downline recruitment and residual commissions, paid down a maximum ten levels of recruitment.
Note that 80% of the Consumption Bonus is paid out as cash, the remaining 20% must be spent in VionMarket.
Executive Global Bonus
The Executive Global Bonus is a quarterly bonus pool made up of 10% of Vitaxel's company-wide sales volume.
Vitaxel affiliates at the Sapphire and higher ranks qualify for shares in the Executive Global Bonus pool as follows:
Sapphire ranked affiliates receive one share
Ruby ranked affiliates receive two shares
Emerald ranked affiliates receive three shares
Diamond ranked affiliates receive four shares
Black Diamond ranked affiliates receive five shares
Note that each share has a quarterly earnings cap of $3000.
Vitaxel rank qualification criteria is not provided in the company's compensation plan documentation.
Wealth Creation
The Vitaxel compensation plan mentions something about "Wealth Creation" shares.
If an affiliate qualifies for the Millionaire Founder's Club Challenge the company awards them with 3,000,000 "free" shares.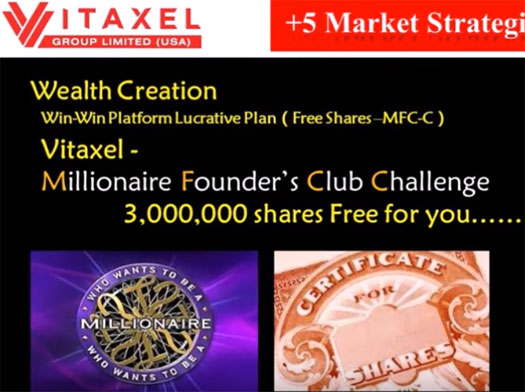 Whether these are shares in Vitaxel as a company or another entity is unclear.
No specific qualification criteria for the Millionaire Founder's Club Challenge is provided.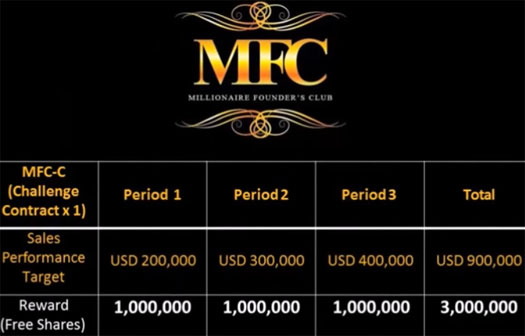 Sales Performance Targets are given in the Vitaxel compensation plan, but whether these are personal sales, team sales and/or time-based is unclear.
Joining Vitaxel
Vitaxel affiliate membership is tied to the purchase of one of three affiliate packages:
Action Package – $130
Business Package – $800
Career Package – $2000
A $15 annual fee applies after a Vitaxel affiliate's first year.
The affiliate packages come with boxes of Amalaki supplement, plus a set number of VionMarket Points and Redemption Points or Travel Points.
Income potential is also affected by which package is purchased. The more an affiliate spends on affiliate membership the higher their income potential through the Vitaxel compensation plan.
Conclusion
To put it bluntly, the MLM side of Vitaxel is a compliance nightmare.
The only product being sold are Vitaxel affiliate membership packages. With commissions paid out on the sale of said packages, Vitaxel is operating as a pyramid scheme.
Nowhere is is more clearly illustrated, than in the Vitaxel's own recommendation that affiliates purchase three positions when they sign up: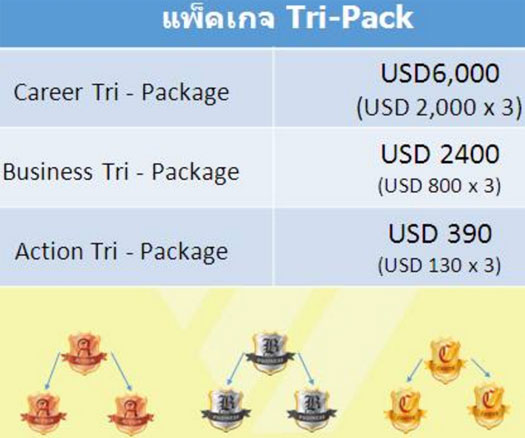 In addition to earning recruitment commissions on the bottom two positions, this is obviously an attempt to game residual binary commissions.
I can't state for sure as you can't browse anything without membership, but I suspect VionMarket is closely tied to Ho Wah Genting's subsidiary offerings.
Vitaxel as a whole appears to be an outlet for Lim Hui Boon to drive business to Ho Wah Genting.
To what extent that's working I can't say but as per a recent 10Q Filing, Vitaxel itself has 'incurred losses since its inception resulting in an accumulated deficit of $2,457,285 as of September 30, 2016.'
That probably explains why VXEL share prices are in the toilet.
On that note though Vitaxel are registered with the SEC, so at least the shares they're dumping on affiliates appears to be legit. Too bad the shares themselves are practically worthless.
As with all pyramid schemes, once recruitment dies down so too will commissions paid out. Once a collapse is triggered, the majority of Vitaxel affiliates who have bought in will suffer a loss.
What with Vitaxel already generating almost two and a half million dollars in losses, the future for the company looks pretty bleak.