Vital Card Review: 1% credit cashback with a 1% Cash Rewards Pool

Vital Card operate in the financial services MLM niche and appear to be based out of California.
Heading up the company are co-founders Chris Bridges (Chairman) and Vincent Bradley (CEO).
According to the Vital Card website, they are
a team of entrepreneurs, bankers, lawyers and creative tech individuals that share a common goal of launching a credit card where the community comes first.

We are results-driven innovators who have worked on successful products at companies including Google, Charles Schwab, PWC Goldman Sachs and Card.com.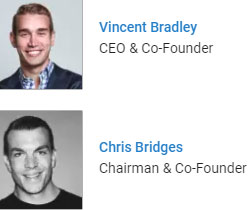 Prior to co-founding Vital Card, Chris Bridges and Vincent Bradley separately and respectively launched Vessix (2013) and Flash Funders (2011).
Vessix has since closed but as per a company bio developed 'technology for consolidating POS, CRM and reporting'.
FlashFunders' corporate bio meanwhile sounds pretty similar to that of Vital Card;
We're a team of entrepreneurs, bankers, lawyers and creative tech individuals that shares a common goal of connecting investors and companies to make their visions a reality.
As far as I'm aware Vital Card is both Chris Bridges and Vincent Bradley's first MLM venture.
Read on for a full review of the Vital Card MLM opportunity.
Vital Card Products
Vital Card offer a 1% cashback service on credit card purchases with branded credit cards.
There doesn't appear to be a distinction between Vital Card affiliates and non-affiliates, meaning everyone who signs up is a Vital Card affiliate.
The Vital Card Compensation Plan
Vital Card's compensation plan revolves around affiliates building their Vital Score.
Vital Score is tracked by points, which are acquired by Vital Card affiliates based on their recruitment efforts (unilevel).

4 points are generated per affiliate recruited on level 1 (personally recruited affiliates)
2 points are generated per affiliate recruited on level 2 and
1 point is generated per affiliate recruited on level 1
Each month Vital Card take 1% of each credit card transaction made by affiliates and places it into a "Cash Rewards Pool".
How points correspond to shares in the Cash Rewards Pool is unclear, but it appears to be an equal share allocation per point.
That would mean at the end of each month Vital Card tallies up the total number of affiliate points (every affiliate's Vital score), and divides it by the total Cash Rewards Pool balance.
What each point is worth dollar-wise is then paid out pro rata based on each Vital Card affiliate's Vital Score.
The Vital Card compensation plan states that as long as recruited affiliates "keep using" their Vital Card credit cards, an affiliates' Vital Score is maintained.
As per the Vital Card FAQ, "keep using" means maintaining a minimum $250 monthly spend on the card.
Vital Card affiliates who don't maintain the $250 monthly minimum spend don't receive a share of the Cash Rewards Pool.
Joining Vital Card
Vital Card affiliate membership is free.
To receive a share in the Cash Rewards Pool however each Vital Card affiliate must spend at least $250 on their credit card each month.
Conclusion
VITAL is all about sharing, the more you share VITAL with friends, the more your VITAL Score grows, the more cash rewards you earn each month, forever.
Vital certainly isn't your typical MLM company.
Broken down to basics, Vital Card affiliates increase their share of company revenue via recruitment of new affiliates.
The act of recruitment itself however doesn't generate revenue, as Vital Card affiliate membership is free.
Revenue is generated via use of Vital Card credit cards, which are exclusively used by affiliates.
Whereas the usual due-diligence argument here would be Vital Card affiliates are incentivized to use the card, revenue generation is actually a secondary result of card usage.
At no time are Vital Card affiliates paying any fees to the company itself.
The transaction itself can be used anywhere Vital Card credit cards are accepted. I suspect Vital Card has a cashback agreement with the providing merchant (2% or more), which sees 1% given back to affiliates and another 1% used to fund the Cash Rewards Pool.
Strictly from a regulatory compliance perspective, I don't believe there's an issue here per se.
At a stretch one could make the argument that every Vital Card affiliate is paying $250 or more into a pot each month to withdraw a share of 1% of the pot, based on direct and indirect recruitment efforts.
There's certainly some grey there but seeing as funds are being used to purchase goods and services, I don't think Vital Card will have issues on that front.
Rather potential issues are likely to surface when affiliates start marketing Vital Card.
Key to success of the business is how big the Cash Rewards Pool gets each month. In the Vital Card compensation plan, $210 is cited as the payout on a 112 point balance.
That equates to $1.87 per point, which I have a feeling might be pretty optimistic. Anyway without historical data, who knows (Vital Card state they aren't accepting signups until "late 2018").
In the meantime Vital Card are accepting signups, which is where potential problems can arise.
We are allowing people interested in getting a VITAL Card in the near future to sign up and begin sharing and growing their VITAL Score.
Vital Card's own marketing suggests they're going down the viral marketing path, meaning there's a danger of affiliates over-selling the opportunity to get signups.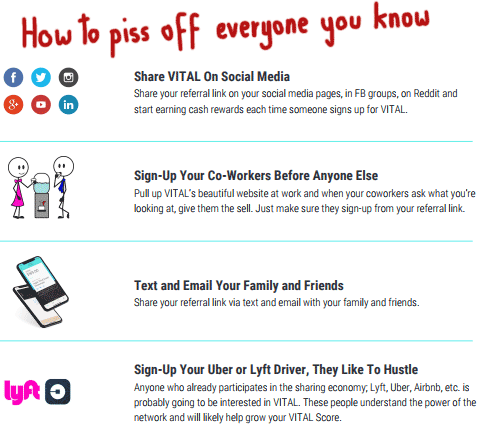 The obvious example would be taking historical Cash Rewards Pool data and corresponding dollar point value, and using that as a selling point to recruit new Vital Card affiliates.
Something along the lines of "Hey, all you have to do is recruit x, who recruit x, who recruit x and you'll have xxx points. My best friend's cousin generated xxx points last month and got paid $xx,xxx! OMG!"
The take-away is to be wary of anyone pitching you on Vital Card with any sort of income projection. And obviously don't fall for that trap and start marketing Vital Card with income projections yourself.
Certainly Vital Card using a specific dollar amounts in their compensation plan and websites without disclosing it not being based on actual historical data is a compliance red-flag.
Here's how to make sense of this: If you spend $1,500 in a month on VITAL, you'd make $15 in cash back (1% of spending), but you could still potentially be making $50 or $500 or even more in monthly cash rewards if you've shared VITAL with a bunch of friends.
Hopefully Vital Card address this sooner rather than later.
One last point to consider is that Vital Card don't offer joint accounts.
Will VITAL allow joint accounts?

No, VITAL is for individual use only at the moment.
If you're not comfortable personally spending at least $250 on a credit card (rates are not disclosed), then Vital Card might not be the opportunity for you.
If the concept takes off and the company pays close attention to how affiliates are marketing the opportunity though, Vital Card might turn out to be quite the money spinner.