UltimateLine Global Review: Second InfiniteLine Global reboot
UltimateLine Global fails to provide ownership or executive information on its website.
UltimateLine Global's website domain ("ultimatelineglobal.com"), was first registered in January 2023. The private registration was last updated on March 17th.
The one UltimateLine Global marketing video featured on its website is an AI avatar robodub effort: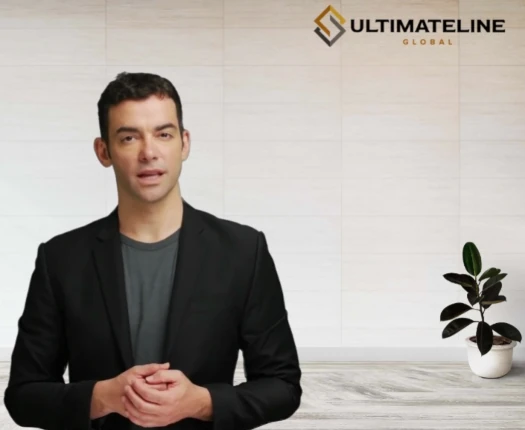 This is typical of non-native English speaking admins.
Although it claims to be a "UK-based, professional forex and cryptocurrency trading firm", UltimateLine Global provides a corporate address in Switzerland on its website.
It's presumed UltimateLine Global has nothing to do with either the UK or Switzerland.
As always, if an MLM company is not openly upfront about who is running or owns it, think long and hard about joining and/or handing over any money.
UltimateLine Global's Products
UltimateLine Global has no retailable products or services.
Affiliates are only able to market UltimateLine Global affiliate membership itself.
UltimateLine Global's Compensation Plan
UltimateLine Global affiliates invest cryptocurrency on the promise of advertised returns:
First Line – invest $99 to $4999 and receive 4% a week (8% a week if reinvested)
Second Line – invest $5000 to $14,999 and receive 8% a week (12% a week if reinvested)
Third Line – invest $15,000 to $39,999 and receive 12% a week (16% a week if reinvested)
Fourth Line – invest $40,000 or more and receive 16% a week (31% a week if reinvested)
Ultimate Gold – invest $30,000 or more and receive 70% after 3 days
UltimateLine Global pays referral commissions on invested funds via a unilevel compensation structure.
A unilevel compensation structure places an affiliate at the top of a unilevel team, with every personally recruited affiliate placed directly under them (level 1):

If any level 1 affiliates recruit new affiliates, they are placed on level 2 of the original affiliate's unilevel team.
If any level 2 affiliates recruit new affiliates, they are placed on level 3 and so on and so forth down a theoretical infinite number of levels.
UltimateLine Global caps payable unilevel team levels at four.
Referral commissions are paid as a percentage of cryptocurrency invested across these four levels as follows:
level 1 (personally recruited affiliates) – 2%
level 2 (must recruit three affiliates) – 4%
level 3 (must recruit five affiliates) – 8%
level 4 (must recruit ten affiliates) – 16%
Joining UltimateLine Global
UltimateLine Global affiliate membership is free.
Full participation in the attached income opportunity requires a minimum $99 investment.
UltimateLine Global Conclusion
UltimateLine Global's referral commissions are a little odd, in that percentages go up instead of down.
Typically MLM companies emphasize incentivize recruitment with higher personal recruitment commission rates. Downline recruitment is typically a residual bonus.
I believe the reason for that, and baked in recruitment requirements, is because UltimateLine Global is a reboot of the collapsed Edge Capital PLC Ponzi scheme.
Edge Capital PLC pitched returns of up to 20% a week. It collapsed either earlier this month or last month.
Interestingly when I punched in UltimateLine Global's Swiss address into Google, InfiniteLine Global came up.
From the name alone it's obvious the same scammers are behind both Ponzi schemes (and Edge Capital PLC).
BehindMLM reviewed InfiniteLine Global back in March. The web developer who put together InfiniteLine Global's website claims a Nigerian national going by "Sunday "Sunnydays" Paul was behind it.
SimilarWeb tracks negligible traffic to InfiniteLine Global as of July 2023. Putting all of this together, we have InfiniteLine Global collapsing, the Edge Capital PLC reboot collapsing and now UltimateLine Global.
UltimateLine Global's Ponzi ruse is crypto investment, real estate and foreign exchange.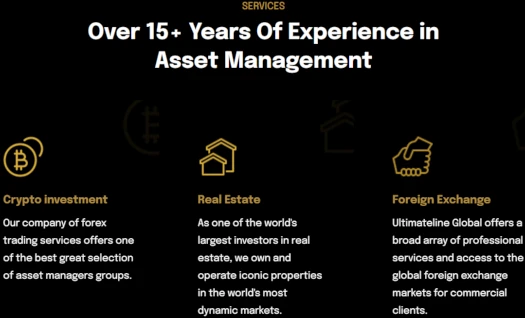 It should be noted that the "over 15+ years of experience in asset management" claim is bogus – UltimateLine Global is not even a few months old.
Naturally UltimateLine Global fails to provide evidence it generates external revenue from any source.
As with InfiniteLine Global and Edge Capital PLC, all UltimateLine Global does is recycle invested funds to pay withdrawals. This makes it a Ponzi scheme.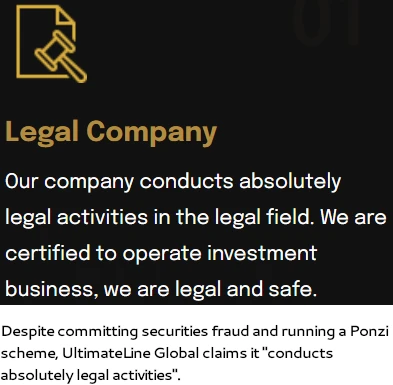 As with all MLM Ponzi schemes, once affiliate recruitment dries up so too will new investment.
This will starve UltimateLine Global of ROI revenue, eventually prompting a collapse.
The math behind Ponzi schemes guarantees that when they collapse, the majority of participants lose money.